DAN E-NEWSLETTER | MAY 2013
Included in this e-newsletter: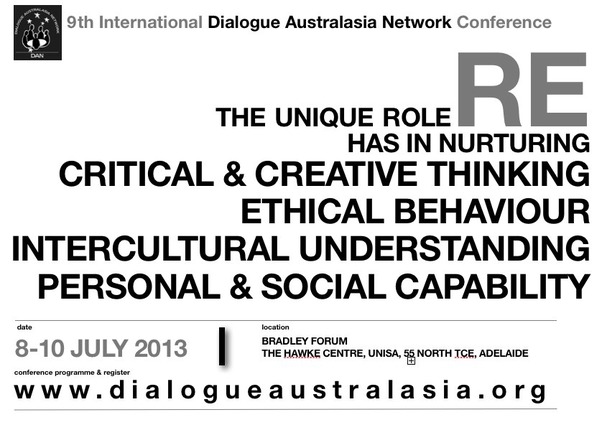 Contemporary Religious Education has a unique opportunity to:
* engage directly with students' questions about ultimate meaning, value and purpose,
 * introduce students to religious and secular philosophies as sources of wisdom and insight,
* equip students with the knowledge and skills to explore their own beliefs and values and those of others, 
* critically grapple with and respond to complex ethical issues
As such, good RE has a special role in nurturing the General Capabilities prescribed by the Australian Curriculum, 
including 
Critical and Creative Thinking, Ethical Behaviour, Intercultural Understanding and Personal & Social Capability. 
The 2013 International Dialogue Australasia Network Conference is designed to support teachers of 
RE, Philosophy and Ethics in their important and challenging task.  Outstanding educators and academics will explore and share examples of 
creative pedagogy, curriculum planning
and teaching resources focusing on the relationship between the content of RE and 
Critical and Creative Thinking, Ethical Behaviour, Intercultural Understanding and Personal & Social Capability. 
CONFERENCE SPEAKERS:
Christopher Gleeson SJ, Provincial Delegate for Education and Mission Formation and DAN Patron 
 Prof. Terence J. Lovat, Emeritus Professor, The University of Newcastle, Chair of Theology, Ethics & Education, Broken Bay Institute, Senior Research Fellow, University of Oxford
Dr Nigel Fancourt, Department of Education, Oxford
Jo Fageant, Diocesan RE Advisor, Oxford
Dr Leigh Burrows, Department of Education, Flinders University
Dr Rod Pattenden, Chair of the Blake Prize for Religious Art
Rev Richard Browning, Chaplain and Director of Community, Radford College, ACT
CONFERENCE REGISTRATION AND PROGRAMME:
Updated Conference Programme and other information will be posted on the DAN website
& emailed to all registered delegates
ENQUIRIES
: Please
contact
 the Conference Convenor: Belinda Hill, DAN EO
 

29th Issue of Dialogue Australasia Journal - Out Now

 

 Rethinking Religious Education,

Robert Crotty

 

The Big Idea of Tolerance, 

Julie Arliss

 

Truth, Faith and Hope in Life of Pi, 

Peter Williams 

 

Expressing the Spiritual: Poetry for every Pupil, 

Lat Blaylock

 

Moral Education – A UK Perspective,

Peter Baron

 

The Tony Blair Faith Foundation:  

Face to Faith

Programme

 

A History of Hell,

Nicky Hanson

Lessons from a Middle Eastern Refugee School

, Tom Brennan
This issue has been sent to all 2013 DAN financial members and subscribers to Dialogue Australasia journal. If you have not received your copy, or would like to renew your Membership, please contact the DAN EO.
 

2013 ART IN HEAVEN COMPETITION 

 

Do your RE lessons offer space for your students to express themselves through the creative arts?  

 

 

Lat Baylock, RE Advisor from REToday explores the possibilities in his article 'Expressing the Spiritual: Poetry for every Pupil' in the current issue of Dialogue Australasia Journal.
DAN ran a Spirited Art competition in 2004-2006 and there is scope for this competition to be revived (the DAN EO would welcome enquiries from interested teachers!)  
In the meantime, the National Association of Teachers of Religious Educators (UK) invites entries from Australasian students ages 4-19 to the 10th 'Art in Heaven' Competition 2013.
There are 5 themes to choose from, and entries can be submitted using drawing, paintings, art, video, sculpture of other media.  The themes for this year are: 
Prayer: How and Why?  

Windows on the Soul

God:  What if...?

Open mind!

Jerusalem by William Blake.
For more detail about each of the themes (there are good ideas for you to use yourself in class regardless of whether you decide to enter the competition) see: www.natre.org.uk/spiritedarts/2013.php
The closing date for entries is 31 July 2013.
 

New! PHILOSOPHY BITES BACK 




Good news for those of you who enjoy the excellent website Philosophy Bites

by David Edmonds and Nigel Warburton, 

which offers

 podcasts on philosophical topics (well worth exploring if you've not already!)

 

In 2012, transcripts of 25 podcasts were published in a book, Philosophy Bites, arranged under headings Ethics, Politics, Metaphysics and Mind, Aesthetics and God, Atheism and the Meaning of Life.  Now, a new book, Philosophy Bites Back, explores the work of an individual thinker in 27 chapters, beginning with the ancient classics of Socrates, Plato and Aristotle

to the groundbreaking modern thought of Wittgenstein and Derrida. 

 

Both of these books would make excellent reference materials for your RE classrooms and can be ordered through Amazon.



| | | |
| --- | --- | --- |
| |   | Updated list of Bites Interviews by Theme and Alphabetic Order of Interviewee |
It's easier now to locate a podcast on Philosophy Bites as the 251 Bites Interviews have been arranged by both theme and alphabetically (of interviewee).  Themes include:
About Philosophy

History and Biography 

Knowledge, Thought and Belief

Language, Meaning and Truth

Existence and Reality

Religion

Body and Mind

Decision Making and Responsibility

Theories about Ethics

New Approaches to Ethics

Ways of Living

Art, Beauty and Taste

Free Expression and Its Impact

Social Relations and Society

Resources and Exchange

Political Values

Legal Principals and Practices

Political States and Their Actions
 

PICTURING JESUS: FRESH IDEAS

 

How do your students picture Jesus?

 As a white, middle class male?

 

Animate any discussion or unit of work about Jesus with this resource from RE Today featuring 24 global images

by famous artists such as Paul Gauguin and Stanley Spencer alongside challenging artists from Asia, Africa, Australia and the Americas. 

Provided on CD and A4 picture cards, the

 images are supported with full teacher's notes, black and white line drawings, ideas for classroom learning across the age ranges, links to syllabuses and copiable materials for the classroom.

 

 



 

QUESTIONS: SIKHS

e

dited by Stephen Pett, is the latest in the

'Questions: RE' secondary series of curriculum publications from RE Today.




Questions: Sikhs explores both Sikh beliefs and Sikh practices. Each section 

outlines some key truths for Sikhs and also examines how these beliefs are put 

into practice in everyday living.




There are classroom resources and activities to enable students to explore 

the Sikh search for Truth, through examining the experience of Guru Nanak 

and the words of the Mool Mantar. The search for truthful living is 

explored through Sikh architecture and values, and by applying 

Sikh teachings from the Guru Granth Sahib to daily living. 

Interviews with four teenagers in the UK reveal the impact of their Sikh faith 

on their lives, with a particular focus on becoming Khalsa Sikhs.

 
 

THE PROBLEM OF EVIL:  Those of you who have already ordered this latest resource from EthicsOnline have commented on how powerful it is.

The DvD contains five films of varying lengths (12-19 mins) and addresses:




2. The Augustinian Theodicy

4. Protest, Process and Monist Theodices and Free Will Defence




There are accompanying teacher's notes which include questions, ideas and activities for learning and explanatory notes based on each film.
Read more about other films and accompanying teaching resources from EthicsOnline
(Environmental Ethics, Sexual Ethics, War & Peace, Abortion) 
"The Ethics Online series produced by Joe Jenkins covers four separate applied ethical issues; Environmental Ethics, Sex and Ethics, War & Peace and Abortion. 
The series is up to date, thoroughly researched, visually engaging and uncluttered in presentation.
Each separate DVD resource contains a number of short video clips, typically running for 10-20 mins. The content is deliberately confronting and this engages students. The fact that each topic is broken down into short clips aids teaching. It gives teachers an opportunity to spend a few lessons covering each topic in depth as you can pause for discussion and work between clips. In addition to the video clips the package includes additional resources, such as the script in full. I have taught senior school aged students for 17 years in England and Australia and during this time I have not found a better resource to complement the teaching of these topics." 
Dominic Hodnett, Head of Philosophy, Christ Church Grammar School, Perth WA
EthicsOnline films can be purchased directly from Dialogue Australasia Network at:
Contact the DAN Executive Officer
T|  08 9367 8903
A|  34 Douglas Ave  SOUTH PERTH WA 6151