Newsletter Headline Here...
FOR A LIMITED TIME, NEVER-YET-SOLD PACKAGES
AND THE BIGGEST DEALS SINCE 2019

 FOR THE DEDICATED B&P BADASS:
 25 CLASSES 
ONLY $750 ($30 per class)
*EXPIRES IN 3 MONTHS
 FOR THE POP-IN ROCKSTAR: 
 3 CLASSES 
ONLY $110 ($36 per class)
*EXPIRES IN 1 MONTH
 FOR OUR FRIENDS AROUND THE WORLD:
 1 YEAR OF B&P ONLINE 
ONLY $99 (50% off)
*MEMBERSHIP ACTIVATES ON DATE OF PURCHASE
We're flying early into Black Friday
 with OUR BIGGEST DEALS IN OVER 2 YEARS!
Early Black Friday starts TODAY and ends Thursday, 11/18 at 11:59 PM.
No purchase restrictions, buy as many as you like! Expiration dates apply.
GET READY TO GET YOUR

GLOW ON
FEATURING *16 CLASSES* AND 12 INSTRUCTORS INCLUDING:
- BRENNA BRADBURY
- LARA MICHAELS
- ROZ MAYS
- MICHELLE STANEK
- TRACEE KAFER
- JOJO CARVEL... & MORE!!!
We're transforming the studio experience for you for ONE WEEK GLOW'NLY.
Enjoy fabulous class Glow-Ups and unique themes to keep your practice fun and memorable! Enjoy classes like Glowtease, Balloon'Ography, Glitter Glam & Glowments, and our first ever inner-glow inspired studio Sound Bath!
Check out the schedule and class write-ups NOW, grab your spot (because they are limited), pop on your NEON, and get ready to enjoy a GLOW-FULL studio makeover.
WORK-STUDY OF THE MONTH 
🗓
Our Work-S
tudies of the month for October were Melanie AND Nicholle - our very first ever tie! Both have worked hard, and their efforts and energy at the studio have been deeply appreciated by the whole team. 
To show our appreciation, they will receive a free private lesson with the instructor of their choice! Thank you for everything!
🤳🏽 B&P ONLINE: LIVE ARCHIVE 🤳🏽
70+ LIVE CLASSES IN 22+ COUNTRIES
We are steadily adding classes to the Live Archive. Every week teachers from around the world bring their knowledge and talent to the B&P Online community, and we are making this available to view even if you cannot make the Live class.

Please note, not all Live classes will be available in the Live Archive.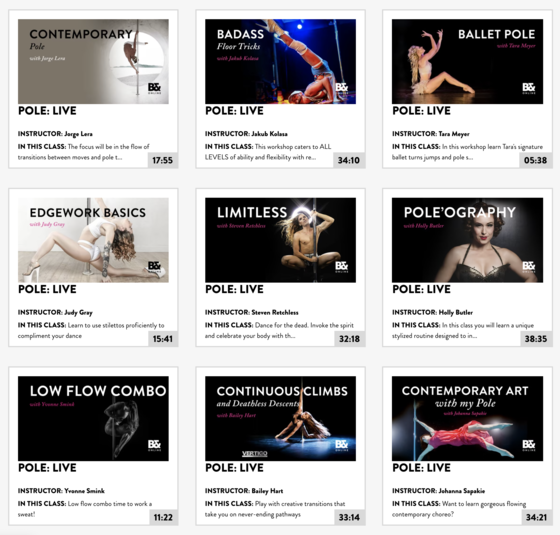 You can sample the LIVE ARCHIVE now for one free view!
GET LOW
WITH BORIS KYÑONESZ
WEDNESDAY, 11/3 4:00 - 5:00 PM EDT
Available only for our B&P Online Members! Enjoy these limited-run, exclusive live classes with your favorite B&P Online instructors and now, special guest instructors! Classes are capped to maintain an intimate class environment.
If you are a B&P Online Member, you will receive sign up details this week.
B&P Online is there for you - streaming & live anytime.
- Live Classes For Our Members
- Workout With Your Favorite B&P Instructors & Your Favorite Classes, Now & Anytime!
- Quality In-Studio Experience For Everday Use
- Over 500 Classes, Search By Class Or Technique
- New Favoriting Feature
We are honored to help you own your unknown.
- The Team at Body & Pole
Body & Pole, 115 West 27th Street NY, NY 10001
 You can text us 7 days a week (10 AM - 8 PM)!