Holden House 1902 Bed & Breakfast Inn's Great Traveler Reviews
Land it a Place Among Travelers' Favorites
Colorado Springs, CO, May 12, 2022 – Holden House 1902 Bed & Breakfast Inn today announced it has been recognized by Tripadvisor as a 2022 Travelers' Choice award winner for the top 10% of hotel properties. The award celebrates businesses that have received great traveler reviews from travelers around the globe on Tripadvisor over the last 12 months. As challenging as the past year was, Holden House 1902 Bed & Breakfast stood out by consistently delivering positive experiences to travelers. READ MORE....
Celebrate with us for our Anniversary!
Sallie and Welling Clark began their innkeeping career in 1986 when they opened Holden House, the historic Westside's first bed and breakfast inn. Today, the three side-by-side Victorians boast all private baths, queen or king beds, easy guest access to sitting areas, porches and balconies and a secluded back garden, with full gourmet breakfast included (an ensuite option for an extra $20) and complimentary afternoon wine and beverage social. Thanks to the amazing Holden House innkeeping staff, the inn upholds high standards for personal hospitality and accommodations.
Innkeeper-Owners Sallie and Welling Clark have owned the inn since its opening in 1986
The votes are in for 2022! "Best of the Springs" from The Colorado Springs Gazette

readers have once again chosen the best in Colorado Springs for dining, city life, arts and entertainment, shopping and more.
Read our Holden House Blog

for inn updates,

recipes and more!

VIRTUALLY YOURS...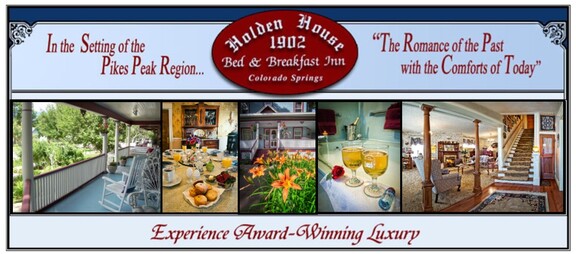 1102 West Pikes Peak Avenue
Colorado Springs, Colorado 80904