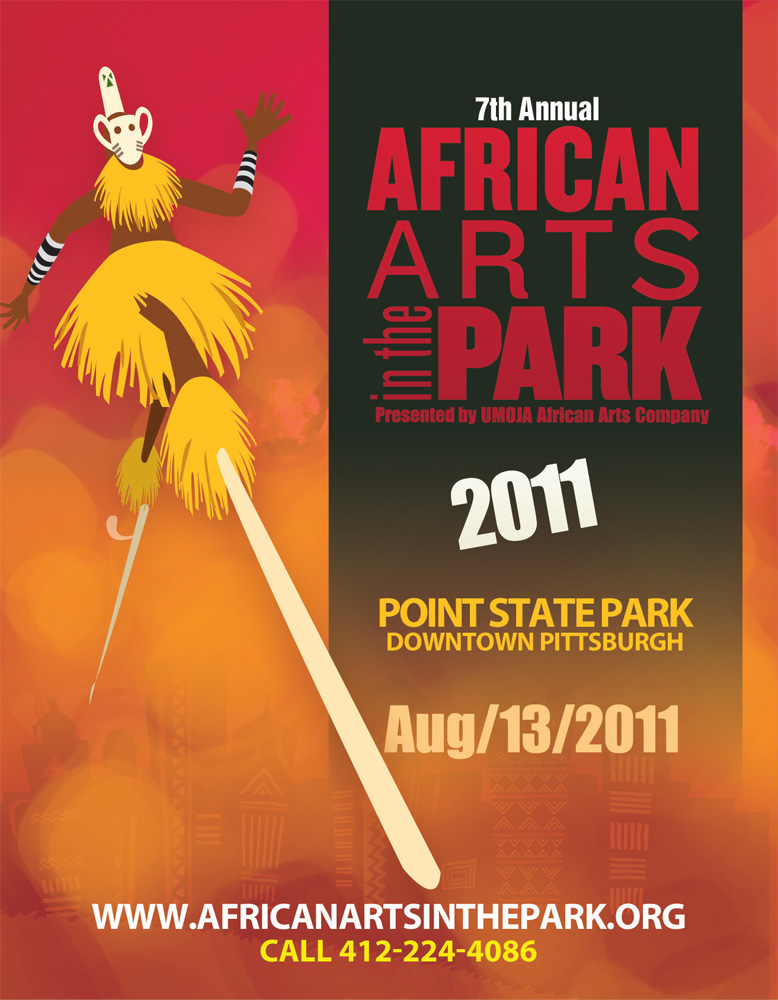 Titled,
"Celebrating Africa's Impact on Diverse Cultures"
, African Arts in the Park appeals to people of all backgrounds recognizing that the performance and presentation of African Art is a strong contribution to the cultural district of Pittsburgh and the world. Umoja's mission, to raise awareness and increase appreciation for the rich cultures of Africa, utilizes the African Arts in the Park as a wonderful event for such an exposition.
Plan on stopping by Umoja African Arts Company's 7th Annual African Arts in the Park Festival, August 13, 2011, in Point State Park from 11AM-8PM in the center of Downtown Pittsburgh. This event is dedicated to the demonstration and promotion of African and African Diaspora Arts in the Pittsburgh and surrounding areas.
2011 African Arts in the Park Vendor Information
CALLING ALL VENDORS
FOOD VENDORS *Permit Required $200.00
RETAIL VENDORS $175.00
NON PROFIT ORGANIZATIONS $30.00
No Sales Allowed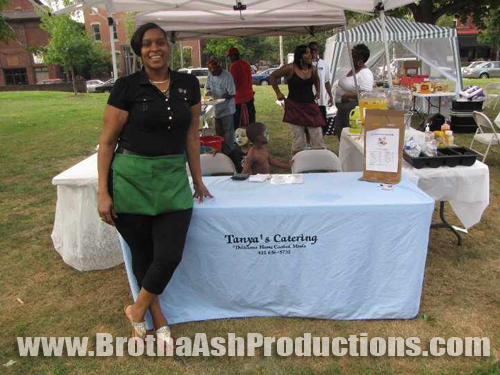 EQUIPMENT RENTAL
(8" TABLES $12 CHAIRS $5 10X10 CAOPIES $85)
ORDERS MUST BE PLACED PRIOR TO 8/1/11 - NO EXCEPTIONS
*All food vendor licenses and permits must be submitted with application
It is the responsibility of each food vendor to comply with the Allegheny Health Department guidelines.
TO OBTAIN VENDOR APPLICATION FORM
CLICK HERE
AND TO CONVENIENTLY PAY ONLINE
CLICK HERE
TO VIEW ALL VENDOR INFORMATION
CLICK HERE
RECEIVE & SEND COMPLETED APPLICATION FORM,
SIGNED GUIDELINES FORM, AND FULL PAYMENT TO:
UMOJA
PO BOX 5230
PITTSBURGH, PA 15206
ATTN: AAIP 2010 VENDOR APPLICATION
The Main Stage will be filled with African and African Diaspora music and dance. Attendees can bring their chairs and blankets and hear live bands. They will be entertained by such dance genres from the African countries of the Democratic Republic of the Congo, Egypt, the Republic of Guinea, and Senegal. Various music genres include Brazilian samba, Gospel, Jazz, and R & B. Performers are locally based and include Afrika Yetu, Balafon West African Dance Company, Deryck Tines Gospel Singers, House of Soul, Kevin Howard, Mehira Raqs, Spirit Filled Ministries, Tam Tam Magic, and Timbeleza.

The Culture Hut will offer interactive demonstrations such as Batik Making by Saihou Njie, a lesson on West African Masks and Stools by Umoja African Arts Company, African Drum Making and Storytelling by Temujin, African Dance by Elie Kihonia, and North African belly dancing. New this year is the Lest We Forget Traveling Slavery Museum from Philadelphia, which will exhibit slavery artifacts. The Health Hut, sponsored by Central Blood Bank, will present informational sessions which focus on diseases that affect the African & African-American community in Pittsburgh. Topics include, but are not limited to AIDS/HIV and medical coverage for women in prison.

We encourage a visit to our Children's Hut. There will be PNC Grow Up Great, Spanish & French Arts & Crafts, Children's Museum activities, African storytelling & mask making, jewelry making, face painting, tattoo artists, petting zoo, and a bounce house. New this year will be a showcase of the Hear Me Project sponsored through Carnegie Mellon Universities Robotics Institute. The Ulaji Mart (Swahili for food and drink) will serve a variety of American and international food. The Soko (Swahili for marketplace) will have several vendors from "I Made It Market" selling crafts, art, and clothing.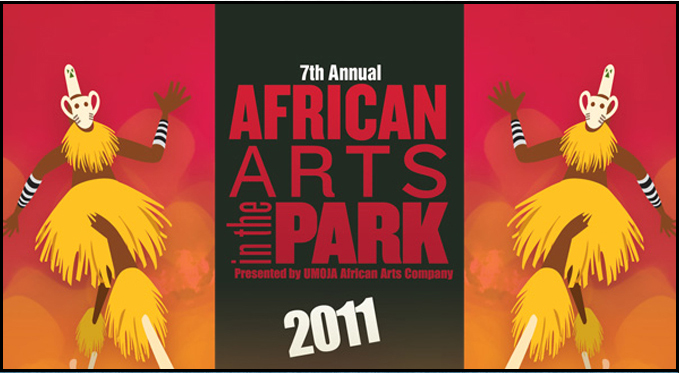 FOR MORE INFORMATION
VISIT: WWW.AFRICANARTSINTHEPARK.ORG
CALL : 412.224.4086
UMOJA African Arts Company is a non-profit 501(c)(3) organization that is celebrating its 22nd season of bridging and unifying diverse cultures through educational and artistic presentations of African art, culture and heritage.
Sponsors include Heinz Endowments, Central Blood Bank, Citiparks, POISE Foundation, Housing Authority for the City of Pittsburgh, Brotha Ash Productions and Pepsi.