---
Church Point Carpark Works - Motorcycle Area




ATTENTION ALL MOTOR CYCLE OWNERS





Works begin Dec 20 to Dec 24



Council will be laying concrete in the Motor Cycle Area from Monday, December 20 and hope to have this completed before Xmas Eve, weather permitting.  Two car spaces have been allocated for parking immediately adjacent to the Motor Cycle Area.



PLEASE ENSURE THAT YOU MOVE YOUR MOTOR CYCLES EARLY MONDAY MORNING TO AVOID ANY DELAY TO THIS WORK.



TO SEE  EXACT POSITIONS - DOWNLOAD THE FLYER - HERE

Phillip Gray
Landscape Architect
Pittwater Council
Tel: 9970 1281



---
Christmas Cafe Reminder




Christmas Cafe and the end of 2010


The Cafe Christmas party will be on this Sunday 19th Dec, in Catherine Park, starting at 10:00, finishing around 12:00.  Mince pies and Christmas cake will be on offer, plus of course fabulous coffee, a selection of teas and hot chocolate.  Actually, errr, it will be pretty similar to the normal cafe, except there will be some decorations.



NOTE The party is Invite Only – and you're ALL invited!

  A special invitation is extended to our regulars over the last glorious year, but anyone else who would like to check out what happens on a Sunday morning in the park, please come along!  You just have to be local – this is a local cafe for local people.  But obviously, visitors are welcome, too...



Don't forget there are still some Scotland Island mugs left – they make great stocking fillers!



Merry Christmas and a Happy New Year to all PON readers.

See you there!
Cafe Crew

PS Since all the best parties are in the kitchen, we won't bother putting the tables out, we'll just squeeze into the little shed under the Kindy.



---
Gone Fishing Gallery


Christmas Eve 24th December


With Christmas nearly here, the offshore artists at Gone Fishing Gallery are getting into the spirit of things with celebrations at the Church Point Gallery during the annual, legendary SCOTLAND ISLAND DOG RACE.
 


GONE FISHING GALLERY IS OPEN FRIDAY 24TH DECEMBER FROM 1PM-7PM, so do join us.


 
Registrations for the race, which begins at 6pm local time, must be made by 5pm, so that the four legged competitors can organize themselves into a barking start for the race from Scotland Island directly opposite Gone Fishing Gallery.  The swim across to the mainland is a wonderful yearly event, looked forward to by locals and watched by the cheering hundreds gathered on the foreshore.
 
Spend the afternoon listening to live music (SLY DOGS), eating food supplied on the lawn by Waterfront Café at Church Point and having a beer with your meal.  Make use of the time in the area to visit the Gone Fishing Gallery situated in the old Pasadena-on-Pittwater.  We will have made some interesting changes and updates to what's available.
 

---
Fresh Seafood for sale at Church Point


Friday the 24th of December from 5pm

Scott sold enough seafood at the point so he is coming to the dog race with a truck straight from the markets if anybody would like to order

Ph: 0431726880


 
Tiger prawns fresh $20.00 per kilo
John Dory fillets  $25.00 per kilo
Rock and pacific oysters $15.00 per kilo

He has lot's of different things so call him.



---
Ferry survey results, June 2010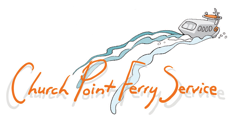 Thank you to the nearly 100 people who answered the survey in June. It has been a benefit to know your thoughts on how we could improve the ferry service. We will be sharing this information with Pittwater Council and the Ministry of Transport and Infrastructure so that we can communicate your needs as expressed to us.

Please find responses to recurring suggestions and concerns in the pdf file here



---
P.U.S.H Campaign




Peninsula United to Secure Hospital



Hi Friends and family,

I need your help.



PUSH

are a dedicated group of Sydney's Northern Beaches locals who are determined to see that our area is given a fair go with health care in the future. The

PUSH

group is apolitical and made up from stakeholders from all areas of the community, clinicians, business people, politicians and community groups.   P.U.S.H stands for Peninsula United to Secure Hospital.



PUSH

was formed out of the collective community concern over the deteriorating state of our health care facilities and the need for a new Level 5 Hospital. Both our local hospitals at Mona Vale and Manly are in
a diabolical state and people's lives have been, and will be, put at risk if this situation continues.   There are over 270,000 people living on the northern beaches peninsula with no Grade 5 hospital facility.

The building of a modern facility for the peninsula should not come atc the expense of Mona Vale and Manly. Both these facilities must have a long term role to play in providing localised health services.



Can you please click on this link and sign the petition and then forward the link to as many friends as possible.



http://www.pushcampaign.net/

Let's make the Northern Beaches health facilities and new hospital a priority for our future.

Thanks for your support.



---
Can we borrow wheelchair for Christmas Day?



Dear All

We have a need to borrow a wheelchair for Christmas Day as Dons mother is 89 and having difficulty walking

Will pick up and return
Bev and Don Dwyer
0407316343




Time to get into the Christmas Spirit .  ..





MERRY CHRISTMAS !



Click on Christmas Card >>>>>>  Christmas Card

Beverley Dwyer



---
Yard Sale




Yard sale on the island this weekend?


We need to clear out and make some room for this year's Christmas presents.

Yard Sale...a little bit of everything

Sunday 19th December
10am to 12noon

14 Thompson St, Scotland Island (Nathan & Megan)
- take the back fire trail and access from top of island



---
Odd Jobs


My name is Jacob Hogarth and I'm an 18 year old bloke from Newport trying to find work to save money to travel in my gap year from university.

I was wondering if I there are any jobs around the offshore community that I could earn $20 an hour doing.



jacob_hogarth_6@hotmail.com



0416807459

Thankyou very much,
Jacob


---
Thank you


I would like to thank the young couple that came to the rescue of Bruce after his Scooter broke its belt and ended up on its side with Bruce lying hurt beside it. He rang emergency whilst she sat with Bruce
holding his hand.
I could see Bruce was in love!!
Jan S.H.


---

---
The Local Guide - Community Information
 Click HERE to load
---