Pittwater Offshore Archival Pictures

| | |
| --- | --- |
| | This is one of a series of old photographs collected, scanned and presented by Leicester Warburton. You will remember Leicester as the author of 'History Corner', now in retirement! We look forward to a wonderful image each month. More information about these photos can be made by contacting Leicester at leicesterw2@bigpond.com |


Coastal Environment Centre goes Solar!


Pittwater Council's Coastal Environment Centre at Narrabeen will be the beneficiary of seven solar panels after successfully applying for a federal government rebate of nearly $8000 from the Australian Greenhouse Office to install them.

The panels will be installed early next week and once operational, will supply the Centre with around 30% of its energy needs. Currently, the Centre uses 94% coal fired power and also purchases 6% of its electricity from the Green Power Scheme.

The panels will be grid connected, which means the Coastal Environment Centre will be eligible to claim rebates in the future on its electricity bills. The system installed will generate up to 1400 watts of power and save approximately $500 on annual power bills.

Jo Tulau from the Centre said she hoped the installation of the solar panels would encourage local residents to think about renewable energy closer to home.



"There are still generous rebates available for solar panel installation in residential homes," she said.

She said the Centre would be used as a demonstration site for solar power through a community education program to be launched later this year.

"The money we're saving on our electricity bills will be put towards the education program," Ms Tulau said. She said the education program would include a monitoring system which would show real-time and historical data on electricity usage and savings generated by the solar panels.

Jo Tulau, Coastal Environment Centre Ph: 9970 6905
Christmas in July


The Scotland Island Rural Fire Brigade is delighted to invite members & friends to join us for our famous, traditional, home cooked "Christmas in July" dinner.

Date: Saturday, 19 July
Time: 7.00pm
Cost: $45
Tickets: from PMC Hill Real Estate or www.sirfb.org.au

There will be loads of prizes up for grabs in the raffles and a fully licensed bar. Santa is due to drop in too! Then we'll boogie the night away with Joes Garage.
The "Pantsdownpanto" is coming.

'Mark your Diaries! The "Pantsdownpanto" is coming.
Scotland Island Players' next production is up and running on Friday 25th, Saturday 26 July, Friday

1st August and Saturday 2nd August at 8pm; and a "G" rated kids matinee on Sunday 27th July at 3pm.
Is it a "fractured fairy tale", a "panti-drama", 'musical mayhem' or 'off (shore) colour'? Come see for yourself whether Mother's Goose is cooked or Mother Gooses the island. You may even find out Wee Willie Winkie's dark secret and see what Pussy in Boots gets up to. As for Simply Simon and his 'teddy'.........
Keep watching for info on ticket sales.'
Unveiling of interepretive signage
The Plateau Park Bushcare Group will be host on Saturday 5th July to local residents and friends for the unveiling of interpretive signage by David James, Mayor of Pittwater.
Plateau Park is at 132A Plateau Rd Bilgola Plateau (just north of the school) and is home to the endangered Duffys Forest ecological community.
Proceedings commence at 10am and will be followed by short tours of the Park and morning tea.
We do hope you and your friends can attend.
Can you please send this on to anyone you think may be interested?

Ken Hughes
02 9918 9170
A Chilling Author Talk

One of society's greatest taboo subjects – a mother who cannot love her children – will be discussed by debut novelist Camilla Noli at Mona Vale Library on Tuesday 1 July 2008.

Camilla Noli is a graduate of the Varuna Writing Program and will talk about her first book Still Waters, a chilling novel about a woman who has children and probably never should have.


In the book Noli explores the idea that not all women are naturally maternal or nurturing. She also discusses the long-held view that sees mothers as second-class citizens and thereby diminished in status.



Through the voice of an anonymous narrator, the book's main character, the reader is privy to innermost secrets that are a distorted echo of the emotions of every woman as a mother, lover, friend and daughter.

Book reviewer Lucy Clark of the Sunday Telegraph described the narrator of Still Waters as 'a compelling and disturbing character' and said the book is 'hard to put down'.

The Author Talk will begin at 6.30pm at Mona Vale library, 1 Park Street, Mona Vale on 1 July. Bookings are essential and admission is $7.50 ($5.50 concession) which includes light refreshments will be served. To book phone 9970 1605.
Renewal of Membership of SIRA

Renewal of your membership to SIRA, (Scotland Island Residents Association) may be due now.The application form can be downloaded by clicking here. Membership is an important part of the financial Support that your residents association needs to maintain the valuable services it offers to island residents. Membership is essentialif you plan to use the emergency water system.
Corn Beef and Cabbage Tarts
2 crust pastry recipe

2 Tbsp. olive oil

1 red onion, chopped

1/2 large head red cabbage, chopped

3 cloves garlic, minced

3 Tbsp. balsamic vinegar

1 tsp. sugar

1/2 cup water

1/2 cup cooked cubed corned beef or ham

1 cup cubed Gruyere or Swiss cheese

1/4 cup grated Parmesan cheese
Prepare pie crust and divide dough into four pieces. Roll out each between waxed paper into 12cm

rounds. Fit each into a 6cm tart ring, or simply put the crusts on two cookie sheets. Set aside.
Preheat oven to 200 degrees. Sauté onion in olive oil in a large skillet until soft. Then add cabbage, vinegar, sugar, and 1/2 cup water. Cover pan and simmer for 10 minutes, until cabbage is soft, stirring frequently. Then uncover pan and cook for 5-8 minutes longer on medium high heat, stirring frequently, until liquid is absorbed.
Divide half of the cabbage mixture evenly among the pastry circles. If you aren't using the tart rings, just mound the mixture in the centre of the circles of pastry. Divide the corned beef evenly onto the cabbage mixture. Sprinkle with Gruyere cheese cubes and grated Parmesan cheese, and top with remaining cabbage mixture. Fold crust edges over the top of the cabbage mixture, pleating to form a ruffled edge. Bake tarts at 425 degrees for 20-30 minutes. Remove tart rings and serve. Serves 4
Each month, your editor will choose an item for sale from the many requests that are made and to start the ball rolling, here is the first: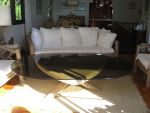 Basically, we have for sale - an Oval Bronze Glass table top , L- 6 ft. (1830 metric) by W - 4 ft. (1220 m) It is 12mm thick, toughened glass. in excellent condition, and we are asking $280.00 ono. Reason for sale - we have just replaced it with a larger version (8 seater) which cost $1500 plus. Picture attached. Contact Audrey or Brian Cross, 59 Florence Tce. Scotland Island. Tel 02 9997 8820 or bacross2@optusnet.com.au
Emergency Contact Numbers
NSW Police: 000, Police Assistance Line: 13 1444, general information 9281 0000
Broken Bay Water Police 9979 4944 or 0412 162 093
NSW Fire Service: 000, general information 9265 2999
NSW Ambulance Service: 000, general information 9320 7777
Rural Fire Service: 000, general information 9450 3000
State Emergency Service, Warringah/Pittwater SES: 9486 3399
National Parks & Wildlife Service: 000, general information 9457 9322
Dept of Community Services: general information 9977 6011
Sydney Water: 132 090
Energy Australia: 131 388, (ah) 131 909
Membership of SIRA, Emergency Scotland Island Water Contacts and Application for Water + Guidelines for water, in one document: click here for information (while online)Download the Scotland Island 'Water Agreement' by clicking here (while online)
Airlines, Buses and Railways

Weather
Join SIRA

You can now join the Scotland Island Residents Association by clicking here. Please print the page and return the completed form to SIRA at this address: The Treasurer, SIRA, PO Box 70, Church Point 2105. Please NO CASH. Contact SIRA at sirapittwater@hotmail.com

Join WPCA

To join the Western Pittwater Community Association, contact Michael Wiener at m2wiener@bigpond.net.au
Archived Newsletters A complete set of past electronic newsletters since May 2000 can be found and read at https://www.ymlp.com/pubarchive.php?sira or by clicking here

or by visiting the Mona Vale Library. The Island website is at www.scotlandisland.org.au
Finally:
If you would like to contribute to this newsletter it's easy!. Send an e-mail to the editor by clicking here. Type your short contribution (100 words would be fine) and assuming it is of general interest to the community, does not include matter of a political nature and is not offensive to your neighbours, it will appear next month.

To get on and off this newsletter, click here or got to: http://www.scotlandisland.org.au/signup . To change your address, click the 'modify' link at the bottom of this newsletter.
The views expressed in this newsletter are not necessarily the views of the Scotland Island Residents Association (SIRA), or the Western Pittwater Community Association (WPCA)