Dear Friends,
Here are 16 more great books that make wonderful gifts. We have over 100 titles to choose from that are 20% off during the month of December. Visit our Holiday Picks page to see the entire list.

Don't forget we also stock a wide selection of gifts, including boxed holiday cards, calendars and datebooks, handbags including Baggallini and Lug, kid's science kits, and wooden toys. We have a huge inventory of puzzles and games, including 30 different types of small games for under $10 that make great stocking-stuffers!

We are happy to gift-wrap your items, free of charge.

Enjoy the holiday season - and thanks for your support!
Happy Holidays! 20% Off! Happy Holidays! 20% Off! Happy Holidays! 20% Off!

Abe Lincoln's Dream
by Lane Smith
reg. $16.99; our price $13.59
The bestselling author of It's a Book has created a funny, touching tale about the legacy of America's greatest president. While visiting the White House, a young girl meets Lincoln's ghost, who confesses to worrying about the path the country has taken since 1865.
Chinese Silks
Edited by Dieter Kuhn
reg. $85; our price $68
Here is the first comprehensive history of China's most luxurious textile and its enduring influence on Chinese civilization and art. Western and Chinese scholars draw upon archaeological discoveries of the past 50 years to provide the most thorough account of the history of silk ever written from a variety of perspectives, including archaeological, technological, art historical, and aesthetic.

Colorful Dreamer: The Story of Artist Henri Matisse
by Marjorie Blain Parker
reg. $16.99; our price $13.59
An inspiring picture book about one of the world's most loved artists, Colorful Dreamer moves back and forth between Henri's dreary reality rendered in pencil shades of black, white and gray, and the vivid world of his imagination, depicted in gorgeous full-color pencil, paint and collage. Much to his parents' dismay, Henri does not excel at school, working in the family store, or the violin; instead, he is a dreamer. During a stint as a lawyer, he is hospitalized for stomach pains. With nothing else to do, he picks up the paintbrush - and everything changes. An excellent biography that is also an encouragement to never give up on dreams.
Flight Behavior
by Barbara Kingsolver
reg. $28.99; our price $23.19
The latest by bestselling author Kingsolver - who won the Orange Prize for her last novel, The Lacuna - Flight Behavior is a passionate story about the effects of global warming. Dellarobia Turnbow is unhappy in her marriage and ready for a change. On her way to a rendezvous with a young telephone lineman, she is distracted by the sight of a forest filled with millions of butterflies. Their usual migratory route has been disrupted, and the beautiful view is really an ominous sign, for the Appalachian winter could prove to be the demise of the species. Scientists, the media, and hordes of tourists are drawn to Dellarobia's doorstep, giving her new insight into her poverty-stricken life.
Gran Cocina Latina
by Maricel E. Presilla
reg. $45; our price $36
From the Cuban-born chef and renowned culinary historian who won the 2012 James Beard Award for Best Chef Mid-Atlantic comes the first comprehensive collection of recipes from Mexico to Argentina, and all the Spanish-speaking countries of the Caribbean. Presilla, who runs a restaurant in Hoboken, N.J., blends history with travel narrative and memoir. Home cooks, armchair travelers and curious chefs will love this bible of Latin American food.
Inside Out & Back Again
by Thanhha Lai
reg. $16.99; our price $13.59
Inspired by the author's own childhood experience of fleeing Vietnam as a refugee and immigrating to Alabama, this tween novel is narrated in free verse by 10-year-old Ha, whose family moves from war-torn South Vietnam to Alabama in 1975. First-time author Lai evokes a distinct time and place and presents a complex, realistic heroine whom readers will recognize, even if they haven't found themselves in a strange new country.

Island: A Story of the Galapagos
by Jason Chin
reg. $16.99; our price $13.59
Award-winning author and artist Chin (Coral Reefs) has created a thoroughly researched, intricately illustrated story of the Galapagos Islands for young readers. He combines geology, biology and history, spanning six million years, about the life of an island that was born of fire, rising to greatness, its decline, and finally the emergence of life on new islands.
"Another superb contribution to scientific literature by Chin." - Kirkus Reviews

Island of Silence (Unwanteds #2)
by Lisa McMann
reg. $16.99; our price $13.59
The second of the Unwanteds fantasy series explores the aftermath of war and the uneasy peace that has settled over militaristic Quill and magical Artime. As the Wanteds, Unwanteds and Necessaries struggle to adjust to changes in their society, Mr. Today begins training 14-year-old Alex to replace him as Artime's leader while Alex's disgraced twin, Aaron, plots revenge and a return to his former status within Quill.

Life is a Gift: The Zen of Bennett
by Tony Bennett
reg. $28.99; our price $23.19
"My given name is Anthony Dominick Benedetto, and Benedetto in Italian means 'the blessed one.' I couldn't say it any better than that." - Tony Bennett

An entertaining and thoughtful memoir by the legendary singer, artist and performer who has been one of the world's most beloved entertainers for more than 60 years. Bennett has won 17 Grammys, sung for ten presidents, and performed for royalty - and refused to compromise his vision or values. Mentored by such legends as Duke Ellington, Frank Sinatra, Ella Fitzgerald, and Nat King Cole, Bennett has only gotten better with age, and his popularity continues to grow as each new generation discovers his timeless songs and incredible voice. Bennett shares stories of friends and family and the essential lessons they have taught him.
Nightsong
by Ari Berk
reg. $17.99; our price $14.39
This charming, lyrical story - with artwork by New York Times bestselling illustrator Loren Long - is about independence, creativity and trusting one's instincts and abilities. Chiro, a young bat, is nervous about flying into the world for the first time without his mother, especially on a very dark night. But he soon learns to rely on his "song" to find his way and stay safe.

Outside Your Window: A First Book of Nature
by Nicola Davies
reg. $19.99; our price $15.99
Zoologist and award-winning nature author Davies takes a poetical look at the seasons in this collection of nearly 60 poems. Divided into seasons, this gorgeously illustrated introduction to the wonders of nature explores cycles and the passage of time - sprinkled with facts and fun things to do - and will inspire kids to explore the world around them.
A Thousand Mornings
by Mary Oliver
reg. $24.95; our price $19.96
The Pulitzer and National Book Award-winning poet returns to the imagery that has come to define her life's work, transporting readers to the marshland and coastline of her beloved home, Provincetown, Massachusetts. Whether studying the leaves of a tree or mourning her adored dog, Percy, Oliver is ever patient in her observations and open to the teachings contained in the smallest of moments. Our most precious chronicler of physical landscape, Oliver opens our eyes to the nature within, to its wild and its quiet.

Unbored: The Essential Guide to Serious Fun
by Elizabeth Foy Larsen and Joshua Glenn
reg. $25; our price $20
"The first kids' book to truly encourage a hands-on approach to creating a personally meaningful life," says Mark Frauenfelder, editor-in-chief of MAKE magazine and co-editor for BoingBoing. This original, vibrantly designed, entertaining book is packed with information, ideas and activities for children and their parents. Four chapters define the sections of the book and build from "You" to "Home," "Society," and "Adventure." Each section is subdivided; "Society," for example, includes "Get Social," "Your School," "Save the Planet," "Make Your Own Media," and "Getting Around." An awesome gift!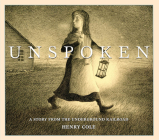 Unspoken: A Story from the Underground Railroad
by Henry Cole
reg. $16.99; our price $13.59
A haunting, wordless story - illustrated with Cole's beautiful pencil drawings - about a young farm girl who discovers a runaway slave hiding in the barn. The girl is at once startled and frightened, but the stranger's fearful eyes weigh upon her conscience, and she must make a difficult choice. A powerful tale of quiet camaraderie and bravery that will intrigue even those unfamiliar with the Underground Railroad.

What Are You Looking At?
by Will Gompertz
reg. $28.95; our price $23.16
Former director of London's Tate gallery and BBC Arts editor, Gompertz has written a smart and witty narrative tour of modern art in the engaging style of Bill Bryson. He covers the artists, movements and significant works of modern art while asking questions like, why do we instinctively love or hate it? His aim is to demystify modern art, to provide a basic history of each of its "isms, " and show how these movements are interconnected.
Who Could That Be at This Hour?
by Lemony Snicket
reg. $15.99; our price $12.79
The author of the wildly successful Series of Unfortunate Events stories has written the first in a four-volume series called All the Wrong Questions, providing "autobiographical" accounts of his unusual childhood, beginning with his teen years. "[With] gothic wackiness, linguistic play and literary allusions....Fans of the Series of Unfortunate Events will be in heaven picking out tidbit references to the tridecalogy, but readers who've yet to delve into that well of sadness will have no problem enjoying this weird and witty yarn." - Kirkus Reviews.