Dear Friends & Neighbors,
Looking for a lasting and memorable gift? Here's another sampling from our wide selection of more than 100 hand-picked titles that make great gifts this holiday season - all at 20% off through the month of December! Our offerings include books for kids, teens, fiction readers, sports fans, food lovers, history buffs, and those who appreciate art.

Come on by and check them out!
Happy Holidays! 20% Off! Happy Holidays! 20% Off! Happy Holidays! 20% Off!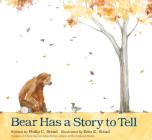 Bear Has a Story to Tell
by Philip Christian Stead (illustrated by Erin Stead)
reg. $16.99; sale $13.59
Bear wants to tell his friends a story, but they all are too busy preparing for the winter. So Bear helps his friends. By spring, Bear has forgotten his story, so now it's his friends' turn to help him.
Stead's illustrations have a cozy, quiet feel that is enlivened by Bear's expressive countenance, which has just the right touch of adorable pudge. - Booklist

Becoming van Gogh
Edited by Timothy Standrig and Louis van Tilborgh
reg. $50; sale $40
An in-depth exploration of Vincent van Gogh's unconventional path to becoming one of the world's most recognizable artists by Denver Art Museum curator Standring and Van Gogh Museum researcher van Tilborgh. Here, van Gogh is not portrayed as a tortured and unappreciated genius, but as an artist who carefully positioned himself as an important new voice in the art world. Includes essays by eminent historians discussing the various ways van Gogh aimed for originality and excellence in his work.
Chinese Silks
Edited by Dieter Kuhn
reg. $85; sale $68
Here is the first comprehensive history of China's most luxurious textile and its enduring influence on Chinese civilization and art. Preeminent Western and Chinese scholars draw upon archaeological discoveries of the past 50 years to provide the most thorough account of the history of silk ever written from a variety of perspectives, including archaeological, technological, art historical, and aesthetic.
Code Name Verity
by Elizabeth Wein
reg. $16.99; sale $13.59
A British spy plane crashes in Nazi-occupied France. Its pilot and passenger are best friends. One of the girls has a chance at survival. The other has lost the game before it's barely begun. When "Verity" is arrested by the Gestapo, she's sure she doesn't stand a chance. As a secret agent captured in enemy territory, she's living a spy's worst nightmare.
Dear Life
by Alice Munro
reg. $26.95; sale $21.56
The highly admired, award-winning author's new collection of stories highlights key moments when one's life changes forever. And for the first time, Munro writes about her childhood in the collection's final four pieces, which she describes as "not quite stories...I believe they are the first and last and the closest things I have to say about my own life."

Drawn from Paradise
by David Attenborough and Errol Fuller
reg. $45; sale $36
A must-have for ornithologists and bird-watchers, as well as a beautiful collectible for students, artists and aesthetes, this gorgeous book showcases the breathtaking beauty of the birds of paradise. Very rarely encountered, even in their natural habitat of New Guinea, they are birds that elicit sheer awe in those who are lucky enough to see them. Featuring over 200 hand-painted images and sketches by the men who originally studied them, and artists such as Jacques Barraband, William Hart, John Gould, Rubens, Breughel, and more. The art comes from the authors' own private collections, rarely or never-before published.
Full Count: Top Ten Lists of Everything in Baseball
Edited by Justin Tejada and Sachin Shenolikar
reg. $19.95; sale $15.96
This definitive kids book on baseball is presented in the format of Top 10 lists. It is a comprehensive and entertaining look at the greatest aspects of the game - from the top World Series moments to the most colorful characters. Rankings include Hardest Throwers, Powerful Sluggers, Loveable Losers, and more. Featuring action photos from Sports Illustrated and plenty of trivia.

Iron Curtain
by Anne Applebaum
reg. $35; sale $28
The acclaimed journalist and Washington Post columnist, who won a Pulitzer for her previous book Gulag, has written a disturbing but fascinating history of how the Soviet Union took control of Eastern Europe during and after World War II. Applebaum focuses on Poland, East Germany and Hungary, describing how the Communist regimes were created and what daily life was like once they were complete. She draws on newly opened East European archives, interviews and personal accounts translated for the first time to portray the dilemmas faced by millions of people trying to adjust to a way of life that challenged their beliefs and took away everything they had accumulated.
Jerusalem: A Cookbook
by Yotam Ottolenghi
reg. $35; sale $28
The New York Times bestselling author of Plenty, one of the most lauded cookbooks of 2011, has once again teamed up with his friend Tamimi to explore the vibrant cuisine of their home city. This collection of 120 recipes reflects the diversity behind the flavors of Jerusalem's Muslim, Jewish, Arab, Christian, and Armenian communities.

More Than Human
by Tim Flach
reg. $65; sale $52
Tim Flach, award-winning photographer and creator of the highly acclaimed books Equus and Dogs, has spent his career exploring the essential bond we have with animals. His new book is the culmination - showcasing a menagerie of creatures such as pandas, tigers, bats, lions, orangutans, cobras, bullfrogs, chimpanzees, wolves, porcupines, elephants, owls, armadillos, and more - as they have never been seen before. Writings by author Lewis Blackwell shed light on Flach's stunning images. A wonderful gift for animal lovers and those who appreciate great photography.

My Ideal Bookshelf
by Thessaly La Force
reg. $24.99; sale $19.99
An illustrated collection of first-person musings by authors and other celebrities on the books that have inspired them and helped shape their identities. Contributors include Malcolm Gladwell, Michael Chabon, Jennifer Egan, Gwyneth Paltrow, Mark Bittman, and Patti Smith. Colorful, hand-rendered images of book spines by Jane Mount accompany the commentary, making this a perfect gift for avid readers, writers, and all who have known the influence of a great book.
One Dog and His Boy
by Eva Ibbotson
reg. $16.99; sale $13.59
Ibbotson, the renowned author of 20 novels for children and adults, wrote a story of a boy and dog who are meant to be together - her final novel published after her death in 2010. Hal has everything except the thing he wants most - a dog. His busy parents rent a dog from Easy Pets, run by a heartless couple named Mr. and Mrs. Carker. Hal and Fleck, the dog he chooses, bond immediately, and are both heartbroken when Hal's mother, realizing that Hal's interest isn't waning as she had hoped, sneaks the dog back to Easy Pets. But that's only the beginning. "This satisfying novel combines humor with heart to great effect - a lovely parting gift from the masterful storyteller." - School Library Journal