Why not bookmark this AMPS Newsletter and read at your leisure!

AMPS Newsletter October 2014
AMPS 25th Anniversary Party - support the association that supports you - please be there! SoundPRO2014, Jackson Hole awards, The Journal re-appears, RedNet event, Pro Tools Expert, a Foley fact, industry news…
AMPS 25th Party Celebration - have you booked your place?

WHAT BETTER WAY TO SPEND A SUNDAY AFTERNOON!

Sunday 26 October 2014, 12.30pm - 7.00pm
The Cinema Museum, 2 Dugard Way, London, SE11 4TH
(Free parking at the venue, nearest Tube is Elephant & Castle.)
* Live Music from Side by Side
For more information and to book your place, please go to -
(Vegetarian option available - please contact the organisers via the Eventbrite page.)
Ian Sands Reports on SoundPRO 2014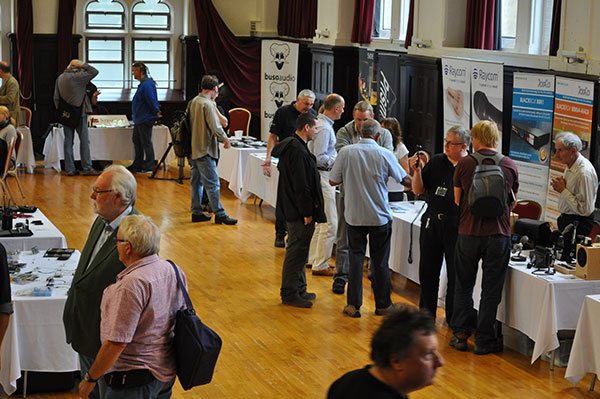 AMPS, APRS and IPS co-hosted SoundPRO 2014 at Ealing Town Hall on Saturday 27 of September. This was a very successful and busy event which undoubtedly benefited from the transfer from Pinewood Film Studios to a more convenient west London location. Transport links were good. Local parking was plentiful. Adjacent catering and refreshment facilities abound.
Attendance increased three fold over the 2013 event and was more comfortable for both visitors and exhibitors because of the increased floor space and local infrastructure. 23 manufacturers, distributors, dealers and service providers set out around the hall, many with illustrated pop-up backings. Exhibitors included: Sound-Link, Emerging, JoeCo, Buso Audio, Pinknoise Systems, Prism Media, Raycom, Audio Developments, Audio Limited, SoundKit, Timecode Buddy, Harman Professional, Richmond Film Services, Aspen Media, Audio Engineering (Micron), Everything Audio, Synthax Audio, Audio Wireless, Audio Related, Rycote, Ultimate Ear Protection, Sound Network, BECTU.
Plans are already in train for SoundPRO 2015, hopefully under the combined banner of AMPS, APRS and IPS and again coordinated/organised by Ian Sands. As the event continues to mature, next year is likely to include a short series of professional seminars and other events, to compliment the day. An announcement of the intended date will be made soon.
AMPS Members Win Jackson Hole Science Media Award

AMPS members Andrew Wilson, Kate Hopkins and Matthew Gough were part of a four-strong team who recently won the 'Best Audioscape' award at the Jackson Hole Film Festival for their work on Bears.
In an epic story of breathtaking scale, Disneynature's new True Life Adventure Bears showcases a year in the life of a bear family as two impressionable young cubs are taught life's most important lessons. Set against a majestic Alaskan backdrop, their journey begins as winter comes to an end and the bears emerge from hibernation, facing the bitter cold. As the season changes from spring to summer, the brown bears must work hard to find food, while staying safe from rival male bears and predators. Bears captures the fast-moving action and suspense of life in one of the planet's last great wildernesses—Alaska!
London Film Festival Unveils Industry Events Programme
DreamWorks CEO Jeffrey Katzenberg and director Stephen Frears are among the speakers taking part in the industry events programme of the The BFI London Film Festival (8-19 October).

The festival unveiled its industry events programme for UK filmmakers today. The industry events programme is structured into four strands: In Conversation, Talking Points, Meet the Commissioners and New Talent.

Clare Stewart, Festival Director, BFI London Film Festival, says: "The industry programme is a vital part of the LFF, offering film professionals a range of valuable opportunities to acquire knowledge, make new connections and develop partnerships, supporting them in growing their business and expertise."
The Journal will soon be with you!
 

 

It's been some time, but we can now confirm that the Autumn 2014 issue of The Journal is currently being printed and will very soon be appearing in your letterbox!

 

We've made some changes - a full re-design and an attempt to include less time-sensitive and more reference content. 

 

We hope you like it… and of course are always happy to accept contributions towards the next issue - Spring 2015.
Pro Tools Expert RedNet Event Hosted by Alchemea London

Join Pro Tools Expert and other industry professionals for an evening with the Focusrite RedNet team hosted by our friends at Alchemea College in London. An evening for audio professionals to meet the Focusrite RedNet team, to see RedNet in action and to take part in small informal demonstrations of RedNet's potential in music and post environments.
It is an opportunity for those who are considering investing in RedNet to have their questions answered and to see and hear it in action.
There will be a free bar during the evening so it's also a great opportunity for audio professionals to meet up and chat over drinks.
The event takes place on Tuesday October 21st 2014 at Alchemea College in London. Spaces are very limited so book early, only those with tickets will be admitted on the evening.
Click here to book your RedNet Event tickets now
.
Not a lot of people know that…
 

Although Jack Foley didn't invent sound effects, he is attributed with inventing the art of Foley and definitely helped codify the form. In the 33 years that he worked on Stage 10 at Universal Studios, he never received an on-screen credit for his inventive, and sometimes cost-saving contributions.

 

But the art he single-handedly created in the early days of the "talkies" was eventually named after him and is part of every feature film showing at the local multiplex.



Many early sound pictures had dialogue and music but no feeling of the noise of movement. Soon editors started cutting together footstep sounds for actors, but would use the same tracks over and over. Foley got the idea of projecting the moving image in a sound stage and recording sounds in sync with the actors' movements, using different surfaces and an array of props. It was said that Foley could make the sound of three men walking together using only his two feet and a cane.
Foley was very precise and attentive at his job. In describing adding sounds of footsteps for stars of the time, he said, "Rock Hudson is a solid stepper; Tony Curtis has a brisk foot; Audie Murphy is springy; James Cagney is clipped."

His last foley job, and probably finest hour was on Spartacus. Director Stanley Kubrick wanted to reshoot the Roman army marching to battle because the location sound was no good. Foley ran out to his car and retrieved a large ring of keys, which he then jangled in sync to the march step, creating the rhythmic "ching" of the armour and saving production the expense of a two-day shoot with soldier extras.
His crucial founding role in the development of Foley is documented in the 2009 book The Foley Grail.
Thanks to AMPS member Michael Johns for sending this in.
Pro Tools Expert - Mixing Using Pro Tools

AMPS member Howard Bargroff kicks of a two-part feature on mixing in Pro Tools.
Mixing - What is it anyway?
Mixing? What the hell is mixing anyway? It's a strange craft at the best of times; part science part creative art. Essentially though at its core, it's balancing a multitude of sound elements in a cohesive way helping to tell the story and drive the drama of the project. Delivery of the narrative is everything.
Did you know that the Directory pages on the AMPS website are some of the most frequently visited?

 

Make sure that your profile is up to date - you never know where your next work enquiry will come from!

 

 
Can we help with your Professional Development?
We're keen to hear from you with ideas for seminars and training sessions which would contribute towards Continuing Professional Development.
We're very aware that keeping up with techniques and updates can be a full time job in itself, so if there's any way that AMPS can contribute towards maintaining and developing your industry knowledge and skills, please get in touch.
Change of AMPS Address & Phone Number
Please note that AMPS postal address and telephone number have changed. New contact details to use are -
27 Old Gloucester Street
London
WC1N 3AX
Tel: +44 (0)1753 669111
AMPS 25th Birthday Celebrations

26 October at The Cinema Museum…
A Practical Introduction to Location Sound: Recording & Mixing

25-26 October 2014
The seminars are aimed at those working in screen-based media, and offer three further perspectives on the use of sound and music in filmmaking.
If you're based in and around Bristol, the last Wednesday of each month should be blocked out in your diary. Get to Beerd, 157-159 St Michaels Hill, Cotham, Bristol BS2 8DB for 7.00pm and meet up with other AMPS members and like-minded people! Apparently there's great craft beers and amazing pizzas!
… and finally, on the first Tuesday of every month

Make sure that you attend the AMPS Social at the De Lane Lea bar in Dean Street - be social with your AMPS members! Next event on Tuesday 7 October will be combined with the EGM mentioned above.
AMPS, 27 Old Gloucester Street, London, WC1N 3AX
www.amps.net / +44 (0)1753 669111