Rural Fire Service Island Visit




BUSH FIRE PREVENTION PROGRAM FOR SCOTLAND ISLAND


Notice regarding visit/information day by the Rural Fire Service.
Below is a rough map of the Island divided into Precincts, pending a more refined document as well as a letter that you should have all received from Pittwater Council regarding bushfire reduction.

Precinct Team Leaders will be in contact with you prior to the day. Please email any queries or concerns.



To all Homeowners and Tenants




Household Visits on SUNDAY, MAY 31 by the Rural Fire Service


As you would have read in your recent letter from Pittwater Council - 'Scotland Island has been identified in the Warringah Pittwater /Bushfire Risk Management Plan/ as being an area with a high risk bush fire hazard', and it is necessary for householders to be 'proactive in reducing bushfire hazards'.

Two key recommendations of the /Scotland Island Bush Fire Management Plan/ are

the provision of ongoing education and advice to individual householders
the establishment of approximately 33 local "Fireguard Precincts" of approx.10 adjacent households across Scotland Island
On Sunday, May 31st approximately 30 members of the Rural Fire Service (RFS) will be:

(a) Visiting every individual household on Scotland Island to check your property and give advice on actions that you will need to take to reduce the risk of bushfire

(b) Meeting with groups of approx. 10 adjacent households to talk about local fire issues and the value of forming together into "Precinct Fireguard Groups" (see below).



These individual visits and group meetings will be take place as follows:




Precincts 1-16 between 10 a.m. and 12 noon




Precincts 17-32 between 1.30 p.m. and 3.30 p.m.



The map 9which you can view by clicking the small image) shows the 33 Precincts. These groupings are preliminary and we anticipate that there may be some changes as they are more fully established.

For most of these Precincts a resident has already volunteered to be a Precinct Team Leader. Having Leaders of the 33 Precincts will enable fast communication between all households and the RFS.

If you have any questions, or would like to put yourself forward as a Precinct Team Leader, please do so by return email, or direct to:



Tim Byrne: tcbyrne@hotkey.net.au <mailto:tcbyrne@hotkey.net.au>




Greg Roberts: greg.roberts@exemail.com.au <mailto:greg.roberts@exemail.com.au>





---





Notice to all Residents




INSTALLATION OF NEW SEPTIC SYSTEM AT THE COMMUNITY CENTRE, CATHERINE PARK


Council will be installing a new septic system at the Scotland Island Community Centre in early June (dates to be confirmed).

The area where construction will take place will be barricaded until completed and for sufficient time to allow for the restoration of the grass.

Prior to undertaking this work, it will be necessary to remove trees in the vicinity of the new tank positions.

The removal of trees will take place weather permitting:


Week Commencing May 25, 2009



Access to the Community Centre pathway may be restricted at certain times during construction works. Contact Officer: Glyn Avery – ( 9970 1394




ON-SITE SEWAGE MANAGEMENT STRATEGY




ON PUBLIC EXHIBITION


Pittwater Council has developed a draft strategy to assist Pittwater residents who have sewage management systems on their properties.

The strategy has been developed to ensure that sewage management systems on private properties in Pittwater meet all relevant health and environmental legal requirements.

The draft strategy will be on public exhibition for comment between

Saturday 23 May and Monday 22 June 2009.



Council's Principal Environmental Health Officer Robina Warburton said that Pittwater has approximately 1200 properties which have these systems.

"This draft strategy aims to effectively manage privately-owned sewage treatment systems and maintain public health, " said Ms Warburton.

Key points of the strategy include:

* details of standardised performance requirements for all on-site sewage management systems
* the responsibilities of property-owners and wastewater service providers
* an outline of the Council's risk assessment and inspection program
* actions and education programs that focus on sustainable on-site sewage management practices
* details of the Council's responsibilities and enforcement actions

Copies of the strategy can be viewed at the Council's customer service centres at 1 Park Street Mona Vale and 59A Old Barrenjoey Road Avalon or at www.pittwater.nsw.gov.au/documents_on_exhibition

Comments can be emailed to pittwater_council@pittwater.nsw.gov.au or mailed to the General Manager, Pittwater Council, PO Box 882, Mona Vale NSW 1660.

For further information about the strategy call 9970 1111 during business hours.

Media contact: Robina Warburton, Pittwater Council Ph: 9970 1141



---
Author Talk@ Mona Vale Library




"A REALITY CHECK ON RETIREMENT"


Mona Vale Library will host an Author Talk on retirement on

Thursday 28 May at 6.30pm

with writer Donna Gibbs.

Her book When I'm 64. The New Retirement explores the experience of retirement from the point of view of those not yet retired, those newly retired and those further down the track.

With warmth, humour and insight, Dr Gibbs shows the upsides and downsides of retirement and the challenges it brings for retired couples and singles.

The book provides an inspiring guide to the way people deal with this phase of their lives, posing questions such as 'What do people do with twenty or thirty years of life without the structures and restrictions of work?'

Dr Gibbs says that retirement is usually anticipated as something to be celebrated and envied – but the reality can often be a daunting prospect.

"While information is readily available in areas such as financial and health management in retirement, very little has been written about what people actually think and feel about the experience," she said.

Dr Gibbs is a writer and educator who has written about topics as diverse as Elizabethan love poetry, children's literature, film and cyber culture. Although officially retired herself, she leads a busy fulfilling life; in addition to her writing, she is also an honorary associate of the Australian Centre for Educational Studies at Macquarie University

Dr Gibbs' Author Talk will begin at 6.30pm at the library in Park Street, Mona Vale. Books will be available for purchase and signing by the author. Bookings are essential and can be made by phoning 9970 1600.

The admission fee which includes light refreshments is $7.50 or $5.50 concession (please show cards at the door).

Media contact: Catherine Buddin, Librarian Ph: 9970 1605



---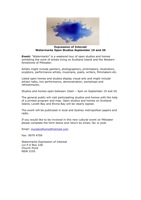 Watermarks Open Studios



Expressions of Interest from artists wanting to participate in "Watermarks-Pittwater Open Studios" need to be in by May 31.



Click to download the form
---
You Asked..


Reward Offered




LOST

Gold Pandora bracelet with a distinctive green glass bead. Lost possibly in Mona Vale shopping centre, Warriewood Square or on the island. Sentimental value. Contact Karin on 0419 991 267.



---
For Sale
If you have something for sale that you think locals would like - let us know and we will put a SINGLE line entry in the PON at the beginning of each month...



Wood working tools.


Circular Saw bench. Jigsaw - Readers Digest record albums and single records
contact; Peter Hand 9986 0172.



Free Couches


2 free two-seater couches and 1 single bed mattress
contact: Chuck on 0417 023 373



---