Mundelein Community Connection (MCC) is a not for profit organization dedicated to the economic development, historic preservation and healthy community spirit of Mundelein's central business district. Working together we provide an atmosphere where new and established businesses can grow and where families find the hometown they always wanted.
A Message from the Executive Director
Planning is well underway for the 2023 MCC event season.  As we have done for over 20 years, the season starts with Park-on-Park Cruise Night.  Opening day is Wednesday, May 10th.  On the second Wednesday of the month, May thru September, pre-1977, Classic Cars from throughout Lake County will be on display from 4 pm to 8 pm in downtown.  DJ entertainment will be provided by Eddie Rodriquez. My Funnel Truck and Smokin' BBQ will provide great food options.
One month later, the 10
th
annual Mundelein Craft Beer Festival will take place on Village Hall Plaza.  Tickets are $50 in advance and available at Tighthead Brewery or on-line.  40 Illinois breweries will be featured. Tickets and the full list of participating breweries are available at
www.tightheadbrewing.com
.  In our opinion, this is the Best Beer Festival in Lake County!
One week after the Craft Beer Festival, on June 17th the Mundelein Farmers Market opens on a new day and time!  In response to popular demand, the Market is moving from Friday evenings to Saturday mornings, 8 am to noon.  Over 30 vendors are expected each week.  Produce, meats, bread, cheese, honey, micro-greens, prepared-food, crafts and kids activities will be available every Saturday through September.  Opening day is Donut Day! The first 150 visitors will receive a free donut, courtesy of Mundelein Dunkin' Donuts.
Construction projects at various locations in the downtown will have an impact on most events this year; but adjustments are being made.  There will be no access from Rt. 176 for Park-on-Park at least through July.  Access for show cars will be from Hawley Street.  Show car parking will be south of Park Street on Seymour and Chicago and the bank lots.  Thanks to PNC and Old National Banks for their continued cooperation.
We expect a great season.  We'll see you downtown!
New Farmers Market Logo Selected

At the urging of Market Manager, Becca Merkau, the MCC Board decided that it was time to update the Farmers Market logo.  Given the switch in the market day from Friday evenings to Saturday mornings, plus all the construction activity in downtown, a new logo was a good way to draw attention to the market and modernize the Market's Brand.
A request for submittals went out in January.  Twenty-two artists/designers submitted over forty designs for consideration.  We were very pleased with the number of designs received, the wide variety of the artwork, and the quality of the submissions. 
The final decision was made by the MCC board and Market Manager at the February MCC Board Meeting.  The final choice came down to simplicity of the design, scalability of the logo in various sizes and in different in varying media--print, social media, internet and on merchandise.  
Alen Parlov, an experienced, multi-disciplinary designer and entrepreneur, and Mundelein resident, submitted the winning design.  In addition, Allen provided a detailed set of usage guidelines to help promote uniformity and clarity of the logo across all media platforms which were adopted by the MCC Board in April.  The MCC Board is very pleased to recognize Alen Parlov as the Mundelein Farmers Market logo design winner.  Thank you to everyone who contributed to this process.  Look for the new logo at the Market.
Park-on-Park
:  2nd Wednesday May – September; 4 pm to 8 pm; downtown Mundelein between Park Street and Hawley from Seymour to Chicago Avenues. Opens May 10th!   All pre-1977 Classic Cars welcome.  Rain or Shine.  Due to construction all entry for show cars will be from Hawley Street. For more information visit
www.parkonpark.com
.
Please support our loyal business sponsors:  Auto Land Group; Acasa Senior Care; ACE Hardware; Accounting Freedom; Allanson Auto Body; Allstate Calderwood Agency; Barrington Construction Services; Berry Tire & Auto; Braun Masonry Inc.; Chicago Picture Cars; Edward Jones-Jim Glenn Agency;  Flatout Products;  Glenn & Sons Automotive Inc.; Golz Motors; Gustafson Body Shop; H.P. Performance; Hagerty Insurance – Jim Kelly Agency; Interstate All Battery Center; Luke's of Mundelein; Mid-West Tree Service Inc.; MJ Integrity Group; Mundelein Automotive Inc.; Mundelein Community Bank; NAC Supply Inc.; North End Garage; North Shore Classic Car Dealership; Prime Beef; Sudden Impact Collision Center; The Carpet Corner; Van Dorf & Freund; Volo Museum. 
Mundelein Craft Beer Festival: 
Saturday, June 10th, 1 pm to 5 pm; Village Hall Plaza; 40 craft breweries; admission $50 in advance $55 at the door, designated driver admission $15; food vendors; live music; free bag games and more.  Volunteers are needed—contact Travis at Tighthead Brewery.  Sponsorships are now being accepted.  For more information visit
www.mundeleincommunityconnection.org
  or
www.tightheadbrewing.com
.
Farmers Market: 
Saturdays, June 17th through September 30th, 8 am to noon; downtown parking lot Seymour and Hawley Streets.  Sponsorships are now being accepted:  Organic Level - $100; Peaches Level - $500; Market Day Level - $1,000.  For more information visit
www.mundeleincommunityconnection.org
and please follow the Market on Facebook
Save the Date: Mundelein Fine Arts Festival

Circle September 9th and 10th on your calendar—that's Art Fest weekend at Kracklauer Park.  This is a juried show featuring top quality artists from a variety of disciplines.  To date, 37 artists have been accepted; 8 spots are still available.  June 15th is the application deadline. 
Our First "Big Four" Sponsors of the Year

We are happy to announce we have received commitments from Mundelein Community Bank and All State Calderwood Agency to once again sponsor the four big MCC events of 2023:  Park-on-Park; Farmers Market; the Craft Beer Festival and the Fine Arts Festival.  Both businesses were Big-Four sponsors in 2022.  Thanks to Seyda Calderwood, owner All State Calderwood Agency, and Chris Piazzi, President Mundelein Community Bank, for your support of MCC and downtown Mundelein.  
Sponsorship opportunities for all 2023 are now still available.  Contact MCC director Terry Skriba at
847-970-9235
for details and more information.
Mundelein LGBT Alliance and Allies, Michael Flynn, On The Road Classics Car Club, GLMV Chamber of Commerce, Christa Lawrence, Tighthead Brewing Co., Bill and Kim Kelly, Cutler Workwear, Sarah Christ, Area Coffee, Chris Piazzi, Wallace E. & Wendy C. Frasier, James Smith REMAX Showcase, Lars & Bente Rasmussen, Ernie & Margaret Billittier, The Kirk Players, Luke's of Mundelein, Mundelein Community Bank, Mundelein American Legion Post 867, The UPS Store Libertyville, NorthSide Community Bank, Gary Gunther, Tiemart, Rita Kipp, Signs Now, Mundelein Parks & Recreation District, Schultz Insurance Services, MacLean-Fogg Company, DoubleTree Hotel Libertyville-Mundelein, Fremont Public Library District, Angela Trillhaase, Mundelein Police Department, Fremont School District #79, The Carpet Corner, Joseph Modica & Associates, Ltd., Center for Wellness, Inc., Gerald Brin, ACE Hardware, Ray Mullen, Tax Lady 1040, Dover Straits Restaurant, Sysmex America, Inc., Mundelein Vernon Hills Rotary Club, Nancy Piasecki.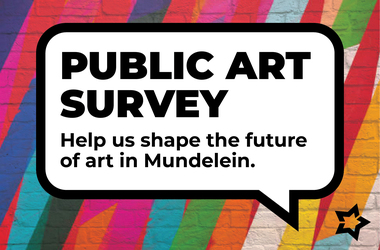 Help shape the future of art in Mundelein! The Mundelein Arts Commission is conducting a Public Art Survey of the community: 
https://arcg.is/14v9an
. The Arts Commission is working on a Public Art Plan for 2023.  In order to make informed decisions, the Commission is seeking to understand the how the community feels about public art.  If you live or work in Mundelein or are a regular visitor here, please click on the link above and take the survey.  You do not need to live in town to fill out the survey. 
Mundelein Community Connection supports the goals and objectives of the Arts Commission and is glad to help in this effort.  Thank you for your time and valuable input.  The survey takes about 10 minutes to complete.  It is available in English and Spanish (translation button is at the top of the survey).  Please limit responses to one survey per person. 
For questions contact the Village of Mundelein Community Development Department,
847-949-3282
).
Kirk Players Present Morning's at Seven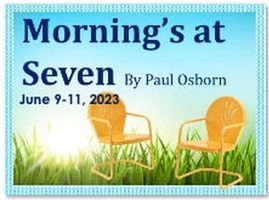 Kirk Players Present Morning's at Seven by Paul Osborn, directed by Patrick Blake.

Set in the early 1920's in a small Midwestern town, this is the story of the 4 Gibbs sisters, all of whom live within a "stone's throw" of each other. Now in their late 60's, the sisters and their husbands find themselves at a dramatic "fork in the road". Hilarious and deeply touching, Mornings at Seven lays bare the inner workings of the American family in all its messy, embarrassing, ridiculous glory.

Performances are June 9th and 10th at 7:30pm and June 11th at 2:00pm in the Mundelein High School Auditorium.
Other Community Events in May and June
May 5th – Friday Night Open Mic on Park Street starts
May 20th – Public Works Open House, 10 am to 1 pm, 801 Allanson Road
May 22nd – MCC/GLMV Bingo at Tighthead, 5:30 pm – 8:00 pm.
May 28th – Concert in the Park, MHS Jazz Band, Kracklauer Park 5 pm – 6:30 pm
June 3
rd
–
Spring into Summer, noon -4 pm, Mundelein Beautification Committee Family Fest at Tighthead Brewery
June 4th – Concert in the Park, Jazz Spectrum, Kracklauer Park
June 11th – Concert in the Park, Mellencougar, Kracklauer Park
June 18th – Concert in the Park, Rock'in Federskirts, Kracklauer Park
June 25th – Concert in the Park, Anderlik and Church
June 26th – MCC/GLMV Bingo at Tighthead, 5:30 – 8:00 pm.