We're proud to announce that Adrian Recordings' artist Edda Magnason will be playing the leading part in a movie about the life of the legendary Swedish jazz singer Monica Zetterlund. Edda, as well as Zetterlund, comes from the countryside: Edda from Iceland and Zetterlund from the forests in Sweden, both moving to the big citys in Sweden. There are also several similarities musically that makes the choice self evident, even though Edda is an musician and never worked as an actor before. But if you carefully listen to Edda's music you can hear that she is used to create different sceneries, the journeys the music takes the listener onto is not far away from how an actor shapes characters.

The film will be shot 2012 in Sweden and New York. It's directed by the Danish director Per Fly known for the trilogy

"
Bænken", "Arven" och "Manslaughter
". Th

e script is written by swedish writer Peter Birro known from many dramas on Swedish National TV such as " Hammarkullen", "Upp till kamp", "Det nya landet" etc.


Read more in Swedish HERE:
dn.se/kultur-noje/film-tv


Listen to the beautiful album "Waltz For Debby" that Zetterlund released in 1964 together with Bill Evans Trio, just about the time when the film will take place.
Monica Zetterlund – Waltz For Debby


Get Edda's latest album "Goods" HERE:

iTunes: itunes.apple.com/se/artist/edda-magnason/id415889078

CD: adrianrecordings.com/shop/sv


Spotify:
open.spotify.com/album/6aclqYRwdoKSnzLzizzrLE


Watch the video to her latest single "Blondie".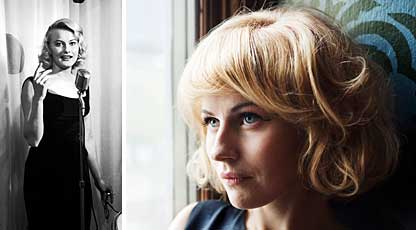 Adrian Recordings
+46 (0)709–20 38 53