---
Community Fundraiser for Nepal - Report

$10,000.00 Raised
On Friday night 1st May at the Waterfront Cafe at Church Point a spontaneous event was organised by local residents to raise funds for the Nepal Earthquake Oxfam fund.

Once again the generosity of Scotland Island and Offshore Artists was overwhelming with over 40 items of Artworks being donated for a Silent Auction which raised a whopping $6717.00 and in addition generous donations of goods and services from local businesses were raffled to raise over $2700.00.

The Waterfront Cafe hosted the event and donated $5 from the sale of every Pizza bringing to a

total raised $10,000.00

.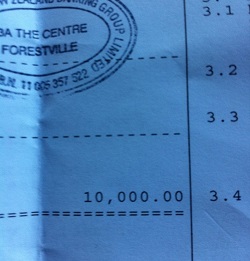 Local musicians donated their talents to entertain the crowds.
Brian - was amazing letting everyone drop in all the bottles of wine over 3 days.

Contributing vouchers included;



Mona Vale Massage - Pittwater Place
Nextra Newsagency
Pasmina and crafts Nepali store.
Penny From Church Point Ferry Services for the cruise and a ferry ticket
Portfolio Hair
The Pedicure and Manicure Store in Pittwater Place.



Too many gifts in raffle to list but it included whale watching cruise, captain cook cruise and so many more...

People personally donated their skills; Jackie at the store gave a homecooked meal for 6 as well as kids offering a night of babysitting including dinner.

A special thank you to Nettie and Amy for their significant contribution of time and energy to help make this all happen.

Many more photos taken by Geoff Bullock and June Lahm can be viewed at the Online Gallery Here

Thank you all for being so generous.

Shona



---
Hoax Email - "Whats App Web"
Whatsapp Malware Phishing eMail Scam Will Ask You To Press Big Green 'Play' Button
Don't Press it !


If you get an email saying you have new messages from WhatsApp, you might want to think twice about clicking the big green "play" button, even if the email comes from a known address.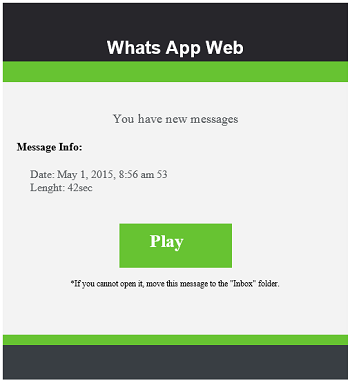 The message will look similar to this....


The emails seem to be part of a well-documented malware scam, and over the past weeks an increasing number of Yellowknifers have reported receiving them, even if they don't use WhatsApp smartphone messaging.

According to a post on the WhatsApp website: "We do not send you emails about chats, voice messages, payment, changes, photos, or videos. You will only receive an email from WhatsApp if you initiate a conversation with us via our dedicated email channels, such as one of our support channels.

"Unwanted messages come in many forms, such as spam, hoax and phishing messages. All these types of messages are broadly defined as unsolicited messages that try to deceive you and prompt you to act in a certain way."

It seems the scam uses a phishing technique that allows hackers to access people's email accounts and send emails from them.

So just because the email comes from a friend, doesn't mean you should click on it.



---
Yoga @ Elvina Bay
Every Friday in the Park near the Fire Shed - 9am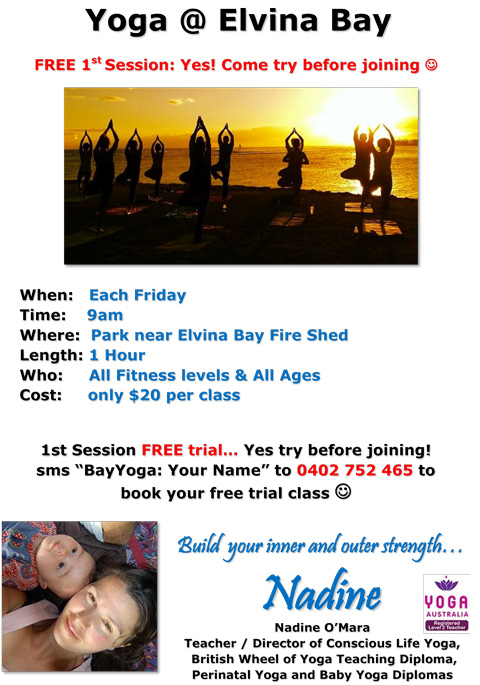 ---
Polycraft for Sale
---
Free to a Good Home
2 x Kayaks
2 x 4.3m double seater 'Mohawk' fibreglass kayaks with paddles
Located on the beachfront on the south side - 4 wharves east of Bells wharf.

Please call Terry on 0418 849 801 to arrange collection.



---
FOR SALE - Karoo
---
---
Missed out on a previous Newsletters - HERE
A complete set of past electronic newsletters since May 2000 can be found and read at https://ymlp.com/archive_gesgjgm.php


---
To Contribute
If you would like to contribute to this newsletter it's easy!. Send an e-mail to the editor (editor@scotlandisland.org.au) or by clicking here. Type your contribution (100 words or so would be fine) and assuming it is of general interest to the community, does not include matter of a political nature and is not offensive, it will appear next month.


Subscription Information
To get on and off this newsletter, click here

or got to:

http://www.scotlandisland.org.au/signup .


To change your address, click the 'modify' link at the bottom of this newsletter or send an email to the

editor@scotlandisland.org.au


---
Follow the PON
---
The Online Local Contacts Guide
Click HERE to load
---
---
The views expressed in this newsletter are not necessarily the views of the Scotland Island Residents Association (SIRA), or the Western Pittwater Community Association (WPCA)
---
---