---


Notices


Bell Wharf Repairs


Due to the replacement of the steps on the wharf, the wharf will be closed between

9.00 am and 3.30 pm on the Wednesday 29th September, 2010.



Council apologise for any inconvenience this may cause




Church Point Parking Precinct


The new parking scheme for Church Point came into effect on 1st September 2010.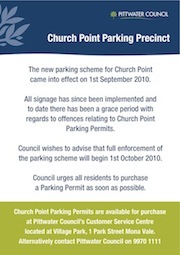 All signage has since been implemented and to date there has been a grace period with regards to offences relating to Church Point Parking Permits.



Council wishes to advise that full enforcement of the parking scheme will begin 1st October 2010.



Council urges all residents to purchase a Parking Permit as soon as possible.

Church Point Parking Permits are available for purchase at Pittwater Council's Customer Service Centre located at Village Park, 1 Park Street Mona Vale. Alternatively contact Pittwater Council on 9970 1111






Dog Day by the Bay




Pittwater Council will host their popular annual event for dogs and their owners at Rowland Reserve Bayview on Sunday 26 September between 10am and 3pm.



The day has a mix of fun doggy events, with obedience and agility demonstrations, plus talks on topics relevant to dog owners.

One of the highlights of the day will be canine training expert Wayne Grewar from Hanrob who will conduct education sessions on obedience, including a demonstration known as 'Detector Dog'.

Event organiser Rennae Projceski from the Council said other education sessions would give dog owners useful information about ticks, dog safety and training.

"Dr Bryn Lynar is principal veterinarian at the Pittwater Animal Hospital who has worked in the area for over 10 years and will provide advice on tick paralysis and prevention," she said.

Official proceedings start at 10.20am, followed by the popular canine fancy dress show and 'Dogs Musical Chairs'. The winner of Pittwater's Dog of the Year photo competition will be announced around midday.

A performance from The Willoughby Swing Orchestra will provide musical entertainment while children can have fun on the jumping castle. There will be a variety of pet-related stalls, hot food stalls and a coffee van.

Brian Pickering and Kaye Browne from Pet Talk Radio will compere the events, with plenty of great prizes on offer.

All money raised by the event will be donated to local branches of the Animal Welfare League.

Ms Projceski said that Dog Day by the Bay was a waste wise event, and urged participants to help reduce waste through the use of reusable or recyclable products. "All visitors to Dog Day will receive a free calico bag to put their goodies in. So visit the Pittwater Council tent and pick up your calico bag and an event guide too!"

Entry and parking is free at Rowland Reserve. In the event of extreme wet weather or wind the event may be postponed. For more information contact Pittwater Council's environmental education team on 9970 1194.

Media contact: Rennae Projceski, Pittwater Council Ph: 9970 1194


---
Kindy Cafe




Calling the faithful!



Dire times. After the excesses of the weekend before, the number of cakes available at the cafe last weekend was woeful. Just Maddy's wonderful chocolate brownies, which sold out by about 10:02.

Is there anyone out there who can help? We are desperately in need of more people to make cakes on a Sunday morning. It doesn't need to be fancy. It doesn't need to turn up on the dot of 10:00 – 10:05 will be fine. Your name will be displayed with the cake, its praises will be sung. Sorry, no cash.

Ring or text 0404 867 768 if you think you can make a cake – or just turn up with said confectionary on the day.

Also ring if you would just like to get more involved – perhaps you can take a turn chatting by the coffee machine and maybe occasionally serving a customer? Maybe you can just do half the shift? Or perhaps you fancy yourself as a great barista? Training is on offer! Give us a ring!

Catherine Park, 10 till 12, by the kindy. Bring or buy your very own Scotland Island souvenir mug for a 50ct coffee discount.

Thanks,
The Cafe Crew


---
Lost




Red Wet Jacket


Lost red wet weather jacket at the fair
Louise Birkett
PH 0422 478 704.


---

---
The Local Guide - Community Information
Click HERE to load
---