It's hard sometimes to put into words where your inspiration comes from.  As long as I can remember I've been creative - drawing and cutting out my own paper dolls from the moment I could hold a scissors.  Every creative moment molds you and one of my pivotal ones was getting a paint by number set with two clowns - one happy, one sad.  It was complex and I was very young, but my mom knew I needed the challenge.  I was fascinated with the face painting, the expressions, and it began a love affair with the human face and capturing emotions with concepts and design.  In starting this latest line of polymer art, I wanted to get back to those ideas that inspired me in my youth.
These earrings are called
"Rainy Day at the Circus."
 They have a translucent sad clown face on a black, gray & white pixeled background.  I wanted the gray back drop to represent the gray of the rain in contrast to the bright colors in the clown's nose, hair, and flower.  This will be my entry in the
May PCAGOE challenge - "Artist Inspired."
 And it's not what you may think, I wasn't inspired by the artist who painted the original painting that paint-by-number from my youth was based upon. 
When I thought about it, the artists that inspired me were
the clowns or more specifically the clown that most of the sad, tramp clowns were based upon - Emmett Kelly or "Weary Willie."
Here is a detail from the matching cuff bracelet.  Both Earring and Cuff will be listing soon on my
Etsy
. 
The 
April PCAGOE Challenge
theme is "Layers.". The voting goes through April 7, so don't forget to vote for your chance to win! This is my entry.
Another fun experiment! Made from two canes that are variations on Donna Kato's Starry Night Cane, I chopped lots of multi-hued colored leftovers from last month's challenge into bits and stacked them together next to each other with bits of black for accent. The resulting block of clay I then used to make various other canes - two of which are used in these fun salt and pepper shakers. The block of clay was put through the pasta machine in different orientations for each of these cane and the results layered into the patterns shown. The swirled rainbow cane was then layered on top of the rainbow zig-zag cane for the final result.
Here are the two canes I used:
Remember, next Month's Challenge theme is "Artist Inspired!"  Make sure to mark your calendar so you can check out some of the wonderful polymer art and vote.  3 lucky voters are randomly selected for special prizes from the PCAGOE members!
Making a Magic Swirl Cane
As promised, here is a quick tutorial of how I make my Magic Swirl Cane.  You can use whatever colors you wish in yours and I'd love for you to post your canes on my
Facebook Page
!  
1) Grab some piles of left over scrap clay in colors you want to blend.  Make sure the piles are similar in size.
2) Chop up the different piles of scrap clay with a blade or in your food processor.  If you make it too fine, you'll lose the details of the different shades, but this is a fun way to vary the look of the cane as well.
3) Stack the different piles of chopped clay next to each other.
4) Chop up a bit of scrap black clay and divide it evenly between the piles.  How fine you chop it will determine how fine the black accent streaks are in your cane.  Mix the black bits into your piles and mix the piles very slightly between colors to blend them.
5)  Roll and press your pile of chopped bits into a square.  At this point I cut mine in half to make another cane (haven't decided which) and resquished the remaining half back into a square.  It was about 3.5".
6) Run the slab of clay through the pasta machine on the thickest setting - from one color to the next as shown.  You want to make sure you run it this way so that the colors run through the sheet as streaks of color.  If you run it through from the edge with all colors, they will be just dots of color.
7) Take your sheet of clay and divide into 3rds lengthwise.  Stack your three long sheets.
8)  Run a thin sheet of black through your pasta machine.  I did this on a 5 setting when my machine goes from 1(largest) to 7(smallest).  You can make it thinner or thicker depending on your taste.  Stack your black sheet on one side of your colored sheet and trim the excess.
9) Roll your cane from either end - your choice - with the black toward the outside - i.e. the black will be laying against the table as you roll your cane up.  Your cane is now finished!  Reduce and enjoy!
I'll share with you how to make a beautiful butterfly cane using the logs created from my pansy tutorial!  
Hi and welcome to a little piece of my world!  My name is Deb Hart, but most of you have known me for years now as Deb Tuchsen.  February 3 marked a wonderful change in my life as I married the man I adore, Brian Hart,  and it's been part of the wonderful path my life has taken in the past year.
I grew up on a farm in Minnesota as Deborah Kay Schumann - oldest daughter of 6 girls.  You can still see a lot of nature and country in my photos and creations.
I have degrees in Psychology and Chemistry from St. Olaf College in Northfield, Minnesota, but spent most of my 4 years there working also tutoring photography and working for the college yearbook.
I have 3 beautiful children, 2 loving adorable stepchildren, 3 cats, 1 dog, and not enough sanity to handle most days, but I enjoy the ride.  =)
Mother's Day is May 13th this year - a bit less than 2 months away, but there is still time do plan something special for your Mom.  Now through that special day, enter the coupon code MOTHERSDAY at checkout in either my Etsy or Artfireshop and receive a 20% discount on any gift.  You can choose from a wide variety of drawing/art options in my artfire shop like the baby picture on the left or a customized Mother's Day pin from my Etsy shop like the one below.  Don't forget - the great little faces on my Children of the World items make fantasic one of a kind gift ideas for that special teacher, too.  So think ahead and get something unique for those special ladies in your life!  Remember to place any customized order by April 15 for guaranteed Mother's Day delivery.  After April 15th, please contact me for a time frame.  Thank you!
Summer Camp!
I'm continuing to gear up my Gumbacher Art Classes so that I can start teaching the intermediate classes to students.  Here is a painting I've been working on to showcase to students what they can potentially do.
And here is the photo I'm working from:
Please feel free to contact me for current class dates and times!
This summer I'm hoping to work some summer camp clay classes into my busy schedule at Michaels.  I've talked to my manager about organizing some classes for ages 12 to adult (younger with an adult attending as well) that would be a couple hours in the afternoon for one week intervals.  The first week we'd do basical polymer clay beads and jewelry design.  The second week we'd do simple animal sculptures.  And the third week (longer classes for advanced students) we'd create some fun realistic  fantasy figures and learn to sculpt faces, hands, and feet.  I'm still working out the timing, cost and logistics - but hope to have something scheduled by this time next month, so if you're interested - send me an email!
More Tutorials!
I hope you enjoyed this fun & easy free tutorial!  If you're interested I have more available online and in my Etsy shop.
UT Cane
This is a fun example of how you can make lettering or collegiate overlay canes.  It's free on my BLOG!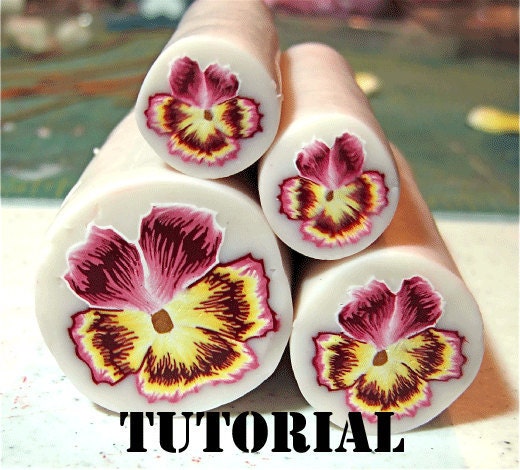 Pansy Cane
A intermediate level caning tutorial to make a lovely ruffly pansy cane. Available on ETSY.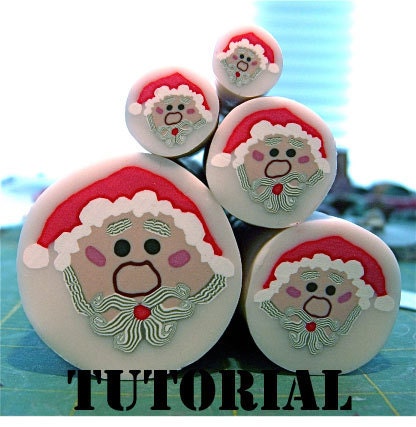 Santa Cane
An advanced level tutorial cane that lays out step by step the process to make this cute folkish Santa Cane.  Available on ETSY.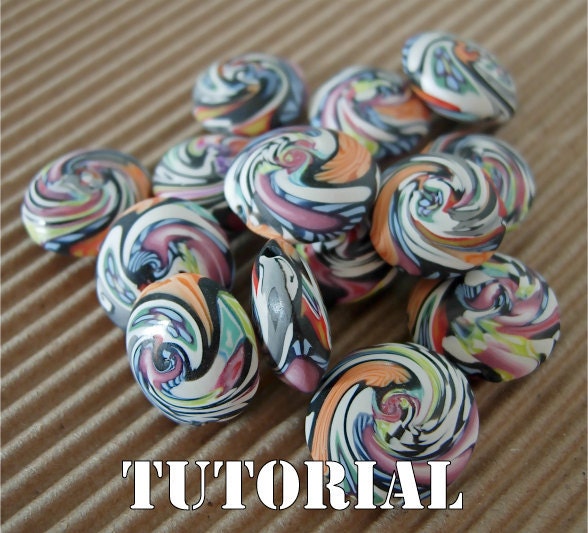 Easy Swirled Lentils
A few of the right tools can definitely make it easier to make these quickly and easily!  Available on ETSY.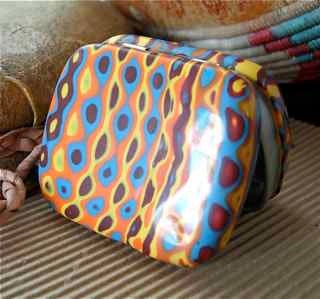 Layered Chevron Veneer
A fun technique using a ripple blade and a precise-a-slice cane slicer to give a wonderful chevron pattern.  Available on ETSY.
This monthly newsletter and is being sent to clients, friends, and family on a trial basis.  If you wish to be removed from future updates, please click the unsubscribe link at the bottom of the page.  If you have friends who would like to be added, please contact me at rengalsa@gmail.com or click SUBSCRIBE!
If you missed last month's newsletter, read it HERE!