Friends & Neighbors:
Here are 19 great titles that make great gifts. Even better, you save 20% on these and other books on our Holiday Picks page during the month of December. There's something for everyone!
The Art of Simple Food II
by Alice Waters
Visionary chef Alice Waters presents 200 new recipes that share her passion for the many delicious varieties of vegetables, fruits and herbs that you can cultivate in your own kitchen garden or find at your local farmers' market. Beautifully illustrated.

The Big New Yorker Book of Cats
This fun and worthy follow-up to last year's Big New Yorker Book of Dogs features short stories, articles, humor, poems, and charming color covers from the magazine's archives - all on the feline subject. Contributors include John Updike, Ted Hughes, James Thurber, Elizabeth Bishop, Margaret Atwood, Roald Dahl, Susan Orlean, Peter Matthiessen, William Steig, Sam Gross, and more!
Catastrophe 1914: Europe Goes to War
by Max Hastings
The eminent historian and author of Inferno has written almost exclusively about WWII. In his new book, Hastings turns his attention to the outbreak of WWI, including a vivid account of the period from June to December, 1914. Those were the months when illusions died alongside hundreds of thousands of people.

Classico E Moderno
by Michael White and Andrew Friedman
Hailed by food critics as the next great hero of Italian gastronomy, White brings his passion for authentic Italian cuisine to the home kitchen, with nearly 250 recipes that cover both the traditional and contemporary dishes of the region. In the "Classico" portion, White shares such iconic dishes as Meatballs Braised in Tomato Sauce and Cavatelli with Lamb Ragu and Bell Peppers. The "Moderno" chapters feature recipes that have put White's restaurants on the map, including Chicken Liver Crostini with Marsala-Braised Onions and Veal Chops with Roasted Endive and Pancetta Cream Sauce.
Duke: A Life of Duke Ellington
by Terry Teachout
The drama critic for the Wall Street Journal and author of Pops: A Life of Louis Armstrong tackles the life, work and music of the great jazz composer Duke Ellington. Although Ellington wrote an autobiography (Music Is My Mistress) and has been profiled in several other books over the years, few have captured the complexity of Ellington's private life and his personality as a bandleader. "An entertaining and valuable biography." - Booklist
Electrical Wizard: How Nikola Tesla Lit Up the World
by Elizabeth Rusch (Illustrated by Oliver Dominguez)
Nikola Tesla's inventions led to remote controls, fluorescent lights, X-rays, speedometers, cell phones, and even the radio. Award-winning author and biographer Rusch sheds light on this extraordinary scientist, while fine artist Dominguez brings his life and inventions to vivid color.
Empress Dowager CIXI: The Concubine Who Launched Modern China
by Jung Chang
In this groundbreaking biography, Chang reveals how Empress Dowager Cixi (1835-1908) - the most important woman in Chinese history, who as a concubine launched a coup to be ruler of China after the emporer's death in 1861 - fought against monumental obstacles to change China. Under her the ancient country attained virtually all the attributes of a modern state: industries, railways, electricity, the telegraph and an army and navy with up-to-date weaponry. It was she who abolished gruesome punishments like "death by a thousand cuts" and put an end to foot-binding.

Exploralab: 150+ Ways to Investigate the Science All Around Us
Discover life's secret laboratories with this hands-on, action-packed activity guide from the world's most beloved and fun-filled laboratory of all, the Exploratorium! Exploralab contains tons of cool tools of inquiry to help kids get in on the science fun, including: a magnifier, reflective paper, fabric swatches, an erasable whiteboard, textured paper, polarizing filters, and glow-in-the-dark ink!
The French Kitchen Cookbook: Recipes and Lessons from Paris and Provence
by Patricia Wells (Photography by Jeff Kauck)
Culinary legend Patricia Wells makes the fresh and delicious recipes from her popular classes available to fans who dream of experiencing their own gastronomic adventure in the world's culinary capital. The French Kitchen Cookbook is a beautifully designed compilation and reflection on what Wells and her students have learned.

Hild
by Nicola Griffith
A brilliant, lush historical novel about the rise of the most powerful woman of the Middle Ages: Hild, who grew up in seventh-century Britain to become St. Hilda of Whitby. Award-winning author Griffith's exquisite language serves as a portal to a distant time and place.

The House of Hades (Heroes of Olympus #4)
by Rick Riordan
In this fourth installment of the bestselling series, the Greek and Roman demigods from the Prophesy of Seven must work together to seal the Doors of Death, and help Percy and Annabeth escape the Underworld in the process.

Island of Fire (Unwanteds #3)
by Lisa McMann
In the latest book of the New York Times bestselling Unwanteds series, the fate of Artime is at stake: The magical world of Artime is gone, the Unwanteds have no food, no water, and no hope. And everyone is looking to Alex Stowe for answers. Overwhelmed and feeling helpless, Alex knows it's up to him to find a way to restore Artime, rescue his captive friends and free Megan from her voice-stealing necklace of thorns - three impossible tasks. But could help lie with the silent, orange-eyed newcomers?
The Kid: The Immortal Life of Ted Williams
by Ben Bradlee, Jr.
Ben Bradlee, Jr., spent 25 years at the Boston Globe as a reporter and editor. He has written the epic biography Ted Williams deserves - and that his fans have been waiting for. The best hitter in baseball history, Williams' batting average of .406 in 1941 has not been topped since, and no player who has hit more than 500 home runs has a higher career batting average. A great gift for baseball fans!
The Little Mermaid
by Robert Sabuda
Continuing his series of pop-up adaptations of classic stories, Sabuda has created a "visually splendid" (Booklist) version of the Hans Christian Andersen tale, with jewel-toned colors and a stained-glass quality. He is faithful to the original tale, and the text is less abridged than most re-tellings of classic stories.

One Summer: America, 1927
by Bill Bryson
One of our greatest and most beloved nonfiction writers transports readers back to one amazing season in American life. The summer of 1927 began with one of the great events of the twentieth century: on May 21, 1927, Charles Lindbergh became the first man to cross the Atlantic by plane nonstop. Bryson explores other major developments involving baseball (Babe Ruth), boxing (Gene Tunney), criminal justice (Al Capone; Sacco and Vanzetti), and politics (Calvin Coolidge's "I do not choose to run" statement).

"A glorious look at one summer in America...Bryson offers delicious detail and breathtaking suspense about events whose outcomes are already known." - Booklist, Starred Review
A Reader's Book of Days
by Tom Nissley (Illustrated by Joanna Neborsky)
This eclectic and wide-ranging collection of literary trivia for book lovers, delightfully illustrated by acclaimed artist Neborsky. features bite-size accounts of events in the lives of great authors for every day of the year. Eight-time Jeopardy! champion and former bookseller Nissley offers anecdotes, quotes, reviews, diary entries, and letter excerpts in this charming guide that is also a love letter to literature.
The Sea Ranch
by Donlyn Lyndon (Photography by Jim Alinder)
The Sea Ranch, located 100 miles north of San Francisco, is a magnificent area covering several thousand acres of open meadows and forest, and interspersed with award-winning architecture. The ecologically inspired plan drawn up for the Sea Ranch in the mid-60s caused a quiet revolution in architecture. Renowned landscape designer Lawrence Halprin's master plan incorporated a set of building guidelines that structured the visual, as well as physical, impact upon the landscape. Written by internationally recognized architect Donlyn Lyndon, this revised and updated edition of the now-classic monograph contains eleven additional projects and an updated account of the ongoing development process and land-management issues.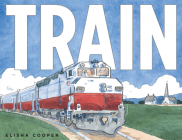 Train
by Elisha Cooper
Cooper perfectly captures the feeling of riding the rails as he takes readers along on several trains: a commuter train that clatters out of a city, a larger passenger train traveling between cities, a freight train slowly creeping across the Great Plains, an overnight train, and finally a sleek high-speed train. His characteristic muted watercolor and pencil illustrations are sketch-like yet very detailed.

Wilson
by A. Scott Berg
Pulitzer Prize winner Berg, who wrote Lindbergh, presents a thorough, entertaining biography of one of the great American figures of modern times - our 28th president Woodrow Wilson. A lawyer who became a professor of history, political science, and law, then president of Princeton University, was elected New Jersey's governor in 1910. Two years later he won the U.S. presidency in a landslide. Berg's detailed account of Wilson's presidency shows how Washington has changed over the past century.
Upcoming Events:
YOGA JOURNAL LIVE!
Thursday, January 16 - Monday, January 20
Hyatt Regency (Market Street at Embarcadero)
Start the new year with an inspiring new yoga practice! Yoga Journal LIVE! features yoga luminaries Baron Baptiste, Seane Corn, Ana Forrest, Judith Hanson Lasater, and more! With over 100 yoga classes, you will be inspired to start or continue a year of yoga practice.

Don't miss a special reception and lecture by keynote speaker Dr. Andrew Weil, who will share ways to cultivate a spontaneous state of happiness and resiliance.

For more information or to register, please visit www.yjevents.com/sf
---