On the Passing of South African Political Prisoner Comrade Shirish Nanabhai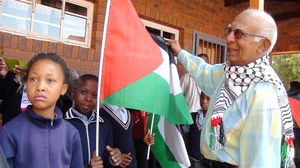 05 April 2016
We join fellow South Africans in mourning the loss of a stalwart of our liberation struggle, Comrade Shirish Nanabhai and recall the immense contribution he and many of our leaders made towards the achievement of a free South Africa as well as his participation in and support for the Palestine solidarity movement.
We in particular remember Comrade Shirish's very recent participation and involvement during #IsraeliApartheidWeek at an Ahmed Kathrada Foundation, BDS South Africa, Embassy of the State of Palestine and Palestine Solidarity Alliance symposium on Palestinian political prisoners.
Comrade Shirish was first arrested in 1955 at the age of 17 for chalking a political symbol on a wall in Fordsburg. He then joined the Indian National Congress in the 1950's as a teenager.
He was incarcerated several times before joining Umkhonto weSizwe in 1962 and just five months later was arrested for sabotage. Comrade Shirish was sentenced to ten years in prison and spent most of his imprisonment on Robben Island with other South African liberation icons. He was released from prison in 1973 and placed under house arrest until 1978.
Comrade Shirish dedicated his life to political activity and his commitment to the ideals of freedom, non-racialism and socialism never wavered, he was a part of a generation of exemplary leaders and comrades, many of whom have sadly passed on. It is due to the contribution, activism and principled commitment of people like Shirish that our country is free.
We extend our sincere condolences to the family and friends of of Comrade Shirish and we are proud to have had a man of such stature among the ranks of struggle comrades.
The Ahmed Kathrada Foundation
hosted a funeral service yesterday
with Gauteng Premier David Makhura, Minister of Finance Pravin Gordan, Former Robben Island Prisoner Issu Chiba and others.
ISSUED BY KWARA KEKANA ON BEHALF OF BDS SOUTH AFRICA
BOYCOTT, DIVESTMENT AND SANCTIONS AGAINST ISRAEL in SOUTH AFRICA (BDS SOUTH AFRICA)
6th Floor | Cosatu House | 110 Jorissen Street | Braamfontein | Johannesburg
PO Box 2318 | Houghton | 2041 | Johannesburg
T: +27 (0) 11 403 2097 | M: +27 (0) 84 211 9988 | F: +27 (0) 86 650 4836
BDS South Africa is a registered Non-Profit Organization. NPO NUMBER: 084 306 NPO
BDS South Africa is a registered Public Benefit Organisation with Section 18A status. PBO NUMBER: 930 037 446