---
Editorial





200 YEARS FESTIVAL

Scotland Island

Saturday 11th & Sunday 12th September 2010

A Weekend celebrating our community's history, by our community....for our community!


2010 marks the 200th Anniversary of the 1st land grant on Scotland Island and recent settlement offshore in Pittwater.

The aim is to create a community festival where we LOOK BACK and laugh, but also THINK FORWARD and consider where we go from here.

It will be a Heritage / Eco Festival - a bicentenary with a twist! Think old style fete/country show meets medieval carnivale with modern ideas for the tasting. Old world, dress ups, slowing down, remembering, imagining, learning and FUN will be strongly encouraged.



SATURDAY 11TH SEPTEMBER 4pm – SCOTLAND ISLAND FIRE SHED


'isingonthecake' - 30 strong acapella choir
Performing an upbeat repertoire of contemporary arrangements.
$5 donation @ door (kids free - all proceeds to Fire Brigade & Kindy)
Licensed bar. Light snacks available (proceeds to Fire Brigade)



6pm – SCOTLAND ISLAND COMMUNITY HALL


Opening of 'POSTCARDS FROM PITTWATER' exhibition
Licensed bar. ( proceeds to Kindy)



SUNDAY 12TH SEPTEMBER: is FAIR DAY!


10am till you drop - Catherine Park/ Fire Shed - Scotland Island

Pull out your dress ups (prizes to be had) and get into this day about old friends and photos, tales of times past (and more recent), games, dancing, Players skits, local muso's, eco discovery, film footage, delicious food, stalls, art, wellbeing, coffee, sailing, laughing, remembering.....



SUNSET


SUNSET PARADE will lead us back up to the FIRE SHED for DINNER AND A FINALE BUSH DANCE !
6.30-9.30pm with 'The Inland Navigators'

Enjoy!


---
Contents
---
Gwyn's September 2010 Calendar

To download a full version (A4 size) of this months calendar, ready for printing, just click on the calendar image.

You can contact Gwyn Perkins by email at g.perkins@gwyn.com.au


The file is quite large and in PDF format. To view PDF documents you will need the Adobe Acrobat Reader installed on your computer.

To download Acrobat Reader please

click here


---
Looking Back / Thinking Forward Festival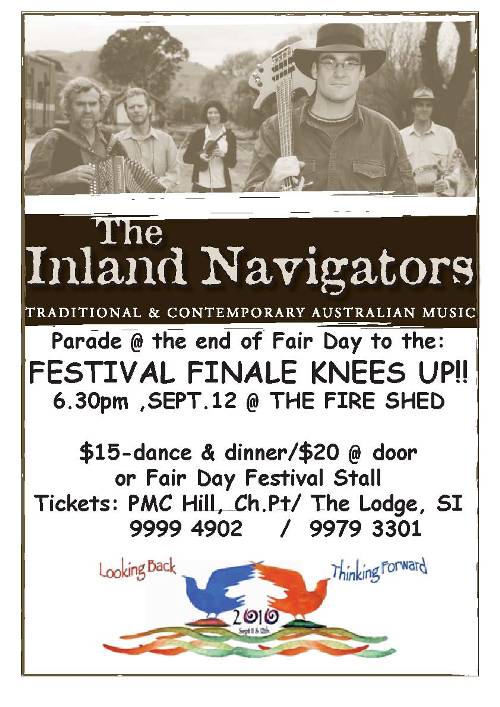 ---
Kindy White Elephant Stall at the Festival



Please don't forget to have a clean out and donate books, clothes and quality bric-a-brac for our White Elephant stall.

You can bring your donations down on

Sunday 5th September to the Island Cafe

and enjoy a cake and coffee at the same time! Alternatively we can collect your goods.

Call Barbara on 0400377056 to arrange collection.



---
Island Cafe Reminder


Did You Forget?



The cafe has been a regular fixture in the park now for weeks – months, indeed. Unless it is really terrible weather, we will be open. We will be there this Sunday, Father's Day, as per usual, 10 to 12, with delicious homemade cakes and fantastic coffee. So Dad's can be Dad's on Father's Day (looking after the children), and drink great coffee, too. Get him to bring his own mug for a special 50ct Father's Day discount!



Stop Press - !! Cafe open all day on Sept 12th!



Yes, that's right, we will be opening from 9am to 3pm on Sunday 12th Sept! As usual, there will be cakes, coffee, hot chocolate and babycinos, but for one day only, we will not be in our usual place. Still in Catherine Park, but probably either on the kindy deck, or behind the kindy in the playground. You will be able to sniff us out just by the smell of the coffee - or possibly by the huge banner we will be draping near the set up.

Oh, there may be a few other activities going on in the park that day, too.



Do you have any old photos of the cafe? We need you!



Do you remember when the cafe first started? Do you remember that there was 1 more table, and it was positioned east-west rather than north-south? For a while, the tables could often be found at different angles, sometimes almost out in the main park, and sometimes even with 5 or 7 chairs, not just the normal 6. It was a while before the tables settled down to the configuration they are in now.

If you have any old photos of those olden days, we'd love to hear from you! We will be putting together an exhibition of the Cafe Then and the Cafe Now, and all our valued customers can play Spot the Difference. There will be a prize for the first person to spot it!

Don't forget your cafe, Ladies and Gentlemen. We are there for you!

Cafe Crew



---
Lillian Kate Wastell



Introducing lovely Lillian Kate Wastell




Congratulations Penny & Simon



Little Lillian Kate Wastell was born on the 17th August at 4.01am 3.1 Kg (about 6.5 pounds).
Long labour then emergency cesarean for those that are interested.
Mum and Lillian doing well - happy and healthy. Lillian has regained her birth weight - Mum has most of hers as well !

Came home last Monday and have been eating and sleeping well.

We think she is gorgeous and are the ultimate doting parents !

Also : The guessing competition on the ferry was quite close, but no one quite got it right !

Penny



---

Local Council Notices

Measure Watts drawing your Power


Mona Vale and Avalon libraries are loaning energy meters free-of-charge to Pittwater residents to measure their energy use.

The meters measure the energy use of household appliances such as microwaves, refrigerators, washing machines, television sets and computers.

The simple tool is designed to show people where they can reduce their energy use and save money on their power bills.

Mayor Harvey Rose said the appliances demonstrated how much power was wasted from appliances, even when they were in stand-by mode.

"These devices help you pinpoint the power-hungry appliances in your home and give you an indication of the cost of running them, said Mayor Rose.

Library Manager Cathy Howie said residents receive a set of simple instructions when borrowing the meter.
"To use the meter, they simply plug it into the wall socket along with the appliance being measured and leave the device for a few hours."

"The unit will then give a reading of the energy use.

"If it is a dishwasher or washing machine being measured, it's best to leave it plugged in for the duration of the washing cycle," added Ms Howie.

Residents wishing to borrow an energy meter can do so by calling Mona Vale library on 9970 1600 or Avalon Community library on 9918 3013.

Media contact: Cathy Howie, Pittwater Council ph: 9970 1601




Public Meeting on Pittwater's Estuary Management Plan


Pittwater Council will hold a community meeting to discuss the draft Pittwater Estuary Management Plan from 6pm on Wednesday 25 August at Newport Community Centre.

The draft plan, prepared by independent consultants, is on public exhibition until 13 September.

The plan has been designed to manage the growing social, economic and environmental impacts on the Pittwater estuary's ecosystems.

General Manager Mark Ferguson said that it was essential for the Council to better manage the impacts of development on Pittwater's waterways.

"The plan sets out how in the future we can manage water quality, erosion and sedimentation, the ecology and uses of waterways and foreshores," said Mr Ferguson.

Mr Ferguson said the development of the draft plan followed extensive consultation with members of the Pittwater Estuary Working Group and the NSW Department of Environment, Climate Change and Water.

"The level of input from stakeholders to the plan so far has been very positive and we'd now like further feedback at the community meeting," he said.

"Residents, particularly those that live in the catchment area, often have valuable insights into changes affecting Pittwater."

Submissions on the draft plan should be addressed to the General Manager to be received by the close of the exhibition period on 13 September 2010.

Feedback received as a result of the public exhibition will be reported to Council later this year.

The draft plan including supporting maps can be viewed at www.pittwater.nsw.gov.au and at customer service centres at 59a Barrenjoey Road, Avalon and 1 Park Street, Mona Vale

Media contact: Paul Hardie Ph: 9970 1375




Latest Community Noticeboard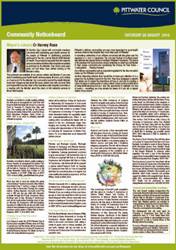 Please find attached a copy of our latest Community Noticeboard that appeared in Saturday's Manly Daily.

Don't forget to check out our on-line calendar of events for new and upcoming events.



(click flyer to load: Newspage Sat 28 August.pdf)




Lisa Trewin
Community Relations Officer
Monday - Wednesday
9970 1114





---
Pittwater Community Arts


Pittwater Artists Trail



We are asking for expressions of interest from people who are artists and have a home studio and if they would like to be part of the Pittwater Artists Trail.

We are having a meeting on Thursday 16th September, 7.00pm at the Avalon Rec Centre.

My name is Lorrie Morgan and I am President of Pittwater Community Arts.

I can be contacted on 99978079 or lorriemay@bigpond.com



---
Island Thinking presents:





"Introduction to the Art of Eurythmy - Singing the Creation : from Concept to Life - from Stillness to Movement"





" He to whom Nature
Begins to reveal
Her open secret
Will feel an irresistible yearning for her most worthy interpreter,
ART "



Born in the Basque country and being fed by hard politics and materialistic religion I survived the lethal years of school, university, Bachelor of Science ( 5 years degree on those days) and tedious jobs, to be finally rescued by Motherhood and commitment to Life. Nowadays, in my golden years I am nourished by my passion for the new art of Eurythmy and, as anyone in love, I can't wait to share it with you all.

Louisa

Date and time: Saturday, 18 September 2010, 7.30 for an 8pm start
Place: 10 Thompson St (Lot 332), Scotland Island
RSVP (and for further details): roybaker99@yahoo.com



---




Author Talks at Mona Vale Library




Free Author Talk to Celebrate HISTORY WEEK





Mona Vale Library will celebrate History Week with a free author talk on Thursday 9 September at 6.30pm.





Pam Bayfield's book Come with me

, the untold story plots the journey of World War II nurse Joan Fisher. Joan is one of the last surviving nurses who dedicated her life to service on a hospital ship and other Australian hospitals in the war.

Author Pam Bayfield and Joan Fisher, now an 89-year-old Collaroy resident, will share memories of the fear and reality of war service.

The book follows Joan and her friends visiting foreign ports that they could never have dreamed of and how the experience was much like being on a roller coaster.

"Girls in their early twenties were much less prepared for life than young women of today," author Pam Bayfield commented.

The Second World War period is described in such fine detail that one critic said 'it is almost as if readers are visiting Aden and Borneo themselves'. Joan also shares her experience of being inside a hospital ship.

Come with me, the untold story has been described as 'essential reading for any young women contemplating entering defence force nursing or indeed any hospital nursing'.

Like many dedicated to the service of others, Joan Fisher describes caring for others 'as a privilege'.

Pam Bayfield's book provides an insight into the empathy and patience required of nurses - and a timely reminder of the sacrifices made by a few for the many.

The Author Talk will take place at Mona Vale Library from 6.30pm on Thursday 9 September.
Bookings are essential; to book phone 9970 1600.
Following the talk there will be book signings.


Admission is free in celebration of History Week

.




Forthcoming Events




September-October 2010





Thursday 9 September

- Pam Bayfield & Joan Fisher


"Come With Me, The Untold Story"


One of the last surviving nurses who saw service on a hospital ship and other Australian General Hospitals during WW11.



Wednesday 22 September

– Chris Rau
"Dealing with the Media"
A handbook for those who can't afford a spin doctor. The journalist found herself on the other side of the media fence after her sister Cornelia was wrongfully held in Baxter Detention Centre



Wednesday 6 October

– Richard Glover
"Why Men are Necessary and more News"
A hilarious and optimistic look at Australian family life.
Please note that Richard Glover talk is now FULL, wait list only.

Cost $7.50, $5.50 – concession (Friends of Mona Vale Library/
Pensioner/student cards must be shown. Light refreshments provided.

The above talks will be held at Mona Vale Library, Park Street, Mona Vale at 6.30pm.

Bookings essential on 9970 1600 and payment within 3 days required to confirm bookings for all events.
For more information contact Catherine Buddin on telephone 9970 1605 or email catherine_buddin@pittwater.nsw.gov.au



---
Q Cafe French Food Night

---
Your Say





Tonnes in Tight


The small Crane Truck for big loads.
* One tonne capacity crane gets into tight spots to pick up or deliver heavy items.
* Small boat transport to or from mainland Cargo.
* Economical transport services $77 per hour ex Church Point
Call 0425 212 852




A Must for Vegetarians - RAW MILK


I have been buying Cleopatra's bath milk, for cosmetic use only (the trick to be able to be in the market), organic jersey milk from Avalon at 7.60 dollars for two litters bottle.
The distributor said to me he will deliver to Church Point but I need to buy 16 bottles.
I only need 4 or 5.
If you will be interested to buy some please contact Louisa 9999 4885




Cleaner Wanted


Cleaner wanted for house in Church Point.
Please contact Melissa on 99991418 or 0405 260 266.




House Exchange


I was wondering if one of the residents on Scotland Island might be interested in exchanging their house for my house here in East Ballina during the month of January 2011.

My house is very comfortable with plenty of sleeping accommodation, large living area, decks and an in ground pool. It is five minutes walk to the Serpentine Beach and Shaws Bay Hotel. Two minute drive into Ballina CBD.

Ten minutes drive to Lennox Head and twenty minute drive to Byron Bay.

Lesley Van Biljon
(H) 66866802
(M) 0421277992



---
For Sale




If you have something for sale that you think locals would like - let us know and we will put an entry in the PON at the beginning of each month..





For Sale 1994 Mitsubishi Verada


It creaks and squeaks and has a body like...well, like it's been parked in the Church Point car park for 6 years. Not bad for 280,000km
Great value for $2100.00
Call Nathan on 0410 467 256"




Dryer for Sale


Westinghouse 6.0 kg Dryer - 2 years old, barely used. $250 (obo)


Looking for:

Outdoor wooden table in good condition (ideal size 6 feet x 3 feet - can be longer) and chairs (min.4)
Please contact: Jillian 0450 334 565



---
The Local Guide
Community Information
What's On in Pittwater - Self Editing Event Calendar

click to go to the Calendar

Scotland Island Community Vehicle -

0404 103 700
Number, Usage & Charges

Scotland Island Rural Fire Brigade -

9999 4404
http://www.sirfb.org.au

West Pittwater Rural Fire Brigade

- 9997-3795
www.westpittwater.rfsa.org.au

Offshore Photo Gallery

http://picasaweb.google.com/offshoregallery/
Scotland Island Residents Association (SIRA) Membership Application

- click here to download
West Pittwater Community Association (WPCA)

- http://www.wpca.org.au
Scotland Island Water


SI Emergency Water Contacts and Guidelines for water: click here for information and contacts
Scotland Island 'Water Agreement' - click here to download
Scotland Island Children's Centre

- (SIOCS - Scotland Island & Offshore Childrens Services)
Catherine Park (Long Day Care Service) 8.30am - 4.30pm (Tues, Weds & Thurs)
Playgroup @ Children's Centre every Monday, 10.00am - 12 midday
Other services include: School Holiday Programme / Facility & Equipment Hire
For information call 02 9979 7856 or email: siocs@comcen.com.au
Scotland Island Community Hall Bookings:

Kez on 9999 4092 or kezborthwickbolton@gmail.com
---

Transport
---
Real Estate
---
Services, Clubs & Accommodation
---
Island Classes (Fitness, Dance, Art etc)
Pilates, Meditation and Group Fitness with Patrice

- 0408 707 679 patrice.corrie@gmail.com
Personal Training with Samantha Moore at Inspire PT

- 0415 543 131 InspirePittwater@gmail.com
Ballet & Modern Dance Classes for children

with Sophia Holland - 0412 851 890
Anusara Yoga

- Thursdays - 0421762236 dominiquemarill@gmail.com or floydcbg@ozemail.com.au
Art with Max

- Watercolour classes. Phone Max on 9997 4527
---
Groups
Gurdjieff / The Forth Way

- Call John on 9979 5584, Marion on 9979 3993 or Anne on 9999 3478
Green Group For Catherine Park

- Run by SIOCS - Emmie Collins on 0405 330 781
WOW - Women on Water

- second Wednesday of the month - contact Kerry on 9999 4092
Parents & Kids Groups Playgroup

- Run by SIOCS - email Emma trysemz@tpg.com.au
Scotland Island Players

- contact Bob or Kez on 9999 4092
Catherine Park Bush Care Group

, 2nd Sunday @ 9.30am, Sharon Kinnison @ 9997 6017
Elizabeth Park Bush Care Group

, 1st Saturday @ 9 am, Bob Bolton @ 9999 4092
---
Government Organisations
---
Airlines, Buses and Railways
---
Weather
Scotland Island Tides, Moon phases, Sun rise & set
Local Weather Forecast

Radar weather for Sydney (128k circle)
---
Emergency Contact Numbers
| | |
| --- | --- |
| ALL EMERGENCIES (Police - Fire - Ambulance) | 000 |
| Police Assistance Line & Information | 13 1444 or 9281 0000 |
| Broken Bay Water Police | 9910 7899 or 0412 162 093 |
| Scotland Island Rural Fire Brigade | 9999 4404 |
| NSW Fire Service General Information 9265 2999 | 9265 2999 |
| Rural Fire Service General information | 9450 3000 |
| State Emergency Service, Warringah/Pittwater SES | 9486 3399 |
| National Parks & Wildlife Service: 000, general information | 9457 9322 |
| Dept of Community Services: general information | 9977 6011 |
| Sydney Water | 132 090 |
| Energy Australia | 131 388, (ah) 131 909 |

---
Join SIRA
You can now join the Scotland Island Residents Association by
clicking here.
Please print the page and return the completed form to SIRA at this address:
The Treasurer, SIRA, PO Box 70, Church Point 2105.
Please NO CASH.

Contact SIRA at
sirapittwater@gmail.com
Join WPCA

To join the Western Pittwater Community Association, contact Michael Wiener at
m2wiener@bigpond.net.au
---
Archived Newsletters


A complete set of past electronic newsletters since May 2000 can be found and read at https://www.ymlp.com/pubarchive.php?sira or by clicking here or by visiting the Mona Vale Library.

The Island website is at www.scotlandisland.org.au


---
To Contribute


If you would like to contribute to this newsletter it's easy!. Send an e-mail to the editor (editor@scotlandisland.org.au) or by clicking here. Type your contribution (100 words or so would be fine) and assuming it is of general interest to the community, does not include matter of a political nature and is not offensive, it will appear next month.

Subscription Information


To get on and off this newsletter,

click here

or got to:

http://www.scotlandisland.org.au/signup .


To change your address, click the 'modify' link at the bottom of this newsletter or send an email to the

editor@scotlandisland.org.au


---

---
The Local Guide - Community Information

Click HERE to load
The views expressed in this newsletter are not necessarily the views of the Scotland Island Residents Association (SIRA), or the Western Pittwater Community Association (WPCA)

---