Status of DKGNA
2018 DKGNA Raffle
Member Profile
by Jeff Martin
Member Profile
by Tyler Smith
Training, testing and running the Solms
by Randy Blanchard
Will be available on the DKGNA Webpage
Tyler Smith, Vice-President
Tony Dolle, Secretary
Max Barker, Treasurer
Jörg Kaltenegger
DKGNA Director of Testing/Director of Judging Development
TD-DOJ@dkgna.org
If you wish not to receive this newsletter please email newsletter@dkgna.org to be removed from the list.

The Deutsch-Kurzhaar Group North America Board of Directors has been successfully moving through the steps to membership in the DKV. Currently the following is an overview of those efforts:
In December 2017 the DKGNA applied for membership DKV. All required documentation was presented, the membership fee was paid, and all requirements were fulfilled.

In December of 2017 the DKGNA was incorporated as a Utah non-profit corporation.

In January 2018 the DKGNA received its "IRS Determination Letter" stating that we received a 501(c) (3) classification.

In March 2018, at the DKV Annual General Assembly in Dipperz (Fulda), Germany the General Assembly was officially notified of the DKGNA application for membership.

After having been known to the General Assembly, at the earliest, at the next General assembly in March 2019, the DKGNA will be officially approved as a member of the DKV.

In August of 2018 the DKGNA published the first issue of our newsletter.

In August of 2018, with the support of Hunt Oregon, the DKGNA Annual Raffle tickets went on sale.

In December of 2018 the DKGNA can apply for a 2019 DKV testing schedule. However, no tests can be conducted prior to DKGNA's official DKV approval in March 2019.

Following approval by the DKV, in March of 2019, the DKGNA can register litters.
The DKGNA Board of Directors continues to work hard to position the club for success. It is our hope that the DKGNA will be a model club where DK enthusiasts can work together to educate all interested persons in the techniques of training, breeding and caring for continental hunting dogs; to conduct tests of continental hunting dogs; to promote responsible breeding of continental hunting dog breeds; foster, improve, promote, and protect the continental hunting dog breeds in North America; and promote the interest of wildlife by fostering ethical hunting and the conservation of game through educational programs, the use of properly trained hunting dogs, and other means.
2018 DKGNA Raffle

As hunting seasons near, fund-raising events start appearing with regularity…and that's a good thing. DK owners just like us are happy to participate and help raise funds for various projects that benefit worthy causes.
Well, it's time to help ourselves and benefit the educational efforts of the Deutsch-Kurzhaar Group North America (DKGNA), a 501(c)(3) non-profit. The group's annual raffle is here and the prizes are phenomenal.
For starters, the lucky winner will have his/her choice of a three-day hunt at Hunt Oregon, LLC, near Pendleton, OR, (valued at $12,000) or a Berretta 686 Silver Pigeon over/under shotgun. This is a two-barrel set – 20/28 gauge - valued at $3,500. The third place winner will receive an electronic training collar.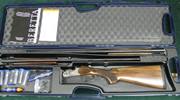 The Hunt Oregon trip is for four hunters for three days and four nights. All meals and lodging for the hunt are included and there is a daily hosted open bar. Hunts take place on the Cunningham Sheep Company ranch, famous for its upland bird habitat and wild bird numbers. This is one of the oldest family-owned ranches in Oregon and has only been hunted by the family and their friends until recently.
Member Profile
by Jeff Martin, Pesident
Deutsch-Kurzhaar Group North America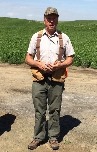 I was born and raised in Griffith, New South Wales, in the remote west of the state, some 400 miles directly inland from Sydney, Australia. The landscape is an intensively farmed irrigation area very reminiscent of Sacramento, California. It is an incredibly rich farming area and today produces 25% of the countries wine production as well as large acreages of nuts, rice, citrus and cotton.
Our backyard was a 15,000 acre wetland and my siblings and I grew up with an awful lot of freedom, I like to think of it as " the good old days " but we were neither good or old. My brothers and I limited our hunting and trapping to anything that could run, swim or fly in our childhood years and assumed this was the way of life everyone enjoyed.
My family always enjoyed the outdoors. It was nothing to go camping on some of the inland rivers for a week at a time to swim, fish, and hunt. The principle was ingrained into us "take nothing but memories and leave nothing but footprints" long before I ever read the statement and never ever take more than you needed or could use.
As a farm kid we raised sheep, cattle, and pigs along with a menagerie of pets. It wasn't the Noah's Ark but with 5 kids it wasn't too far removed either. We trained everything from racing pigeons, to stock dogs, horses, and milking cows. A peregrine falcon for good measure and even ferrets for rabbit hunting were in the mix. In these endeavours it became obvious very quickly that rubbish cost just as much or more to raise than quality stock, so start with the absolute best breeding stock possible as the end result and returns were far, far better.
"Our" swamp was regarded by wildlife researchers as one of two key wetlands for waterfowl in SE Australia and because of this I got to see a lot of hunting dogs accompanying duck hunters that knew my father.
The GSP breed was first imported in 1963 from the UK by well-known sportsman Jack Thomson. With our quarantine rules it was an onerous task but Jack was a helluva promoter billing them as the "wonder dog that could do it all, that only the German's could have bred". I got to talk to him and see his dogs many times over the years on his hunting trips to my area. Click here to continue reading...
Member Profile
by Tyler Smith, Vice-Pesident
Deutsch-Kurzhaar Group North America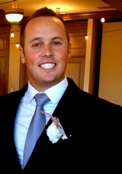 I was raised in American Fork Utah where I fell in love with German Shorthairs. My grandfather and uncle both had shorthairs that I would follow behind in the fields hunting as a kid (back when Utah had abundant pheasant). They would take me every weekend I was not competing in football or rugby events. I learned about hunt test and field trials through them and would come help them train in my off seasons. My father finally agreed to let me get my own dog and the rest is history. I spent every day in the field with that dog. We would jump shoot ducks on local ponds and chase the chukar partridge in the steep cliffs near my home.
When I got home from my LDS mission and started back at a local college, I found myself guiding at a local bird club "Wasatch Wing and Clay". I started my own side business while guiding and started taking on client dogs for training. I trained several types of breeds and gained an appreciation for the breed that I owned.
I am a lucky guy as now I get to spend close to 45 days afield with my DK's. We hunt multiple states every year (Idaho, Wyoming, Nebraska, South Dakota, Montana, & Utah) for multiple species of game bird. My favorite species to hunt are pheasant, Chukar Partridge, & Mallard ducks. In the last 3 years I have turned more toward hunting Hungarian Partridge in Idaho and Chukar in Utah. I also hunt big game when I draw a tag for Mule Deer or Elk. Overall I just love being in the outdoors with my dogs.
Any excuse for sharing time with a dog is legitimate. But for me, one reason is most clear: we become a team linked by DNA, a modern version of a prehistoric wolf pack coursing the uplands for sustenance - literal and emotional.
~~~~~~~~~~~~~~~~
Training, testing and running the SOLMS:
Proper training is the key to success
by Randy Blanchard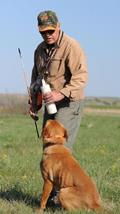 Farmers Insurance has a catchy series of commercials. They all end with my favorite phase. "We know a thing or two because we've seen a thing or two." Well, I've run enough tests under the DK system to know a thing or two. One thing that I've noticed is there are too many unprepared dogs running in the SOLMS. It's the responsibility of the owner to make sure the dog is properly trained and ready to perform. This doesn't have to be the case and this article is designed to assist in the successful training and running our DK dogs. All training should be positive and goal oriented. Here's a saying that may help. The old pro who trained me made sure that this was stuck in my head:
"Training does not make perfect. Only perfect training makes Perfect."
Before you start to train it's important to understand the dynamics of the SOLMS and how to run. First, this is one of the few venues our organization has for our members to gather as a group. If your dog is ready to run, you can concentrate on establishing lasting friendship and having some fun. The SOLMS is the perfect opportunity to show case your well-trained dog to the DK community.
The next consideration is the judges. If there were no judges, there wouldn't be a test. Judges spend a lot of time, effort and money to learn their trade. They are there to assist, judge and they want all dogs to pass. Dogs fail on their own merit. It's understandable that an owner is disappointed when the dog fails. This emotion often materializes into anger which is sometimes directed towards the judges. This is always bad form and judges should be treated politely and with respect. If a participant is not happy with the result, review it with the judges and listen to their comments, then apply those comments to your future training. Use failure to become a better trainer.
Finally, there are the testing grounds to consider. Dogs are place oriented and may not preform well in an area that is new to them. Therefore, you should train in as many different areas as possible. If you can, it's always a good idea to arrive at the test grounds one or two days before the test and get the dog use to the area. On the morning of the test move to an isolated area and let your dog retrieve the dead game you are going to use. Just do it a couple of times and head off to the test. Helps to avoid problems and puts the dog into a good frame of mind.
Training for the SOLMS is not that difficult but it takes discipline and concentration. You must be in a training mode for a good four months prior to the test. There are two main reasons that cause the dog to fail the test. They are training by running the test and not having a workable training program. Here's two examples of what I mean:
First – Training by running the test. At a SOLMS test while watching the duck drag we literally saw a dog drag the owner from the vehicles to the judges. The owner had no control of that dog at all. It crashed into the judges and caused quite a commotion. The sad thing was that dog had more raw talent in one paw than most dogs have in their entire body. The drag was better than perfect. He was fast and never deviated from the trail. However, when he got to the duck he scooped it up, spun around looked at the judges then ate the duck. Because of poor training one of the most talented dogs I've ever seen failed. You could tell that the dogs training consisted of running the test.

Second - Example of not having a program and not expanding training areas. We were on the water and testing the dogs on the water blind retrieve. The dog had performed well until then. When the dog was sent for the dead duck she hesitated for a moment, spun around, ran back to the parked vehicles and jumped into the back of the owners pick up. A second or two later the dog came flying back did a perfect sit in front of the owner with a dead duck in her mouth. That dog didn't want to go into the water, but she was intelligent enough to try and figure out a solution.
If you are organized, have a program and set your own standards your dog will be successful. It's beneficial to have a log book, notebook or some type of chart so you can monitor your dogs progress, identify and solve problems and maintain a well-rounded program where everything is covered off. Vary the training sessions so that the dog never knows what to expect and train in as many areas as possible.
~~~~~~~~~~~~~~~~
Reproduction of any contents by permission only