---
---
How safe is your home?
How prepared are you for bushfire season?


Take this online test to see how prepared you and your house is
A message from Scotland Island Rural Fire Brigade.
Ian White (Captain SIRFB)
0400 600 958
---
WPYC Christmas Cocktail Party

26 November 5pm

---
AMAZING CHRISTMAS ART SALE
Smith's north facing boat shed… look for the flags on the road and jetty.
3 December 2016
4.00pm – 7.30pm
---
Club Tropicana - 80's Disco Party
Saturday 10 December
Interlace Costume Hire has 80s outfits both for hire and for sale!
Open Monday to Saturday (late night Thursday)
5/20 Howard Ave Dee Why 2099
(02)9981 4247
http://www.interlacecostumes.com.au/
---
Short Term Rental Wanted
Looking for short term island rental for from beg Dec / Jan or house sit for anyone away over the Christmas period.

References available

Contact Annie on 0410 688 008



---
Wanted Handyman/Gardener
I am looking for a handyman/gardener, who has a whipper snapper and leaf blower, to help me in my garden.
Jobs required are cutting grass, removing leaves from gutters, collecting and burning leaves, and weeding once a month.

Please contact Carolyn 0411221051



---
Private Mooring
Dear Scotland Island waterfront residents, my husband and I moved to the island last week. We have settled in brilliantly but are struggling with where to tie up our poly craft as we are at Tennis Court Wharf and parking is busy. Do any of you lovely people have a jetty that we could share Monday - Friday over night?

My husband leaves by 6am every morning and is rarely back before 6pm. We can move it at weekends. Happy to pay in money or gifts.

My contact me on 0424233674 or

lucycharlottegregg@gmail.com

if you think you can help.
Thank you.

Lucie Gregg



---
Wanted to Rent Scotland Island, Elvina Bay
Small Cottage or studio for a couple ....we are retired ,active people ex Northern Beaches , wanting to return for a year or less to the area .

Not too lavish or expensive as we still have our own home.

Contact Robyn on 0435758776 or robynandphillip@hotmail.com





---
---
---
A complete set of past electronic newsletters since May 2000 can be found and read at https://ymlp.com/archive_gesgjgm.php or by clicking here or by visiting the Mona Vale Library.

The Island website is at www.scotlandisland.org.au


---
A Photographic Record of Offshore Community Events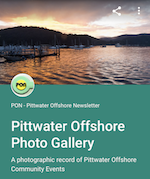 ---
Follow the PON
---
The Online Local Contacts Guide
Click HERE to load
---
The views expressed in this newsletter are not necessarily the views of the Scotland Island Residents Association (SIRA), or the Western Pittwater Community Association (WPCA)
---