Asparagus Day Out
Asparagus Fern spreads rapidly, degrades native bushland reduces habitat for local birds and mammals, and is rampant on the island.
So…make a difference: control asparagus weed on your property!
Pittwater Council is having asparagus fern out day s on the weekend of the 15th and 16th of October. Bags are available free from the
Ø Scotland Island Lodge (9979 3301) ,
Ø Gordon and Carol Floyd (9997 2035), who live at the top of island
Ø Ann Harriman (9979 9159), who lives in the house just opposite Cargo Wharf
Ø Juliette Robertson (9979 2411), near Eastern Wharf
Ø Rod Smith ( 9979 1671) near Carols Wharf
Ø Shar Jones (9999 1346) near Bells Wharf
Ø Brigitte (9997 2307) at Elvina Bay
Ø or under the seat at Halls Wharf
he bagged asparagus fern will be collected from public wharves in the week commencing 17th of October.
ou don't need to bag the entire fern, just the corm. The corm is the hard lumpy material at the base of the stems. Using a sturdy knife is the easiest way to do it. Leave the stems and all the underground globules – they contain moisture that will be reabsorbed by the soil as they break down.
However, DO BAG ANY FRONDS that contain the red berries! In fact, if you don't have time to do the corms, at least bag the seeds—this will mean that there are fewer weeds next year!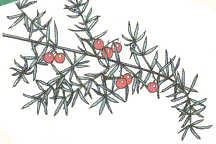 Bush Care Groups on the Island
Spring into action! Come and join one of the many Bush Care groups on the island. Meet your neighbours, make friends and learn about the bush. Morning tea is always provided.
Bush Care in Catherine Park happens every second Sunday of the month 10-12pm
Elizabeth Park Bush Care on the first Saturday of the month from 9-12 noon. However, in October it will be on the second Saturday of the month (8 October).