Want to sail faster?
R
egister now to a Laser training clinic. Sail and enjoy a warm Caribbean vacation.
Special discounts available for sailors coming for the entire month of January.
January 17-19, 2014.
12th Caribbean Laser Midwinter regatta. NOR

Feb 15th- March 30th.

Month long training, see details below.

For full details on our Winter 2014 schedule keep on looking at calendar.
---
NEW!!

A month long training session in Cabarete.
Including, on the water training, gym, and hotel.
All for just $2,890.00

Here is a new program for those who have the time to train, in a warm and windy place, and are looking for an all inclusive program.
Accommodation: The simple and clean
Hotel Alegria
. A short walking distance from the club and to Cabarete's largest supermarket. The hotel offers kitchennete facilietires for those who don't want to eat out all the time. Even though coach Max will gladly take you to his local restaurant where a main dish and dring costs less than $4.00.
Training: Five days a week, coach Max will set up marks, or start lines, and run drills for all participants. These on the water sessions will be two hors long, followed by video watching of the days training.
Cross training. The program includes 5 days a week phisical fittness traing either in a gym or with a coach out on the beach using
ones own weight for resistance. For those who don't want to run to the gym, mototaxi are readily available and create a huge dent on your spending money.
Which other sailors are coming? This is a new program, which was created due to sailor's demand. To make sure you are challenged by other sailors, forward this newsletter to your Laser buddies, and make sure they join you.
Program will run from February 15th to March 30th, 2014. The rate of $2,890.00 is for four (4) weeks of training. Rates are available for shorter or longer stays.
Just ask.
Why Cabarete? Great opportunity to learn to kitesurf, surf, chill, and concentrate on Laser sailing. Wifi is widely available so staying touch with work or family is quite simple.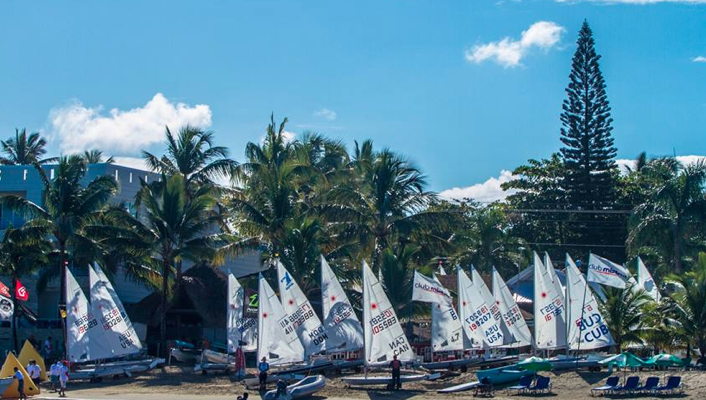 ---
Coaching position available.
After two years of coaching at the Laser Training Center, coach Max is heading back to Europe. This leaves his position open starting April 1st, 2014. Coach Max worked closely with head coach Rulo, helping in clinics with large participants, ran the Laser to Laser program, the beginner and Intermediate clinics, as well as offered private coaching.
Applicants for this position should have racing experience on a Laser, speak English, and be ready to spend hours on the water. For more details email, Ari Basrhi
ari@caribwind.com
.
This is a good opportunity to thank coach Max Stein, and wish him luck in his studies. Max is the person with the white long sleeve T-shirt in the picture below.