---
Contents


---
Scotland Island General Clear Out
Monday February 2
General, Whitegoods & Metals



PLEASE READ COLLECTION GUIDELINES ATTACHED BEFORE PUTTING YOUR MATERIAL OUT!



The total quantity per household should not to exceed 3 cubic metres (3m x 1m x 1m)

UNACCEPTABLE ITEMS
Asbestos, batteries and household chemicals
Building materials – wall linings, gyprock, studs, timber beams, tiles, concrete
Car, motor and boat parts, rubber tyres – rims are accepted
Food, full gas bottles (open valve), glass including windows, panes, mirrors, panels, shower screens, picture frames, liquid paints, oils, fuel, soil, earth, fill, bricks
Recyclable materials – paper and cardboard, soiled wrappings, vegetation, plants
Unacceptable Items will not be collected – please remove from roadside
ACCEPTABLE ITEMS
Appliances such as stoves and fridges – remove doors; frames with glass removed – break glass into newspaper, wrap securely and put in household garbage
Paint tins and fuel containers – with the lid off and no liquid
Manageable quantities of: delivery pallets, wooden stairs, decking, gates, fencing, guttering, down piping, iron sheets and water tanks – cut down to 1.2 metre lengths and able to be lifted by one person; nails must not stick out – please hammer down; hot water systems – emptied
Metals to be kept separate, where possible, to be taken to Kimbriki Recycling & Waste Facility for re-processing and re-use
Place metals in a separate pile to other general clean up materials



Download Flyer Attachment Here

..


---
FERRY FARE 2015
Good news! Only $4.69 a trip!

We are keeping the 13 trip tickets heavily discounted

---
Waterfall Cottage will be open for the last time
10.00 am - 4.30 pm
Saturday 28th February & Sunday 1st March 2015

Entrance $8.00 per person. Children free.

Tea and coffee with homemade cake available

Waterfall Cottage gardens, situated on 3 hectares of rainforest on Sydney's northern peninsula, are an integration of exotics into the bushland.

Paths, steps and timber bridges provide access over the gullies and garden sculptures, ornamental ponds, aviaries and a gazebo add interest to the gardens.

Giant eastern water dragons around the ponds add an unreal touch to the scene and sometimes a wallaby or lyrebirds can be spotted


90 Cabbage Tree Road Bayview


Telephone: 9997 5995
Email: Jeanne@Villani.com
Website: www.Jeanne.Villani.com




---
Tuesdays, 9 am to 10.30 am

$ 20 per class, $70 for 4 classes.



Through graceful sequences of movement, pranayama asanas, relaxation and meditation, you can release tension and experience the full joy of life.

Suitable for all fitness levels and ages.

Bring a mat, blanket and a bottle of water

Ring Katya on 0414 187 916



---

AUTHOR TALKS
&
FOOD and WINE TASTING

The Greengrocer's Diet
A complete seasonal based eating program that promotes long-term weight loss and good health.


by Judy Davie



Judy Davie has studied psychology and food-as-medicine cooking. In 2001 she identified a gap in the market beyond what was offered by nutritionists and dietitians and so she founded The Food Coach
(www.thefoodcoach.com.au).

Judy holds a certificate in Nutritional and Environmental medicine. She is also a food writer, columnist and video presenter.


Date: Wednesday 18 Feb. 2015
Time: 6.30pm
Venue: Mona Vale Library
1 Park Street, Mona Vale
Cost: $8 Adults, $6 Concession - Pensioner and Students (passes must be shown)
Phone: 9970 1600
Bookings essential!



Sample some of Judy's healthy delights with a glass of biodynamic wine from Gemtree wines!





---
Wanted Property to Rent

Island family looking for rental
We are a family with two children looking for a new rental. We currently live on Thompson st Scotland Island, but would like to move down the hill for easier access with kids and long working hours. We have excellent references and rental history. We are friendly, clean, tidy, handy, love getting into the garden and taking care of where we live.
3 bedrooms desirable, but small is not a problem. Long term lease if possible.

Call 0432 088 355.


---
Lovely family looking for house to rent on Scotland Island.
We have recently returned to the island and would love to resettle amongst friends and neighbours. We are seeking a two bedroomed house, which would be ideal but would consider all options, big or small which could accommodate myself and 2 children.

Great tenant, happy to tend or 'tame' the garden, references available.

Please call Lizzie 0477 939 408 if can help or know of any options.'


---
Looking for a property to Rent
My partner and I are looking for a place to rent on Scotland Island. It will just be for the 2 of us (Italian & Dutch), non-smoking couple.

Small is fine, but we'd like an outdoor entertainment deck with a nice view.

As contact details you could use this email address or my mob nr: 0410 420 647.

Thanks,
Tessa



---
House sitters Available
Been thinking about going away, but too worried about leaving your garden and pets behind?



Give us a call!

Young couple wishing to house sit for the month of February on Scotland Island. We are quiet, tidy, non-smokers, mindful of neighbours and the environment. We are also willing and experienced in looking after any type of pets you may have such as chickens, ducks, cats, dogs and fish. We will tend your garden regularly, if need be.

Please call Jas on 0415 558 477 or email on: jasmine.island29@gmail.com



---
Give away

We have 8 Sintesi GoGo chairs to give away:
They have been used in a café so have scratches from stacking and need new tips if to be used inside, but otherwise are in good condition.

Please call 0427 262920. Pick up Morning Bay or RPAYC on arrangement.

Judy Hyde


---
Brand New Fax Machine - Give away
I have a brand new, never used, Samsung Fax machine with a spare ink cartridge.
If you have a home for such a machine, it's yours.

Phone 0403442764
email taveuni_holidays@gmail.com


---
Free to a Good Home
Upright Piano & Encyclopedia Brittanica - complete set

Jenni
04095660008



---
Found

Jacket & Fuel Tank Found

Life Jackets and fuel tank.
Call 0404 833 674.



Ian Laughton-Smith





---
Keys
We have found keys on Thompson street which include car and boat.

Please call 99795135 to claim them.

Thanks Brian Rodgers



---
For Sale
New Year's Clear out!
I have the following items that might be of interest:

Mothercare (UK) Baby Cot Bed Mattress:

FREE


Size: 140 cm x 70 cm
Used but in good shape

Double Mattress and Wooden Bed: $50 ONO
Wooden frame dismantled but very easy to assemble

Anyone interested please call/txt Andres on 0412662247


---
Iconic British Sea Kayak
Valley Aquanaut LV RM
This boat is just 2 years old and in very good condition.
RM stands for 3 layer roto molded plastic - valleys plastic boats are worlds best practice and very stiff for the material.

LV stands for Low Volume, so this means it's a sea kayak more for day use or short overnighters (the volume has been taken out of the shape) - this allow the boat to sit lower in the water, is less affected by wind and tracks well using it's shape.

This boat has been stored under cover is pale yellow and has reflective decklines added and glow in the dark boat decorations
.
This boat was $2,300.00 new and was the last Aquanaut sold in Australia - and this one is going for $1,600.00.

The Valley's are internationally acclaimed as touring and recreation sea kayaks, this model is widely used in sea kayak clubs and schools and teaching organisations world wide as a stable, predictable boat with some amazing features and capabilities. The Valleys are skeg boats (this means no rudder) and has a control on the side of the kayak to lower or raise the skeg when required.

This boat would suit someone 180cm or below to 150cm, weight range 55kgs to 85.
Adventurous beginner or someone who wants a skeg boat or a performance plastic sea kayak.
I would be happy to demo this boat to anyone seriously interested.

Contact Jonathan Swain
9979 4098

jonathanonisland@gmail.com


---
Fridge /freezer for sale.
Large Westinghouse fridge and freezer for sale.
$140 and it's all yours. Pick up 69 Richard road.

Call Today and it's all yours 0424 209 242
Aggy


---
Household Items and more ....

Must go this week.
PRICES NEGOTIABLE / MAKE AN OFFER!
Hoover heavy duty Washing Machine $150
Large wooden extendable dining table & six chairs $50
Ikea single bed / daybed and mattress $60
Queen bed base and mattress $50
Wooden coffee table $10
Sunshine Leisure Tent Executive 320
Extra strong canvas - Huge - Includes fully enclosed kitchen/sunroom - Hardly used - Excellent condition - Great Family tent. $500
Portable camp toilet $ 30
Camp shower / toilet tent new $25
Canvas annex / awning suitable for tent or caravan $10
Canvas & vacuum pack storage boxes $10 set
Large square shade sail - free
Two wooden high back dining chairs with blue seat $15 each
Fabric hanging drawers / shelves $10 set
Pet draining toilet tray & synthetic turf $2
Pet carrier basket / tray $10
2 x new ceiling fans $20 each
4 x white plastic outdoor chairs free
Various tables & chairs / Kids furniture
Antique Linen cupboard $60
Small wooden coffee table $10
Two child's car seats hardly used $20 each
Car booster seat $5
Various kitchen implements
household items
kids games/ toys/dvd's
books
clothes / kids and ladies
+ lots of other bits and pieces
Call Sophie 0432611976


---
Work Tools
A friend is retiring and clearing out his workshop. He is looking for good homes for –

ToolMac Band Saw
Triton Mark 3 Work Centre
Office desk with bench.
All in excellent condition.
All offers considered.
Located at Castlecrag.
Allan 0428 681 526



---
For Sale - Polycraft Commuter

4 Year old Polycraft Challenger 4.1m

with 4 Year old Yamaha 4 stroke 50hp engine.

Front console, seats, tilt and trim, fully carpeted.

The hull and engine are in great condition - the engine was fully serviced on 29th Jan and as you'd expect from a 4 year old engine, it has never failed to start first time.

Selling with all safety gear, fuel filter, fenders, 2 petrol tanks, adults and kids life jackets, paddle, bucket, fire extinguisher etc.

$8,500 negotiable for a quick sale.

Contact Dan on 0416 473466



---
Boat for Sale

Quintrex 5.7M Freedom Sport with Mercury 115HP4 stroke Outboard – Only 125hours

Price $26500 negotiable



Price Reduced For Quick Sale 2009 Quintrex 5.9metre Freedom Sport Bowrider with 115HP Mercury 4 stroke outboard.
Motor has done only 125 hours & recently had its 100 hour service. It is fitted with a stainless steel propeller & Fast-Tail for quick planing. Boat is in near new condition and comes with a host of extras including full storm covers, walk through to bow, GX600 VHF Marine transceiver, Lowrance fish finding & depth sounding sonar, 12V plug for MP3 player, full safety equipment including life jackets, 2 anchors, rod holders etc.
The hull has been anti fouled but has also been kept for long periods on a boat ramp to minimise fouling. A brand new boat trailer is available in nearby Mona Vale for $3700 if required.

This is an ideal offshore fishing boat or a family boat able to carry 7 adults. It can be viewed by arrangement either at our private wharf near Bells Wharf or at The Quays Marina.

Contact John at 0419 432 626 or 9997 7469
email : jthixton@hotmail.com



---
Tinnie For Sale
Reliable, very well maintained and regularly serviced commuter boat, registered till March, Main Commuter wharf sticker expires end Feb.

Quintrex 385 Explorer with 15 Yamaha motor, good nav lights, bilge pump, sturdy motor guard, includes 4 life jackets. $2,590.

Available from 21st January.

1 childs approved life jacket to fit 15 kg-25 kg – used only 3 times - $25.00
1 Adult life jacket - $20.00

Inspection welcome.
Contact Mary 0411 026 138



---
FOR SALE - Karoo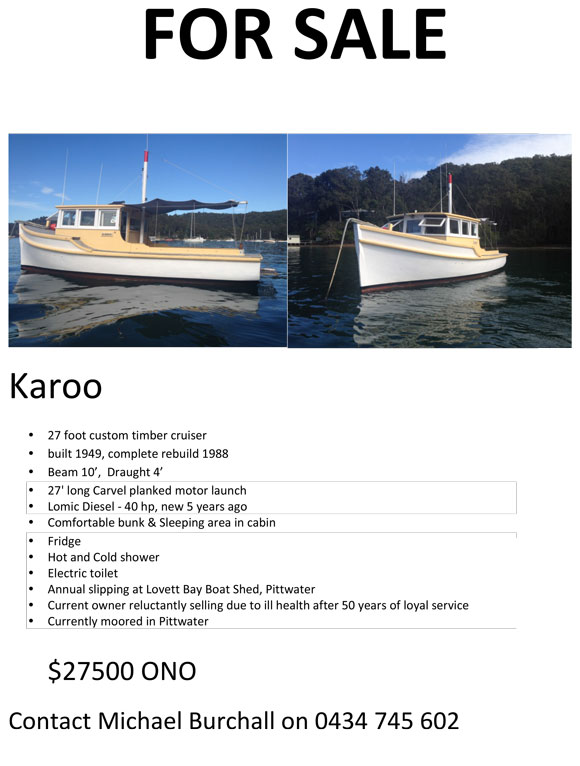 ---
---
The Local Guide
Community Information
---
Transport
---
Real Estate
---
Services, Clubs & Accommodation
---
Island Classes (Fitness, Dance, Art etc)
Pilates, Meditation and Group Fitness with Patrice

- 0406 483 036 patrice.corrie@gmail.com
Art Classes

- drawing and painting in oils, acrylics and mixed media- Marion 0431 457 431
@ Nathalie's Table - Cooking Classes

- Nathalie - 9999 4449
Dru Yoga

- Tuesday 9.00 to 10.30 Tuesday morning - Phone Katya on 0414 187 916
Dynamic Yoga

- Tuesday PM. & Saturday AM. Phone Nadine 0402 752465 nadineomara@gmail.com

Tai Chi & Qi Gong classes

– Friday 10-11 am. Chris 0416221040 or chris@syntivityaustralia.com
---
Groups
Gurdjieff / The Fourth Way

- Call John on 9979 5584, Marion on 9979 3993 or Anne on 9999 3478
Green Group For Catherine Park

- Run by SIOCS - Emmie Collins on 0405 330 781
WOW - Women on Water

- meets 4 times a year - Jenny Frazer 0410533728 / 99994460.
Parents & Kids Groups Playgroup

- Run by SIOCS - email Emma trysemz@tpg.com.au
Scotland Island Players

- contact Bob or Kez on 9999 4092
Catherine Park Bush Care Group

, 2nd Sunday @ 9.30am, Sharon Kinnison @ 9997 6017
Elizabeth Park Bush Care Group

, 1st Saturday @ 9 am, Bob Bolton @ 9999 4092
Island Thinking Group -
Roy Baker, 9999 6891, roybaker99@yahoo.com
Offshore a capella choir

– Saturdays at 2:30 pm, SI Community Hall. Call CB on 9997 2035.
---
Government Organisations
---
Airlines, Buses and Railways
---
Weather
Scotland Island Tides, Moon phases, Sun rise & set
Local Weather Forecast

Radar weather for Sydney (128k circle)
---
Emergency Contact Numbers
ALL EMERGENCIES (Police - Fire - Ambulance)
000
Police Assistance Line & Information
13 1444 or 9281 0000
Broken Bay Water Police
9910 7899 or 0412 162 093
Marine Rescue Broken Bay - Weekend

(

02) 9999 3554 - (02) 8411 1121



Marine Rescue Broken Bay - VHF Radio channel

VHF Radio Channel:

VHF 16


27MHz Radio Channel:

86 or 88



Scotland Island Rural Fire Service
9999 4404
Elvina Bay Rural Fire Service


9997 3795



Lovett Bay Rural Fire Service


9979

1612



Mackerl Beach Rural Fire Service


9974 1162



Headquarters Terrey Hills


9450 3000



NSW Fire Service General Information 9265 2999
9265 2999
Rural Fire Service General information
9450 3000
State Emergency Service, Warringah/Pittwater SES
13 25 00 9486 3399
National Parks & Wildlife Service: 000, general information
9457 9322
Dept of Community Services: general information
9977 6011
Sydney Water
132 090
Energy Australia
131 388, (ah) 131 909

---
Join SIRA
You can now join the Scotland Island Residents Association by
clicking here.

Look for the membership form link on the page. Return the completed form to SIRA at this address:

The Treasurer, SIRA, PO Box 70, Church Point 2105.
Please NO CASH.
Contact the Treasurer at
treasurer@sira.org.au
Join WPCA
To join the Western Pittwater Community Association
www.wpca.org.au
, contact Michael Wiener at

treasurer@wpca.org.au
---
A complete set of past electronic newsletters since May 2000 can be found and read at https://ymlp.com/archive_gesgjgm.php or by clicking here or by visiting the Mona Vale Library.

The Island website is at www.scotlandisland.org.au


---
To Contribute
If you would like to contribute to this newsletter it's easy!. Send an e-mail to the editor (editor@scotlandisland.org.au) or by clicking here. Type your contribution (100 words or so would be fine) and assuming it is of general interest to the community, does not include matter of a political nature and is not offensive, it will appear next month.
Subscription Information
To get on and off this newsletter,

click here

or got to:

http://www.scotlandisland.org.au/signup .


To change your address, click the 'modify' link at the bottom of this newsletter or send an email to the

editor@scotlandisland.org.au


---
Follow the PON
---
The Online Local Contacts Guide
Click HERE to load
The views expressed in this newsletter are not necessarily the views of the Scotland Island Residents Association (SIRA), or the Western Pittwater Community Association (WPCA)

---