WINNIE MANDELA ON MOTHERS DAY: "I'M THINKING OF PALESTINIAN MOTHERS"
Mother of the nation, Winnie Mandela has said that today on Mothers Day in South Africa her thoughts are with the mothers of #PalestinianPoliticalPrisoners who are on hunger strike in Israeli jails. Mandela, speaking to IOL, said: 
"We sit and think of all those mothers who are going on a solidarity hunger strike for their sons in Israeli jails, who have struggled for so long for the liberation of Palestine." Click here.
VIDEO: SA MINISTER OF COMMUNICATION AT START OF 24 HOUR SOLIDARITY FAST
Ahead of the 24 hour fast in solidarity with #PalestinianPoliticalPrisoners, South Africa's Minister of Communications, Ayanda Dlodlo, has shared this short video clip on social media urging fellow South Africans to support the Palestinians just as how we were once supported by the international community.
Click here.
SA HUMAN RIGHTS COMMISSION BACK PALESTINIAN PRISONERS
The South African Human Rights Commission (SAHRC) is one of the most recent South African organizations to back the #PalestinianPoliticalPrisoners. Others to have lent their support to the hunger strike by the #PalestinianPoliticalPrisoners include the African National Congress (ANC), Ahmed Kathrada Foundation, Amnesty International (Wits), Congress of South African Trade Unions (COSATU), Economic Freedom Fighters (EFF), Equal Education (EE), Jewish Voices for a Just Peace, MJC, South African Jews for a Free Palestine, the South African Prison Organization and the United Democratic Movement (UDM). Click here for a full list of SA organizations that have backed the #PalestinianPoliticalPrisoners.
PALESTINIAN ARCHBISHOP JOINS PRISONER HUNGER STRIKE
Palestinian Archbishop Atallah Hannah of Jerusalem has announced that he will join the hunger strike in support of the #PalestinianPoliticalPrisoners. The Archbishop has previously explained that: "Israel desires to conceal the Christian dimension of the Palestinian issue. Israel attempts to present this conflict as a Jewish-Muslim religious conflict, and it also attempts to neutralize the Christian position, and therefore it is irritated by the growing Christian voices raised on the Palestinian issue."
Click here.
DEPUTY PRESIDENT OF SOUTH AFRICA CYRIL RAMAPHOSA GOES ON HUNGER STRIKE WITH PALESTINIAN PRISONERS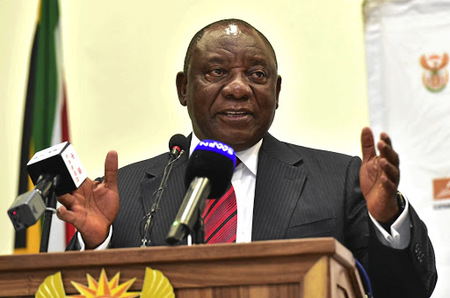 Deputy President of South Africa, Cyril Ramaphosa, has thrown his weight behind #PalestinianPoliticalPrisoners Israeli jails who are on a hunger strike (for 28 days now) in protest against Israel's practice of detention without trial among other human rights violations (
click here
).
SA's Deputy President together with several Government Ministers have joined a 24 hour fast in solidarity with the Palestinians. 
It is the first time in South African history that such a significant number of the country's ministers and other government officials are going on such a hunger strike. 
The fast started today (14th of May) and ends at 6pm on Monday 15th of May (with an event at the Women's Jail, Constitution Hill, 11 Kotze Street, Johannesburg,
click here for event info
). 
Others to have endorsed the 24 hour solidarity fast with #PalestinianPoliticalPrisoners include: 
Dr Nkosazana Dlamini-Zuma
(Former African Union Chairperson), 
Gwede Mantashe (ANC Secretary-General), Jessie Duarte (ANC Deputy Secretary-General)
, Minister Edna Molewa (Head of ANC International Relations Sub Committee), Reverend Sipho Mahokoto (Uniting Reformed Church in South Africa & National Church Leaders' Consultation Secretary), Reverend Edwin Arrison (Chairperson of the National Coalition 4 Palestine), Reverend Michael Weeder (Dean of Saint Geroges Anglican Cathedral), Ambassador Hashem Dajani (Ambassador of Palestine to South Africa, Khulekani Skosana (Secretary-General of the Congress of South African Students), Lungile Sonwabo (Economic Freedom Fighters UP Student Command), Mluleki Dlelanga (National Secretary of YCL SA), Mpho Masemola (Chairperson of the Ex Political Prisoners Association of South Africa), Nazeema Samuels (NUMSA Provincial Treasurer), Parks Tau (President of the United Cities and Local Government, Chairperson of SA Local Government Association and former Mayor of Johannesburg), Shaeera Kalla (#FeesMustFall Leader), Sidumo Dlamini (President of the Congress of South African Trade Unions) and 
Moses Masango
 (Chairperson of Parliament's International Relations Portfolio Committee)
. In addition several TV presenters, radio DJs, celebrities and members of the SA Jews for Palestine have backed the campaign. 
Click here for a full list of those who have embarked on the 24 hour solidarity fast with Palestinians.
36 YEARS SINCE THE DEATH OF IRISH HUNGER STRIKER BOBBY SANDS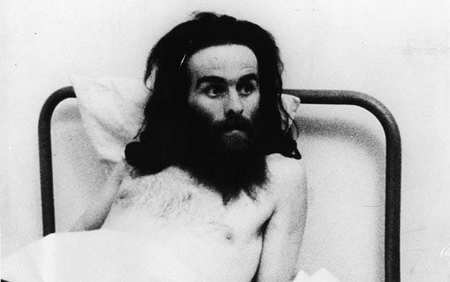 "Our revenge will be the laughter of our children"
- Bobby Sands
 
This month, 36 years ago, on the 66th day of a hunger strike that he was leading, Irish political prisoner Bobby Sands died at the age 27. The hunger strike was in protest against poor conditions in the prisons and demanding, among other issues, family visits as well as the sending and receiving of mail.
Following his death #PalestinianPoliticalPrisoners incarcerated in Israeli prisons sent a letter that was smuggled out and reached Belfast in July 1981. The letter read:


"To the families of Bobby Sands and his martyred comrades. We extend our salutes and solidarity with you in the confrontation against the oppressive terrorist rule enforced upon the Irish people by the British ruling elite. We salute the heroic struggle of Bobby Sands and his comrades, for they have sacrificed the most valuable possession of any human being. They gave their lives for freedom."

South Africa's Minister of Health, who has also joined the 24 hour fast in solidarity with #PalestinianPoliticalPrisoners, recently commented that: 
"What the Palestinian political prisoners are going through reminds me of our own struggle against apartheid, as we used hunger strikes as one of the instruments to fight the system…I am concerned about the prisoners going without food for so many days as it will be affecting their internal organs, and could lead to death. When I was a student in 1981 we used to count the days Bobby Sands was on hunger strike in prison in Northern Ireland, and he eventually died." (
Click here
)
The Irish, a people that supported South Africa's anti-apartheid struggle, are close allies of the Palestinian people. For example, presently, since last week, a Palestinian flag has been flying from the roof of Dublin's City Hall on Dame Street in support of the Palestinians (
click here
).
JOIN BDS SOUTH AFRICA'S EMAIL MAILING LIST
To join BDS South Africa's email mailing list (& receive these newsletters) send a blank email message to alerts@bdssouthafrica.com
BDS SOUTH AFRICA

BANK: First National Bank
NAME: BDS South Africa
NUMBER: 62273997943
BRANCH NAME: Rosebank
BRANCH CODE: 253305
SWIFT CODE: FIRNZAJJ
 
BDS SA, is a registered Public Benefit Organisation (PBO) with Section 18A tax-deductible status. This means that any donations made to us can be used to apply for tax exemptions. Kindly send copy of proof of payment to finance@bdssouthafrica.com / 0866664995 for receipt.