---
Editorial



Despite the foul weather last weekend and the reduced number of attendants, Watermarks was still considered a success, and again showed everyone what an extraordinary group of people live offshore.

To all the organisers, Tracy Ponich, Anne Palmer, Annette Ritchie, Ian Smail and Andy Palmer and Penny Gleen and the many tireless volunteers, you have made this community proud yet again. I am sure I speak for us all when I say thank you for the time and effort you all put into this. To use Tracy Smith's comments... " It is people like you that keep this community alive".

Enjoy!



Contents
---
Gwyn's October 2011 Calendar

To download a full version (A4 size) of this months calendar, ready for printing, just click on the calendar image.

You can contact Gwyn Perkins by email at g.perkins@gwyn.com.au


The file is quite large and in PDF format. To view PDF documents you will need the Adobe Acrobat Reader installed on your computer.

To download Acrobat Reader please

click here

---
NSW Daylight Saving


Daylight Saving Starts

Sunday 2 October 2011 at 2:00 am



Daylight saving begins in New South Wales on Sunday 2 October 2011 at 2:00 am, when clocks will be put

forward

one hour.



Daylight saving ends again in New South Wales on Sunday 1 April 2012, at 3:00 am when clocks will be put back one hour.



For future summers, daylight saving in New South Wales begins at 2:00 am, Eastern Standard Time, on the first Sunday in October and ends at 3:00 am Eastern Daylight Saving Time on the first Sunday in April.



---
Watermarks - Thanks



....just a line to say how sorry I was that the weather spoilt Watermarks - I know how hard Anne and her team worked to make it a success - also the girls at the Fireshed & Kindy making all that lovely food - they all deserve a big round of applause and acknowledgment from the rest of the community.
Teresa Valenti

---

To all of you and your partners, Tracy Ponich, Anne Palmer Annette Ritchie, (Ian Smail and Andy Palmer, the long suffering husbands) and of course Penny Gleen,

a huge thank you for a wonderful weekend.

Paul and I were in the gallery all weekend, we heard only praise for the organisation and smooth running under the most difficult of circumstances.

To Andy Palmer, Tracy Ponich and Ian Smail for holding the fort in the foulest of situations. You looked like drowned rats with the biggest smiles and positive attitudes.....

Anne you were here there and everywhere I can only imagine the load you carried......It is people like you that keep this community alive.
Paul and Tracy

---
...........I second all of that!

We heard nothing but enormous praise about the organisation. One couple told us that from the moment they arrived at Pittwater High to every studio and yummy morsel they tasted they were treated like kings and couldn't have had a better time....a credit to you guys who put in all the hard work while we swanned about in our dry studios making cups of tea for all the brave souls who visited us at Artspace Rouge.
A HUGE THANK YOU from us too,
Cheers Nettie

---
...I would also agree in congratulating everyone on a tremendous effort, one couple said today and I quote " we had to come out in the weather as we couldn't let you all down"
Carole

---
Dear All,
Would also like to say a big thank you to the Anne Palmer the WaterMarks committee and Penny. This was the best organised and presented event . The volunteers and ferry masters were absolutely wonderful and must have been absolutely freezing and knackered by the end of the weekend.......
Marion


---
Tennis Wharf Pontoon




Latest Update





Oh Dear! Another Delay.



Installation of the new pontoon and demolition of the deteriorated section of the finger wharf has been unavoidably delayed.



It is now to commence a week later on Monday, 10 October.



Please remember during the installation;

Tie up at Commuter Wharf at Church Point
Make a temporary arrangement with a private jetty owner
Use the ferry for commuting
Any offers from private jetty owners for that short period would be greatly appreciated.

Tennis Users Group.
Inquiries: Gordon Floyd 9997 2035


---
Leftover Stock from Watermarks




STOCKS OF LONG TREK AVAILABLE



Given the rain and the understandable lack of ambulating and eating bodies I have quite a stock of my long storing Long Trek to sell.

STOCKS OF LONG TREK AVAILABLE, both vegetarian and meat based. This delicious and highly spiced condiment is a favorite with many of the offshore community already. It will store in fridge for 6-12 months and is delicious as a spread, base, garnish or just as an accompaniment to rice. Long trek is based on a Malaysian meat jam made to provide non-perishable protein source when off in the jungle on hunting/traveling parties.

Long trek is compressed when packed and is available in $12 (equivalent of 4-5 dinner serves) or $25 (equivalent of 15-20 serves) packs.

A serve is based on a heaped dessert spoon of non-compacted long trek.

Fresh Green curry paste also available. $15 tub of about 15-18 heaped dessert spoons. Just add coconut milk and sugar if desired.

Please contact Karen Lambert on 0409523702 or karenjlt@bigpond.net.au to arrange an order.

You can download information about Long Trek below.

History of Long Trek
Ingredient & Product info



---
Kindy Cafe has some leftover milk



We had milk leftover from the cafe, which is now stored in the kindy and in a fridge in one of the sheds.

It is dated 2 October, so if anyone needs milk this week, they can have it.

Call me to arrange – 0404 867 768.
Thanks Petra


---
Maritime safety out in force in Pittwater


BOAT owners on Pittwater this weekend be warned.



Water police, fisheries and maritime safety officers will be out in force in a highly visible operation targeting all offences, including marine drink-driving, speeding, unsafe navigation, anti-social behaviour, vessel safety, fishing licences, and bag and size limits.

Broken Bay water police commander Senior Sergeant Chris Morgan said the operation would see the three agencies working together to enforce maritime law and ensure the safety of the boating public.

New laws governing the safety equipment required on boats were introduced a year ago, and the police have concentrated on educating the boating public since its introduction.

"We're now looking to move from education towards enforcement," Serg Morgan said.

"The weekend operation is about combining our resources and providing as much coverage as possible, which means several boats and jet skis will be used at the same time.

"By combining our efforts, we'll cover more ground and be able to deter, detect and arrest offenders, and to make boating safer for everyone."



---
NRL Grand Final at the Fireshed
Manly Sea Eagles v Warriors
Sunday, October 2.
Bar opens at 3.30
Kick-off at 5.15pm
$5 per head gets you in PLUS you get something to eat !

---
New Goodog Manners starting 14 October
on Scotland Island




At Goodog Positive Dog Training for Happy Dogs and Happy Owners, we believe dog training should be fun and not a chore. We help you establishing a life long positive relationship with your dog and train you and your dog so she or he can be part of the family and join you in your daily activities.


We run courses designed for the older puppy and rescue dogs and have a new classes starting on



Scotland Island on Friday 14 October at 2 pm



You can also check our website http://www.goodog.com.au/content/locations-and-starting-dates



COURSE OUTLINE



The course is five weeks in duration (one hour each week) and costs $200.00, which includes starter-pack, hand-out notes and a treat pouch. We take a maximum of eight dogs per course. Our course focuses on things such as how dogs learn, body language and positive reinforcement for the theory, and then the practice concentrates on:

getting your dog's attention
self control
sit for greeting (not jumping up)
lie down
walk on a loose lead
coffee shop manners and dog park behaviour
door and car etiquette
meeting people, kids and other dogs
the all-important come when called
stay
leave things such as chicken bones in the street, cats and other exciting things to be avoided
tricks, games and agility
We try to get calm and confident dogs in real life situations, basically a dog you can take anywhere (or at least set them up to achieve this stage) and are a pleasure to be around. We also focus on trick training as this improves the relationship and is fun for dog and owner (and impresses your friends!). Family members are welcome and encouraged to attend.

If you would like to join us, please let me know and I will forward an Information Sheet on where to come, what to bring and how to pay.

Best regards

Barbara
Goodog Positive Dog Training
0424 74 0234
info@goodog.com.au
www.goodog.com.au

Check out our facebook page and keep up to date with our training tips, articles, the Goodog Social Club and news.

Like this page if you want to receive information about all things doggie.
www.facebook.com/pages/Goodog-Positive-Dog-Training/164212460266079



---
Letters to the Editor




Open Letter to Pink Water Taxis



I was extremely disappointed to receive appalling service from Pink Water Taxis this weekend. I had family and friends, including friends from overseas, coming to lunch. Because there were too many people to fit in our small commuter boat on one journey, I had advised them to take a water taxi from Church Point.

In the pouring rain on Sunday, I received a call from my mum who was quite upset and speechless at the rudeness from the water taxi operator via, ironically enough, the courtesy phone. Because she didn't know the "name of our wharf" (we don't have a "name" for our little wharf, but it is simple enough to direct a taxi to our home, which my mum, and the water taxi operators, know well) she was advised that "we don't do business that way", told to "take the ferry" then the taxi operator hung up on her mid-sentence.

She called back and tried to explain the situation, including the fact that it takes almost an hour to get to our home by ferry, including a 15 minute walk. She was hung up on twice more, then the operator turned off his phone for the next half hour, ignoring dozens of calls from my mum and myself. Our guests saw the taxi operator at Church Point soon after and asked him directly if he could just drop them across the water (our place is less than five minutes from Church Point) and he flatly refused and went to lunch.

Instead, I had to get in our small, open boat with a small child and a baby and make two trips in the torrential rain to pick up our guests, apologising all the while for the embarrassingly poor introduction to Australia that our guest from South Africa had received.

This is certainly not the first bad experience I have had using Pink Water Taxis – in fact every interaction I have had with them has left me reeling at their unbelievably poor customer service – but it is definitely the worst. Between the exorbitant rates and rude attitudes, you are a prime example of a business with an effective monopoly on a captive audience and absolutely no regard for your customers.

You clearly have an absence of any sense of customer service within your business and think it is appropriate to treat your customers with outright rudeness and contempt. I am absolutely stunned that this attitude still exists in any modern business.

I was utterly mortified, after regularly raving to friends and family about how lovely the people are in the offshore community, to have to explain that the helpfulness, insults and outright rudeness that they received from Pink Water Taxis are not representative of the wider residents' attitudes. This behavior was not only an appalling example of customer service, but was simply embarrassingly rude. Did your parents never teach you that insulting, laughing at, then hanging up on a grandmother after consigning her to a boat trip in the rain is just plain bad manners?

I strongly suggest that you rethink your attitude to your customers – we are not there just to hand over money to you at your convenience, instead you are a business which is expected to offer some level of "service" to your customers in return for our hard-earned dollars.

I urge all offshore residents to question whether this attitude is what we want to be the first introduction that many people have to our lovely community.

Sincerely,
Jessica Barr


---
Thank you for all for your assistance



We are happy to be alive after a huge tree crashed onto our Florence Terrace house in the wild storm in the early hours of Sunday morning. The tree is resting less than a metre from our bed and if it wasn't for the solid structure of our Steve Crosby designed/John Travers built house we wouldn't be typing this message.

Wonderful Scotland island fire brigade turned out in the middle of that filthy night to make sure we were OK - fantastic man from Energy Australia arrived to preform a Cirque du Soleil act up a wobbling power pole in driving rain to render us all safe from electrocution - and those SES girls and guys are saints. They cleared huge amounts of tree from the roof so that a tarpaulin could stop the rain pouring into our once beautiful home. Lovely neighbours Karin and Eamon and Emmie arrived with tea and coffee and hugs… and Lyn and Cal with a lead from their boat shed so we can at least keep the fridge running.

We've only ever seen such activities on the news happening to 'other' people - now we know first hand just how wonderful our services our neighbours and friends really are!

Thank you…
Jacqui and Bill Lee


---
"To everybody mooring during the day at Commuters wharf":



BEFORE YOU LEAVE YOUR DINGHY MAKE SURE THAT THE ONES SURROUNDING, MAINLY THE SMALLEST ONES PUSHED AGAINST THE WHARF, ARE ABLE TO COME OUT AND GO HOME HAPPILY WHENEVER THEY NEED IT AND WITHOUT DESPAIR.

COMMUNITY IS LOOKING AFTER EACH OTHER NEEDS.

Louisa Hoffmann


---

Local Council Notices

WINNERERREMY BAY PLAYGROUND REOPENS


A portion of the Winnererremy Bay playground at Mona Vale has reopened, after its temporary closure due to the presence of salmonella bacteria.

The area which was closed – near the Flying Fox equipment and climbing net – reopened on the weekend after Council staff removed existing bark and replaced it.

The Council closed part of the playground two weeks ago, following testing by NSW Health which revealed traces of the salmonella java bacteria.

The bacteria has been implicated in cases of gastro-enteritis in young children in Pittwater since 2008. This year ten cases have been reported via local GPs to NSW Health.

Despite extensive testing and research by various experts the source of the bacteria has not been located.

NSW Health advised the Council to close the affected area of the playground and remove the bark, after four of the children who had fallen ill in the last three months were known to have played at Winnererremy Bay.

Reserves & Recreation Manager Les Munn said the new bark had been spread over the playground to a depth of 30cms following advice from NSW Health.

Mr Munn said parents and carers of young children should follow basic hygiene principles if they were concerned.

"Ensure children wash their hands before eating and after playing outside and try to ensure that they don't put things in their mouths while playing outdoors."

Media contact:
Les Munn, Pittwater Council Ph: 9970 1354



---
SPOTLIGHT ON COMMERCIAL FISHING IN PITTWATER


The Council has joined local member Rob Stokes in calling for a review of commercial fishing in Pittwater.

At its meeting this week the Council adopted a Mayoral minute by Cr Harvey Rose, asking the state government to widen its current enquiry into commercial fishing to examine the impacts on the Pittwater estuary.

The enquiry is being administered by the NSW Minister for Primary Industries and is expected to deliver its findings later this year.

Cr Rose said it was vital that long-term fish stocks in Pittwater were preserved.

He said the Council had had discussions with the group representing amateur anglers – the Anglers Action Group (Northside) – and agreed with them that commercial fishing appeared to be unsustainable in Pittwater.

"The Pittwater estuary is a breeding ground for a variety of species of smaller fish and these are a vital link in ensuring the continuation of the marine food chain," he said.

"Commercial fishing disrupts this food chain because of the indiscriminate nature of drag-netting."

Cr Rose said that in harbours and waterways where commercial fishing had ceased,such as Botany Bay, Sydney Harbour and Lake Macquarie, fish stocks had dramatically improved within a few years.

The Mayor said that there were a large number of businesses in Pittwater which depended heavily on recreational fishing and boating for their sustainability.

Harvey Rose, Pittwater Council Ph: 9970 1104



---
HSC STUDY LOCK-IN @ LIBRARY


Mona Vale Library is offering to 'lock up' HSC students for special after-hours study sessions at the library during October.

To make studying for the HSC exams even more palatable, the Library will be offering students free pizza along with a Thursday evening study session.

The lock-in and free pizza sessions will be each Thursday evening from 6pm to 9pm between 29 September and 27 October.

Early opening hours at Mona Vale Library will also be on offer to HSC students each weekday from 9am to 10am, from Monday 10 October to Friday 28 October.

The library normally opens at 10am on weekdays, but HSC students will have access to the library from 9am during this period.

Library Manager Cathy Howie said that the after-hours study sessions aimed to help HSC students to make use of a quieter environment for studying.

"We hope the offer of free pizza on Thursday evenings will also make studying a little less stressful for them," she said.

"The only requirement for students to take advantage of the study 'lock-in' is for them to arrive by 6.15pm on the Thursday evening at the library, or by 9.15am for the early morning sessions."

Mona Vale Library is located at 1 Park Street, Mona Vale.

For more information please call 9970 1600
Media contact: Rebeccah Vick, Mona Vale Library Ph: 9970 1622



---
SUSTAINABLE LIVING EXPO


Pittwater's second Sustainable Living Expo will take place at Mona Vale Memorial Hall and Village Park on Sunday 9 October.

The event will include over 40 exhibitors, 17 workshop presentations and 8 speakers.

The Expo is an all-day event for the general public, aimed at raising awareness about how to live more sustainably on a day-to-day basis.

Mark Beharrell from Pittwater Council, which is hosting the event with the community group Climate Action Pittwater, said the Expo was suitable for the whole family.

"We have a live chicken coop and there will also be a selection of native animals on the day. These should be a real draw card for children," he said.

"Other highlights at the Expo will include an electric van that runs off rechargeable lithium batteries. It runs and looks just like a standard vehicle, " said Mr Beharrell.

"There are workshops throughout the day, including a Green Forum with an expert panel responding to questions from the public. The panel includes an award winning building designer, engineer, architect and green tenancy adviser."

Mr Beharell said the panel could give advice on green building products and practices, while several exhibitors can show how to make homes more energy efficient.

Other attractions of the Expo include:

workshops and speakers on reducing home and business energy costs
workshops on reducing water consumption, water harvesting, saving and storing water
a workshop on chemical free pest management
a workshop on low-energy earth wall construction
a tour of Mona Vale Library to view sustainable design features
products that are free of toxic chemicals to clean your home and wash your clothes
exhibits of solar PV panels and solar hot water systems
community gardens and permaculture
a display and workshop on non-toxic paints and oils
a workshop on sustainable cooking and menu planning
free entertainment with an environmental theme for children
calculating your ecological footprint with help from Bilgola Plateau school students.
The Sustainable Living Expo starts at 9am and ends at 4pm on Sunday 9 October. Entry is free to the public; for full details visit www.pittwater.nsw.gov.au/sustainablelivingexpo

Media contact: Mark Beharrell, Pittwater Council Ph: 9970 1368
Tony Edye, Climate Action Pittwater Ph: 9918 5277


---
Book launch at the Gone Fishing Gallery, Pasadena, Church Point
Saturday 29 October, 4pm – 6pm
Growing Up with Fragile X Syndrome



Growing up with Fragile X Syndrome: The Road to Marty Campbell is the new biography from long time Scotland Island resident, Robyn Iredale.



Robyn is launching her story of raising a son affected by fragile X (FX) and invites those living in the Pittwater area and who work in health and disability services, or who have a personal connection to or interest in fragile X, to attend.

FX syndrome is the leading cause of inherited intellectual disability and the most common known genetic cause of autism. It is found in all races and at all socio-economic levels. Latest statistics indicate 1 in 3600 males and 1 in 4000- 6000 females are affected and that as many as 1 in 280 males and 1 in 125 females are carriers. Every week in Australia one child is born who is fully affected and twelve children are born who are carriers.

Dr Iredale's book describes her extended family's journey along the FX road from Marty's pre-diagnosis at age seven back in 1977, when awareness and support services were essentially non-existent, through the trials and the triumphs of school, sport and employment, to the present.

It also includes vital FX research and information on testing, health issues, education, behavioural challenges, likely outcomes for carriers versus those affected and describes with humour the many common personality traits shared by those affected, which will resonate with families touched by FX.

There have been plenty of academic books and research papers written on FX but it is believed The Road to Marty Campbell is the first personal account available worldwide.

Launch speakers:
Dr Paolo Totaro AM
John Kelleher, Fragile X Association of Australia President
Dr Robyn Iredale, author

The book's main subject, Marty Campbell, will attend the launch.

RSVP by 24 October to Robyn's email robyn.iredale@anu.edu.au or ph. 9979 1096
Complimentary refreshments will be supplied.

For information on fragile x and to order a copy of Growing up with Fragile X Syndrome go to http://www.fragilex.org.au/

Order Form available HERE


---
Pilates and Fitness Classes are back!!




Pilates: 9am Mondays, Scotland Island Hall

.

Group training: 8am Tuesdays and Thursdays in the Park.


Casual classes are now $22




Pay by term prices are $18 per class for all classes.



For more information on classes go to the www.scotlandisland.org.au/home and click on 'classes' or contact Patrice Corrie on 0406 483 036 or by email at patrice.corrie@gmail.com



---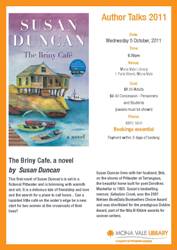 AUTHOR TALK


The Briny Cafe.
A novel by Susan Duncan

This first novel of Susan Duncan's is set in a fictional Pittwater and is brimming with warmth and wit. It is a delicious tale of friendship and love and the search for a place to call home... Can a lopsided little café on the water's edge be a new start for two women at the crossroads of their lives?



Wednesday 5 October, 2011




Time:

6.30pm


Venue:

Mona Vale Library 1 Park Street, Mona Vale


Cost:

$8.00 Adults $6.00 Concession - Pensioners and Students (passes must be shown)


Phone:

9970 1600
Bookings essential
Payment within 3 days of booking


---
Canine Tips


ALLERGIC SKIN DISEASE for DOGS (Atopy)





History:


Itching, which is often seasonal & mainly seen on feet, face and ventral body. Self trauma can occur. Secondary
infections, increased sweating & ear infections are often present. Sneezing, conjunctivitis or vomiting or diarrhoea may also
occur. The offending allergens may be identified with intradermal skin testing.



Treatment:

for allergies - apart from removing the offending allergens ie fleas, food, plants such as wandering jew, pollens, dust mites etc - is really just symptomatic - ie we are not aiming for a cure, just to treat the symptoms.



ANTIHISTAMINES:




THESE MAY CAUSE DROWSINESS in some animals:
Phenergan 10 OR 25mg tablets - 1mg / kg body weight twice daily with foodPeriactin 4mg tablets - 2 tabs / 10kg body weight twice daily with food
Polaramine 6mg tablets - 1tab / 10kg body weight twice daily with food.
Zadine 1mg tablets – 1tab /10kg body weight twice daily with food
NON DROWSY:
Telfast 60mg tablets - 1 tab/10kg body weight twice daily.
Zyrtec 10mg tabs - 1 tab/10kg body weight once daily with food
Claratyne 10mg tabs - 1 tab/10kg body weight once daily with food
Antihistamines can help with itchy skin & are far safer to use long term than cortisone. Side effects are rare & if they occur usually do so within the first days of starting treatment, and stop as soon as treatment is stopped. An individual patient's response to any of these is unpredictable so do not give up if the first few don't help - the next one you try may work very well! Take note of even partial improvements - every little bit we can do to decrease the itch will help. Some pets may respond to more than one type - sometimes we find combinations of antihistamines work better than any alone - and we may try this if not getting a good response.


FATTY ACIDS:
Omega 3 fatty acids – found in FISH OIL Capsules – Use 1000mg capsule per 10kg bodyweight
Evening Primrose Oil capsules – daily.
PAWs 'Dermega' – Omega 3 & 6 supplement – 1ml/7kg daily
PULSED ANTIBIOTICS:
which are only available after a consulation with your vet
CORTICOSTEROIDS:
available in tablets (eg: Prednisolone), cream (eg: Neocort) or spray (eg: Cortavanace) formula – again only available after a consulation with your vet
DIET CHANGES:
A prescription diet such as Hills Z/D or Royal Canin Hypoallergenic - which are guaranteed to be allergen free and is used as the sole diet of dogs/cats with severe skin allergies
SHAMPOOS:
Malaseb - used twice weekly initially then weekly long term. Needs to be left on for 10 mins to soak into the skin before rinsing off well.
Pyohex - used twice weekly initially then weekly long term
Aloveen - used weekly OR Oatmeal based shampoos can be used on normal looking skin and will reduce itchiness.
"It is important to appreciate that your dog has been born with a dry, irritable skin. This skin will remain dry and itchy throughout your dog's life. The degree of irritability may lessen with time. Various things will aggravate this irritable skin. When this happens, whatever the age of the dog, dermatitis will occur. Therefore, the tendency to dermatitis is lifelong, but the fact of dermatitis may not be lifelong. The important thing to grasp is that this skin will have to be understood and cared for, for life. If this is done, often the development of dermatitis remains a rare event."


---
Five good reasons to scoop the poop
Rainwater washes pet waste directly into our river systems and the sea which can affect our flora and fauna
Dog poo may contain harmful organisms (such as E.coli and Giardia, roundworms and hookworms) that can be transmitted to humans and other animals if ingested
It is the law in most urban and suburban areas
Cleaning up daily in your yard can help prevent odours
No one likes to step in dog poo and your neighbours will appreciate you!
Coutesy MONA VALE VETERINARY HOSPITAL, 22 Park Street, MONA VALE and Iain Smale

You can subscribe to the newsletter at this address - http://www.petpack.com.au/pet+pack+newsletters.html



---
Marauding dog/s strike again!
This time it was not the guinea pigs but a beautiful chicken that was killed.
One of Harley's pets!

This is the third time that I have written in this newsletter about dog owners not properly containing their dogs. The council rangers have been over recently and have asked us to try to photograph the culprit/s.
But who has all day to sit and watch for them? Not Lisa or I!

So I implore all you dog owners to be thoughtful of others and not allow any dangerous dogs to wander freely.

Robyn Iredal


---
Rose's Stall


Hubert, Maria, Elise and Rose van Mierlo to would like to thank everybody who supported Rose's biscuit and lemonade stall on Saturday...


Rose made $50 which she has donated to MS Australia.







---
Boat missing !

We have had a small green rowboat tied up at Bells wharf that has disappeared over the last couple of days. It is not worth anything but was still going strong and I really enjoyed rowing across.

If anyone has it please bring it back to Bells wharf or callIneka on 0424299984


---
Hull Wanted

If you have a hull lying around taking up space in your yard, on your jetty, local wharf or beach, that's no longer being used,

10 - 12 ft to house 15hp, in good condition, and would like to part with it or sell it,

Please call either Nikki - 0425 227792 or Matt - 0404 876685 - Thanks



---
The Local Guide
Community Information
Scotland Island Residents Association (SIRA) Membership Application

- click here to download
West Pittwater Community Association (WPCA)

- http://www.wpca.org.au
Scotland Island Water


SI Emergency Water Contacts and Guidelines for water: click here for information and contacts
Scotland Island 'Water Agreement' - click here to download
Scotland Island Children's Centre

- (SIOCS - Scotland Island & Offshore Childrens Services)
Catherine Park (Long Day Care Service) 8.30am - 4.30pm (Tues, Weds & Thurs)
Playgroup @ Children's Centre every Monday, 10.00am - 12 midday
Other services include: School Holiday Programme / Facility & Equipment Hire
For information call 02 9979 7856 or email: siocs@comcen.com.au
Scotland Island Community Hall Bookings:

Kez on 9999 4092 or kezborthwickbolton@gmail.com
---

Transport
---
Real Estate
---
Services, Clubs & Accommodation
Scotland Island Traders - On-line shopping

from your computer, through your door on Scotland Island. Contact Graeme on 0419 460 331 or click here for full details
Justice of the Peace

- Bob Bolton - 9999 4092
Justice of the Peace

- Paul Purvis - 9979 9667
Justice of the Peace

- Paul Burchall - 0414 975 793
Justice of the Peace

- Bob Mitchell (Mackeral Beach) - 0419 745 628
Pittwater Community Arts Inc.

- Enquiries Lorrie Morgan 9997 8079 lorriemay@bigpond.com
Woody Point Yacht Club

- http://www.wpyc.com.au commodore@wpyc.com.au
Royal Prince Alfred Yacht Club

-

02 9997 1022

http://www.rpayc.com.au/
Royal Motor Yacht Club

- http://www.royalmotor.com.au/ 02 9997 5511
Scotland Island Lodge - Bed & Breakfast -

02 9979 3301 or http://www.scotlandislandlodge.com.au
Elvina Escape - B & B at Elvina Bay -

Alison Newham 0423 598 760
Treetops on Towlers Bay -

02 9332 2611 info@walkabouttours.com.au
Pittwater Youth Hostel

- 02 9999 5748 www.yha.com.au/hostels/details.cfm?hostelid=31
Nila Chambers - Celebrant (marriages, funerals etc)

Discount for all offshore residents. 9999 2445
Offshore IT Computer Services

- Contact Robert 0427 890 357 or 9999 2942
Handy Service

- "No job too small" - Call Alan 0447 775 541
Electrician Wayne

on Scotland Island 0418 229 277 - offshore community sparky - www.sparky.com.au
---
Island Classes (Fitness, Dance, Art etc)
Pilates, Meditation and Group Fitness with Patrice

- 0406 483 036 patrice.corrie@gmail.com
Anusara Yoga

- Thursdays - 0421762236 dominiquemarill@gmail.com or floydcbg@ozemail.com.au
Art with Max

- Watercolour classes. Phone Max on 9997 4527
Art Classes

- drawing and painting in oils, acrylics and mixed media- Marion 9979 3993 or 0431 457 431
@ Nathalie's Table - Cooking Classes

- Mediterranean cooking fortnightly - Nathalie - 9999 4449
---
Groups
Gurdjieff / The Forth Way

- Call John on 9979 5584, Marion on 9979 3993 or Anne on 9999 3478
Island Kinesiology Clinic

- Mondays on SI Phone Jen Cudmore 0425 212 849
Green Group For Catherine Park

- Run by SIOCS - Emmie Collins on 0405 330 781
WOW - Women on Water

- second Wednesday of the month - contact Nila on 9999 2445
Parents & Kids Groups Playgroup

- Run by SIOCS - email Emma trysemz@tpg.com.au
Scotland Island Players

- contact Bob or Kez on 9999 4092
Catherine Park Bush Care Group

, 2nd Sunday @ 9.30am, Sharon Kinnison @ 9997 6017
Elizabeth Park Bush Care Group

, 1st Saturday @ 9 am, Bob Bolton @ 9999 4092
Island Thinking Group -
Roy Baker, 9999 6891, roybaker99@yahoo.com
Offshore a capella choir

– Saturdays at 2:30 pm, SI Community Hall. Call Gordon on 9997 2035.
---
Government Organisations
---
Airlines, Buses and Railways
---
Weather
Scotland Island Tides, Moon phases, Sun rise & set
Local Weather Forecast

Radar weather for Sydney (128k circle)
---
Emergency Contact Numbers
| | |
| --- | --- |
| ALL EMERGENCIES (Police - Fire - Ambulance) | 000 |
| Police Assistance Line & Information | 13 1444 or 9281 0000 |
| Broken Bay Water Police | 9910 7899 or 0412 162 093 |
| Scotland Island Rural Fire Brigade | 9999 4404 |
| NSW Fire Service General Information 9265 2999 | 9265 2999 |
| Rural Fire Service General information | 9450 3000 |
| State Emergency Service, Warringah/Pittwater SES | 9486 3399 |
| National Parks & Wildlife Service: 000, general information | 9457 9322 |
| Dept of Community Services: general information | 9977 6011 |
| Sydney Water | 132 090 |
| Energy Australia | 131 388, (ah) 131 909 |

---
Join SIRA
You can now join the Scotland Island Residents Association by
clicking here.
Please print the page and return the completed form to SIRA at this address:
The Treasurer, SIRA, PO Box 70, Church Point 2105.
Please NO CASH.

Contact SIRA at
sirapittwater@gmail.com
Join WPCA

To join the Western Pittwater Community Association, contact Michael Wiener at
m2wiener@bigpond.net.au
---
Archived Newsletters


A complete set of past electronic newsletters since May 2000 can be found and read at https://ymlp.com/archive_gesgjgm.php or by clicking here or by visiting the Mona Vale Library.

The Island website is at www.scotlandisland.org.au


---
To Contribute


If you would like to contribute to this newsletter it's easy!. Send an e-mail to the editor (editor@scotlandisland.org.au) or by clicking here. Type your contribution (100 words or so would be fine) and assuming it is of general interest to the community, does not include matter of a political nature and is not offensive, it will appear next month.

Subscription Information


To get on and off this newsletter,

click here

or got to:

http://www.scotlandisland.org.au/signup .


To change your address, click the 'modify' link at the bottom of this newsletter or send an email to the

editor@scotlandisland.org.au


---
Follow the PON
---
The Online Local Contacts Guide
Click HERE to load
The views expressed in this newsletter are not necessarily the views of the Scotland Island Residents Association (SIRA), or the Western Pittwater Community Association (WPCA)

---