---
Contents
---
Gwyn's

Illustration
'Hallowe'en'

To download a full version of this months image ready for printing, just click on the image.










You can contact Gwyn Perkins by email at g.perkins@gwyn.com.au





---
| | |
| --- | --- |
| | SIRA News |



IMPORTANT EMERGENCY WATER INFORMATION




NEW WATER MONITOR LINE 1 AND ONLINE BANKING FACILITY



After 14 years of service, Nathalie Muir has retired as Water Monitor of Line 1. Nathalie has carried out this task with the utmost efficiency and commitment and SIRA thanks her for the dedication she has given to this vital role. Please give her a round of applause!

Louisa Maxim, who lives on Richard Road, has taken on this demanding role. She can be contacted on her mobile 0413 125 142 or by email louisamaxim@gmail.com Please give her your support as she navigates her way through the world of water bookings!

The same booking procedures apply, please read the updated Guidelines. (LINK)

A dedicated Emergency Water Account has been established to facilitate online payments for all Lines. It is

essential

that you identify your payment with

your Name and Line No

. Payments via cheque or cash are to be made direct to your Water Monitor only. An email will be sent, after you have reported your meter readings, giving details of your booking, the amount due and direct debit details.



EMERGENCY WATER POTTED HISTORY


Scotland Island had no external water supply for the first 170 year of European settlement. Over 30 years ago, a water tank was installed at Bell (for fire fighting purposes) where the current meters are located. This tank was filled from the mainland and a tap was fitted. A local resident with a water tanker would fill from this tank and deliver water to residents.

In 1988, Warringah Council set the charges for water on the basis the supply was for emergencies only. In 1992 Pittwater Council formalised the arrangement, appointing Island Water Monitors as agents for Council and, in 1994, installed the current meters. The cost of water has remained as set by Warringah Council in 1988. The full history can be viewed here (LINK)

In 2004, to ensure the ongoing supply of emergency water, SIRA entered into discussions with Pittwater Council and Sydney Water. It was agreed that SIRA would take on the responsibility of managing, upgrading and maintaining the Emergency Water Line, subject to residents entering into an Agreement for Sale of Water (contract) to purchase emergency water. SIRA sought legal advice on this contract and was advised to take out public liability insurance and, in addition, that each resident in the household would be required to be a member of SIRA to further mitigate liability. Sydney Water classifies the emergency water as non-potable.

SIRA reimburses Pittwater Council quarterly for the Sydney Water account and co-ordinates scheduled maintenance, repairs and upgrades to the pipeline. Any surplus funds are allocated for future upgrades.



WATER BOOKINGS DURING DROUGHT


Demand for emergency water has increased and, as a result, it may be necessary to limit the number of hours for bookings for each purchaser. The summer season is shaping up to be dry, with little rainfall, so usage will continue to be heavy. It is also important to keep tanks full for fire fighting purposes.

We encourage residents to be mindful of their water consumption, keep roofs and gutters maintained and check tanks regularly to avoid running out. Last minute requests inconvenience other residents and can be difficult to negotiate. If everyone can please be diligent in checking the water level in their tanks this problem can be avoided



PLEASE RING BETWEEN THE HOURS OF 8AM TO 8PM ONLY!





EMERGENCY WATER RESPONSIBILITIES


Please follow the procedure for purchasing water, as set out in detail in the Emergency Water Guidelines.
The guidelines are available as a link in the Pittwater Offshore Newsletter (PON), in the
Pittwater Offshore Directory (POD) and on the website http://www.scotlandisland.org.au/sira

In particular, we remind all residents that they are responsible for:


Note:

The washer in the "nut and tail" that connects to the standpipe prevents leakage. Without it, the fitting can be over-tightened making it difficult to remove from the brass nipple. If you are missing a washer contact Cass Gye for a replacement and a plug to keep it in place after use.

If you have any queries, please call your Water Monitor who will be pleased to help.

Happy Watering!!



---





Greetings Wine Lovers



We have the tasting notes for our next wine tasting on

Sunday October 20th, 2013, 3 - 5pm.



As promised, a good sparkling in time for Christmas and many of our old favourites. I have been promised a sparkling day to match the wine and would love your company. I know many of you have probably never travelled so far west, not even on your annual holiday, but now is the chance. The transportation costs are very low due to, err, the Australian dollar and a journey either by private vessel or ferry will add to your wine tasting experience. Plenty of parking on the jetty with the Aussie flag flying.



Please remember to bring along your own tasting glass, tasting notes and a platter of nibbles as a contribution.





Where: Paul Purvis' sunny home, third jetty on the south side of Elvina Bay



If coming by ferry, alight at Elvina South, head east on the fire trail until you smell the wine...

If you are new to our totally not-for-profit wind syndicate it is lots of fun. Not only a chance to have a taste of fine wines but also the opportunity to meet your neighbours.

Date: October 20th 2013 from 3pm.

Download the tasting notes here.......tasting notes
Friends signup http://pittwaterwine.net46.net



---




AUTHOR TALKS





Underneath the Southern Cross




by Michael Hussey



Cricketing great, Michael Hussey, popularly known as 'Mr Cricket' is one of the most loved Australian cricketers to have worn the baggy green. His autobiography details his journey from his childhood to the highs and lows of an
extraordinary international cricket career playing alongside many of Australia's star players. Michael Hussey was finally selected in the Test team at the age of 30. The title of the
book is taken from the Australian Cricket team's victory song which is apparently inspired by Henry Lawson's 1887 poem. Michael Hussey took over leading the song
from Justin Langer, until his retirement in January 2013.

Date: Monday October 14 2013
Time: 6.30pm
Venue: MONA VALE MEMORIAL HALL CENTRE
1 Park Street, Mona Vale
Cost: $FREE

Phone: 9970 1600
Bookings essential!



---
Saturday 12th October 2013
Studio Dairy Kangaroo Valley
a one day workshop suitable for beginners and painters of all levels
great company , wonderful place, great food (lunch provided), and of course great watercolour painting, with inspiration and guidance.
see
www.studiodairy.com.au
for details or contact
david@wardman.com.au
Hello to friends on the island and bays; everything is going well here, studios emerging, workshop fitted out, fruit trees planted.

---

Local Council Notices


PWC Development Unit Meeting


Agenda

:

Development Unit Meeting



Notice is hereby given that a Development Unit Meeting of Pittwater Council will be held in the Conference Room, Mona Vale Customer Service Centre, Village Park, 1 Park Street,


Mona Vale on 3 October 2013



Commencing at 9.00am for the purpose of considering the items included on the Agenda including;

N0021/13 - 1858 Pittwater Road, Church Point (Lot 142 DP 752046) Alterations and additions for adaptive reuse of the existing building to include a cafe, restaurant, bar, shop and motel uses

....
Download Agenda HERE
Download PWC Development Unit Meeting Pasadena Report 03.10.13 HERE


---



Spring into Reading at Mona Vale Library



Bookworms are invited to take part in Mona Vale Library's Spring reading competition called

Transformations

during September and October, with the winner receiving a free Kobo glo e-book reader.



Transformations

invites library members to read three books of their choice, then comment on them by completing a mini-review form.

Library Manager Cathy Howie said the competition gave readers the opportunity to share their thoughts on the books they had read with other readers.

"Each review form will be made into a bookmark that will be placed in the reviewed books and then made available at the front desk", said Ms Howie.

Event Librarian Heather Thomson said many readers enjoy sharing their reading experiences.
"We've designed easy to complete review forms, that are quite short," said Mrs Thomson.
"There are questions about the themes explored in the book and if the book was an enjoyable read.

The reader is also asked to comment on whether they learned anything new and if they would recommend the book to another reader," added Mrs Thomson.

The competition will open on Monday 16 September and run until Friday 25 October.

For more information about what's happening at Mona Vale Library, visit www.pittwater.nsw.gov.au/library

Media contact: Heather Thomson, Mona Vale Library Ph: 9970 1609
10 September 2013



---
Bodhasara in Music




At the Seymour Centre Nov 1st & 2nd



Bodhasara is an 18th century Sanskrit text by Narahari. We have translated it into fine English – and now Bodhasara is happening in music at the Seymour Centre on Nov 1st and 2nd. This is a special event not to be missed.

Five talented young music composers have composed 'new' music for 5 sections of Bodhasara with Andrew Batt-Rawden at the helm. Andrew read our book, connected with it and gained a grant to make this production possible. Then, from our book, the composers each chose a section and responded to that section in music.

Descriptions of their projects and why they chose their particular sections are on http://www.chronologyarts.net/

We have heard parts of the music and are very impressed. The compositions are amazing and the musicians exceptional. There are 2 singers - soprano and baritone, cello, tabla and a variety of percussion….with lyrics in English and Sanskrit.

…But this event will be more than 5 pieces of music. Andrew is expert at creating complete productions.

It is also advertised on the New Music Network
http://www.newmusicnetwork.com.au/series.html#lyndon

Tickets will be available at the Seymour Centre soon http://www.seymourcentre.com/

More information will also be on http://www.chronologyarts.net/

Please put Nov 1st or 2nd in your diaries….you won't be disappointed.
…and please share this with your friends.

Hope to see you there,
Jenni & Grahame Cover
jennifer.cover@bodhasara.com
http://www.bodhasara.com/



---
Pittwater Wooden Boats
Building Classes begin in October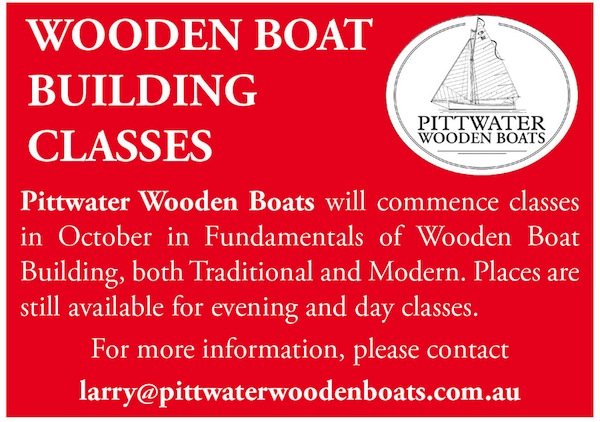 ---
Rental Wanted



A friend's father is looking to rent on the Island. Looking for a house or boatshed. Up to $300 a week.
He's ready to move in now.

Thanks
Rachel Carter
0406 239 946



---
Lost


Kayak



white and blue kayak from Lovett Bay.

Please call Tim on 0408 608628 if this happened to wash up on your beach.
(modest reward offered!)




---
---
The Local Guide
Community Information
---

Transport
---
Real Estate
---
Services, Clubs & Accommodation
---
Island Classes (Fitness, Dance, Art etc)
Pilates, Meditation and Group Fitness with Patrice

- 0406 483 036 patrice.corrie@gmail.com
Art with Max

- Watercolour classes. Phone Max on 9997 4527
Art Classes

- drawing and painting in oils, acrylics and mixed media- Marion 0431 457 431
@ Nathalie's Table - Cooking Classes

- Nathalie - 9999 4449
Dru Yoga

- Tuesday 9.00 to 10.30 Tuesday morning - Phone Katya on 0414 187 916
Dynamic Yoga

- Saturdays from 9am - 10.30am 0402 752465 nadineomara@gmail.com

---
Groups
Gurdjieff / The Fourth Way

- Call John on 9979 5584, Marion on 9979 3993 or Anne on 9999 3478
Green Group For Catherine Park

- Run by SIOCS - Emmie Collins on 0405 330 781
WOW - Women on Water

- meets 4 times a year - Jenny Frazer 0410533728 / 99994460.
Parents & Kids Groups Playgroup

- Run by SIOCS - email Emma trysemz@tpg.com.au
Scotland Island Players

- contact Bob or Kez on 9999 4092
Catherine Park Bush Care Group

, 2nd Sunday @ 9.30am, Sharon Kinnison @ 9997 6017
Elizabeth Park Bush Care Group

, 1st Saturday @ 9 am, Bob Bolton @ 9999 4092
Island Thinking Group -
Roy Baker, 9999 6891, roybaker99@yahoo.com
Offshore a capella choir

– Saturdays at 2:30 pm, SI Community Hall. Call CB on 9997 2035.
---
Government Organisations
---
Airlines, Buses and Railways
---
Weather
Scotland Island Tides, Moon phases, Sun rise & set
Local Weather Forecast

Radar weather for Sydney (128k circle)
---
Emergency Contact Numbers
ALL EMERGENCIES (Police - Fire - Ambulance)
000
Police Assistance Line & Information
13 1444 or 9281 0000
Broken Bay Water Police
9910 7899 or 0412 162 093
Marine Rescue Broken Bay - Weekend

(

02) 9999 3554 - (02) 8411 1121



Marine Rescue Broken Bay - VHF Radio channel

VHF Radio Channel:

VHF 16


27MHz Radio Channel:

86 or 88



Scotland Island Rural Fire Service
9999 4404
Elvina Bay Rural Fire Service


9997 3795



Lovett Bay Rural Fire Service


9979

1612



Mackerl Beach Rural Fire Service


9974 1162



Headquarters Terrey Hills


9450 3000



NSW Fire Service General Information 9265 2999
9265 2999
Rural Fire Service General information
9450 3000
State Emergency Service, Warringah/Pittwater SES
13 25 00 9486 3399
National Parks & Wildlife Service: 000, general information
9457 9322
Dept of Community Services: general information
9977 6011
Sydney Water
132 090
Energy Australia
131 388, (ah) 131 909

---
Join SIRA
You can now join the Scotland Island Residents Association by
clicking here.
Please print the page and return the completed form to SIRA at this address:
The Treasurer, SIRA, PO Box 70, Church Point 2105.
Please NO CASH.

Contact SIRA at
sirapittwater@gmail.com
Join WPCA

To join the Western Pittwater Community Association, contact Michael Wiener at
m2wiener@bigpond.net.au
---
Archived Newsletters


A complete set of past electronic newsletters since May 2000 can be found and read at https://ymlp.com/archive_gesgjgm.php or by clicking here or by visiting the Mona Vale Library.

The Island website is at www.scotlandisland.org.au


---
To Contribute


If you would like to contribute to this newsletter it's easy!. Send an e-mail to the editor (editor@scotlandisland.org.au) or by clicking here. Type your contribution (100 words or so would be fine) and assuming it is of general interest to the community, does not include matter of a political nature and is not offensive, it will appear next month.

Subscription Information


To get on and off this newsletter,

click here

or got to:

http://www.scotlandisland.org.au/signup .


To change your address, click the 'modify' link at the bottom of this newsletter or send an email to the

editor@scotlandisland.org.au


---
Follow the PON
---
The Online Local Contacts Guide
Click HERE to load
The views expressed in this newsletter are not necessarily the views of the Scotland Island Residents Association (SIRA), or the Western Pittwater Community Association (WPCA)

---