---
June 7, Fri - Wade Hayes Friends Fest - 8 am SOLD OUT
June 7, Fri - 2:30 pm Wade in the Durango Room at Music City Center, Nashville's new Convention Center
---
If you missed hearing the Station Inn Session with Wade and air personality Mike Terry (or if you'd just like to hear it again, I have joined the 17 minute audio with the 57 minute show.
---
Notes on Lanham Brothers Jamboree
The Lanham Brothers Jamboree is family friendly and lots of fun. Each year, as the word spreads, the comfortable theatre at Diamond Lakes Resort holds a larger audience. Skits, dancers and outstanding musical talent are the hallmark of the show. Wade had 2 segments of the show featuring him and his guitar on songs that he'd recorded. Wade also did a game show type event - he played the intro to a song on the guitar and 3 couples were vying to see who could sing the next line.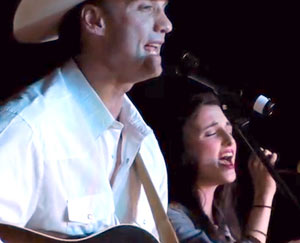 Wade surprised us with a couple of numbers that he played on the fiddle - Faded Love and Take Me Back to Tulsa.
Randy also coerced (in a friendly way) Wade to wear a pair of overalls for the skit that featured the 2 of them as the Knottsville Nose Pickers doing a HeeHaw routine. Enough said.
Another highlight was Wade playing the guitar and singing harmony with Jennie Beth Willis on How Great Thou Art.
On a Good Night
The Day that She Left Tulsa
Don't Stop
What's a Broken Heart For You
Wichita Lineman
Old Enough to Know Better
The entire Jamboree Cast ended the show with Will the Circle Be UnBroken?
---
January 26 - Dosey Doe's Big Barn in The Woodlands, Texas
Photo Credits: Sheri Haltom, Jeanene Jones
March 9 - Cherokee Casino, Will Rogers Downs, Claremore, Oklahoma
Photo Credits: Rita Vincent-Sanchez, Sheri Haltom
April 20 - Dosey Doe Cafe, Conroe,Texas
Photo Credits: Alisa Devins Young
May 4 - Cherokee Casino, W. Siloam, AR
Photo Credits: Rita Vincent-Sanchez
---
Social Media - Wade's Facebook Fan Page, Friend's Page and Twitter link