The Youth Arts Access (YAA) 2012 pilot program is an invitation to young people 13-18 years old with disability to engage with the arts as an audience.   
Members of the YAA group will be Youth Arts Ambassadors for the duration of the project in 2012 and will assist Accessible Arts NSW, the arts venues and arts companies by providing valuable feedback on accessibility and the arts performances in the Sydney region.
The St. George Foundation, as sponsors of the pilot, will provide free tickets for young people and their support person to attend live performances of theatre, music or dance.
If you would like to be a Youth Arts Ambassador in 2012 please apply by
Monday 9 July 2012
.
Successful applicants will be contacted by Friday, 20 July 2012.
Further information about the program and how to apply is available on the Accessible Arts website at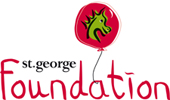 Proudly supported by St. George Foundation