June 2012                          www.visionaryliving.com
In this issue:
June Message: Fearlessness...  Sleeping with Max, Dowsing With Max -- The Fall of Max! ...

The Passing of Pets... Alchemical Tarot Intensive... Book News... More on

Shining People

...
Discover Your Past Lives Weekend...
Mailbag Q&A on

Ghosts of Children

…
A Spirited Night in Richmond, VA... and the Feature Article:

Remedies for Ghosts, Spirits and Attachments...

  Also in this issue…

 

June Media  & Events... Special Events in 2012... E-books by Rosemary... New in Print at Visionaryliving.com
______________________________
JUNE MESSAGE:  FEARLESSNESS
This month's message comes out of a full moon meditation circle that I participated in at the home of my friend

Krys Korzenko

in Connecticut on June 4.  After

Lisa Hilliker

and Krys conducted the ritual, Lisa invited us to share our personal thoughts on what the full moon meant to us.  The first word that sprang into my mind was "Fearlessness."
The full moon symbolizes culmination, manifestation, abundance, luck, getting, and acquiring.  Yet none of these things can happen without action and forward movement on our part.  The tough times that most people have experienced for the past several years can lead to paralysis caused by fear of the future, fear of taking risks, and fear of what may happen.  It is hard to move forward when it seems that all your energy is consumed just holding on.  In tough times, more than ever, we must be fearless.
Fearlessness is not recklessness, acting without thinking, foolishness, or impulsive behavior.
The dictionary defines fearlessness as bravery, but I do not equate it with bravery, courage, strength, or boldness.  All of those are qualities that are summoned up to overcome fear, and fearlessness embodies them.
Fearlessness is a state of being, a confidence that no matter what happens, you will survive and thrive.  It is a way of living.  To live your life fearlessly is to hold fast to your vision, the sense of who you are, and what you must do.  This does not mean being self-centered and acting at all costs to everything and everyone else.  A fearless person has developed his or her spiritual consciousness and moves in a cosmic flow.  There are ups and downs, but never stagnation.
So, push a little harder, step forward, reinvent yourself.  Life, which is short and precious, is to be lived fearlessly!
_________________________

SLEEPING WITH MAX, DOWSING WITH MAX -- THE FALL OF MAX!
Last month my business partner,

Tonya Madia

, and I brought

JoAnn Parks (in photo right) and Max the ancient Crystal Skull

to West Virginia for the first time, and the weekend was a great success.  People traveled from a considerable distance throughout the region to meet JoAnn and spend private time with Max.  Many of them had profound experiences, including physical and psychic phenomena, photographic anomalies, Electronic Voice Phenomena (EVP), precognitive dreams, spiritual insights and much more.
We have established a Facebook page called Max's Ring in WV, where participants are posting their experiences, photos and clips.  Take a look!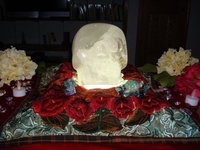 My guest room at the home of our gracious hosts,

Phyllis and John Griggs

of Bridgeport, was the same room where people had their private sessions with Max, so I got to "sleep with Max."  JoAnn had him set up on a small table made into an altar, with Max resting on a light box that lit up his entire insides (photo left).  The room was quite energized at night, not only by Max but from all of the meditation, automatic writing, channeling, and other work that had transpired throughout the sessions.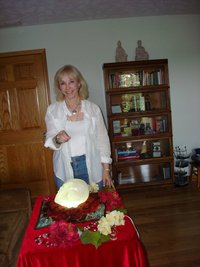 Prior to going to sleep, I got out my pendulum and dowsed over Max (photo right), asking questions about a direction I have been contemplating for my work.  I had vivid and meaningful dreams with important spiritual messages for me.  I have to let these cook alchemically for awhile, but they will be making their way into my public work.
On the last day, we had a fright, however, while we were taking our personal photographs with Max.  As I was standing behind him to pose, the small table he was on suddenly collapsed, sending everything, including Max, tumbling to the floor!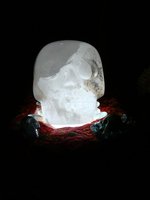 I think my heart skipped a few beats and time stood still as an image flashed through my mind of this 18-pound, ancient, precious skull breaking into pieces.  Max is composed of five natural layers of quartz growth (illuminated in photo left), and the right blow to one of the growth lines could be disastrous.  Fortunately, Max was no worse for the wear!  Nary a scratch, chip, or mark.  I breathed a huge sigh of relief!
Interestingly, Tonya had had a premonitive dream several nights earlier of Max falling off his table, breaking, and reassembling himself.  JoAnn said that when she went through TSA at the airport in Houston, the security officer, who knows her from her frequent traveling, commented that he had had a premonition in which he picked up Max and dropped him.   We were all grateful for Max's survival intact.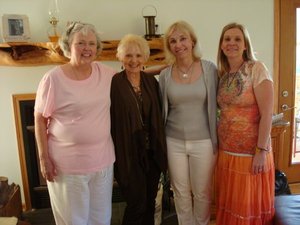 Tonya and I have already booked JoAnn and Max for a return visit to WV next year for the dates of

May 31-June 2, 2013.

  We are planning an expanded event to include private sessions, JoAnn's inspirational lecture, and a closing ceremony with Tibetan bowls, drumming, and a circle.  There may be more additions as well – we are only in the early planning stages.  Announcements will be posted on the FB page and in this newsletter.  (Photo, L to R: Phyllis Griggs, JoAnn Parks, myself, Tonya Madia.)

Tonya and I thank Phyllis and John, JoAnn, and Max for a wonderful weekend!
Also, check out Dr. Salo Stanley's ghost box EVP video of Max on YouTube, from a session in her home Fresno, California, this year.

Within the past month, two of my friends lost beloved pets.  As a fomer pet owner myself, I too have gone through the grief of losing loyal best friends and companions from the animal world.  The passing of pets often brings deep spiritual experiences.  Animals have souls and cross into the afterlife.  They can return for visits to remind us that the link of love to them is never broken.  We rejoin them when our own time comes, and we can even share other lifetimes with them in reincarnation.

Tarot Helps A Crossing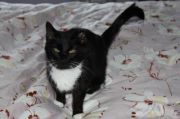 Chris DeChello of Connecticut lost her beloved cat Inky after a long illness.  Inky was 20 years old, and had seen Chris through her own serious illnesses.
The passing of Inky involved the Tarot, and Chris's experiences show how the Tarot can help us with insight and inspiration, and even comforting messages, during our toughest times.  When the Tarot is used as a tool for spiritual guidance, it gives us just what we need.
In my classes for the Alchemical Tarot, a book and deck set I co-created with artist Robert Michael Place, I have students practice doing single-card draws for a message for the day.  The card is always read right-side up.
During Inky's illness, Chris did one-card draws daily for a message for herself, and also one for Inky.  Chris told me:

My beloved cat Inky died in my arms last night. She died in the best place she wanted to be, and vice-versa. Inky was my constant companion, and as a kitten, she entertained me through my cancer treatments. That was 20 years ago, and I feel that she lived a long and happy life.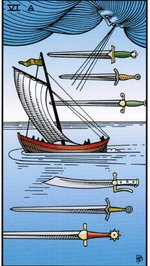 I also wanted to tell you a little story that is connected with your Alchemical Tarot cards. On her last day, I did a one-card draw for her in addition to one for me. Her card was the Six of Swords. Very telling. I went to her and told her, "I am your loving breeze" as she lay dying.  I am sure it helped her pass over.
My card this morning was the Seven of Coins. Right now I am at the bottom because I feel leaden. But, the gold up top gave me hope. I thank you for introducing me to the cards, which helped both Inky and me.
Bright Blessings!
Chris
I told Chris: The Six of Swords indicates transition, loss, healing from loss, and safe journey, thus preparing you in a powerful way for Inky's safe crossing, so that you could call up your own strength to help your beloved pet pass in peace and love.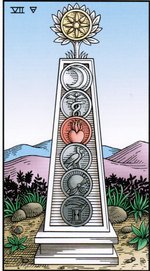 The day after her loss, Chris was naturally grieving and feeling low.  The Seven of Coins (Pentacles in many decks) offered her a message of opportunity and the reward that comes from effort.  For Chris, the gold coin at the top especially represented a shiny hope.  Even loss offers opportunity.  In this case, it may be emotional and spiritual growth, and gratitude for a loving bond with an animal.  It takes work to recover from any loss, but the card shows that something good will come of it, and in the most meaningful way.
Shortly after Inky's passing, Chris had visits from her pet: 
I saw one flash of Inky yesterday. I sometimes have sightings of well-loved pets that have already crossed the rainbow bridge, so to speak. I call these visits a gift. I am sure that I will get more visits from her in the future. Inky was my heart and soul. Many people don't care for cats, but I've found that if you love them, they love you back, and they are often not as dumb as people think. They cannot sit or shake hands, but provide joy in a deeper level of your being.
Then another sadness struck with the passing of another of Chris's cats, Midnight.  Inky and Midnight were very close, and Chris believes that Midnight wanted to be with Inky.  She now has visits from them both:

I see both my kitties in places they used to frequent: Midnight on the chair in the den, and Inky on the chair in the kitchen. I also see Inky on the stairs to the second floor quite a bit; she used to enjoy riding my chair lift up and down the stairs in my arms. These sightings are flashes, like you'd see in a movie, but I wish they'd freeze frame!

In a weird way, it's nice to see that they're not gone for good. I think that the other side has a curtain where you can see in.

Life and death are kind of amazing.
Chris has since adopted two cats from a shelter, so now she has cats on both sides of the Veil.
Images from The Alchemical Tarot are copyright Robert M. Place.

I
n

Honor of a Riot-ous Life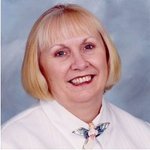 After Chris's news, I soon heard from my friend 

Rev.

Jayne Howard Feldman

of Maryland, a gifted psychic known for her work with the angelic realm, that she had lost one of her Jack Russell Terriers: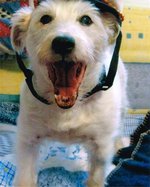 Yesterday was a sad day for Chuck and me. Riot, our precious Jack Russell Terrier, went to heaven. I love the YouTube video GOD AND DOG. The lyrics are: "I look up and I see God; I look down and see my dog." - Well today I look up and see Riot in God's arm.

God's gain; our loss.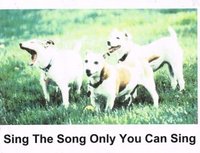 Riot joins two of Jayne's other Jack Russell Terriers on The Other Side, Benny and Jackie.  Said Jayne: All three are God's little angels now. Jackie was a dog we fostered and immediately adopted. She had never had companions and truly loved being with Benny and Riot. She would often times just let out a joy howl of happiness and here's one of those moments captured in a photograph. So in honor of the Jackie, Benny and Riot: Remember: Let out your own personal JOY HOWL OF HAPPINESS.
______________________________
ALCHEMICAL TAROT INTENSIVE WEEKEND!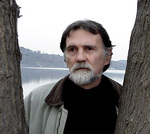 August 3-5, 2012: For the first time ever,

Robert Michael Place

and I are joining together to teach an intensive weekend seminar on The Alchemical Tarot, the deck and book set we co-created in the mid-1990s.  Bob's brilliant, visionary artwork and knowledge of alchemy produced an outstanding, powerful deck that has remained a favorite among Tarot enthusiasts since its debut.  Bob and I have each taught the Tarot for years, and it's exciting to work as a team again.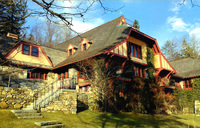 The setting for this intensive is the spectacular, historic Hillside Mansion in Norfolk, CT, located on 43 forested acres with stunning vistas, a swimming pool, and hiking trails.  We are bringing in a chef to cater our meals (both non-vegetarian and vegetarian food will be offered). 
The event includes instruction, double or single accommodations, and meals.  We will cover the deep symbolism of the Alchemical Tarot, intuition development, Tarot and dreamwork, how to do readings, and more.  For details, to see more photos of the Mansion, and to register, click here.
________________
BOOK NEWS: OUIJA and DJINN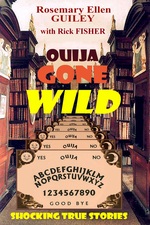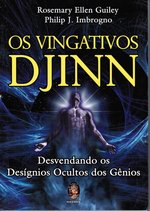 My long-awaited definitive book on the Ouija board, Ouija Gone Wild, which I have co-authored with

Rick Fisher,

will be out in paperback later in June.  It contains dozens of riveting stories, history, the influences of film, and much more!  Autographed copies will be available on my website shop after June 20.

The Vengeful Dinn has been translated into Portuguese.

____________________________
MORE ON SHINING PEOPLE -- AND OBJECTS
My May newsletter discussed "Shining People," a phenomenon in which a person notices a glow or light around a particular person and feels drawn to them.  It usually turns out that making a connection with that person is important.  The shine may last only until the connection is made.  It is as though the percipient is getting a visual cosmic signal to pay attention.  A shine or light can surround objects, too.
People also see shines around individuals who have developed their spiritual consciousness.

In response to the article,

singer and actress

Shirley Lawrence

wrote in about her own experiences with shines.  Shirley's parents, Lloyd and Astrid Blackwell, were both psychics, and Shirley is psychic as well:
I had to respond to this email on Shining People. You are the first person I have heard of who experiences that too.
This has happened to me as long as I can remember, where I see some people shine. But not just people. Several times I have seen it around things that eventually were given to me; i.e. a light around a beautiful blue car in my driveway. It was my parent's new car. They had only a little over two years when they gave it to me. I loved that car and used it until it would no longer run.
But the most wonderful light was around a man who became my husband. When I first saw him it was on the Warner Bros. lot where there were many people working in "The Great Race." His light drew my eyes right to him, but I didn't meet him until over a year later when he said he was drawn to me, and I immediately remembered seeing him before. The light was still around him.
Once in a crowd of people I not only saw a great light around someone, but felt his most peaceful presence. There were many people around him, and his light shone so that he glowed.  Someone told me he was a spiritual healer from the East.  
I have never met or heard of anyone else who has seen this phenomenon, so I was thrilled to know someone else has witnessed this.
______________________________
DISCOVER YOUR PAST LIVES WEEKEND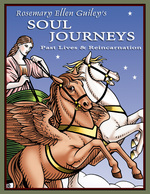 November 9-11, 2012:

  Join me for a Discover Your Past Lives workshop weekend in partnership with

Tonya Madia

, certified yoga instructor and Reiki master, in Parkersburg, West Virginia at the elegant, beautiful Blennerhassett Hotel!  Our program will include several group regressions for discovering significant past-life information, integrating your discoveries into the present, dreamwork, optional yoga, and optional bodywork services, private readings, and more.  Click here for details and registration.

______________________________
MAILBAG Q&A: GHOSTS OF CHILDREN

Randy Tippet

from the North Missouri Paranormal Research Society wrote in with questions about the ghosts of children, and whether they require different investigation approaches:
Q: Why are there ghosts of children?
A:  Child ghosts are no different than ghosts of adults.  Most ghosts are residues or imprints left behind when a person dies.  Residues have limited and reasonably predictable patterns: they are seen in the same places, sometimes at the same times of day or night.
Sometimes children, as well as adults, become earthbound.  The reasons vary: they are confused, or not aware they are dead, or have unfinished business. 
When ghosts exhibit intelligence and deliberate interaction with the living, they are probably either spirits in disguise or are earthbounds.  Spirits can slip on imprints like clothing and animate them, causing people and investigators to think they are dealing with lively ghosts of the dead.
Q:  How should investigators approach ghost children?
A:  The same as they would with any ghostly presence.  If a soul is earthbound and shows an interest in moving on to the afterlife, then some effort should be made to find out why the soul is stuck, and to point the soul in the right direction.  Someone or something has to come from the Other Side to help them over: a dead family member or friend, a pet, or an angelic presence.  If the presence has no interest in moving on, you will not be able to force them to go.  They will move on at some point.  The passage of time does not have the same meaning as it does to the living.
Spirits masquerading as children usually want to interfere with people, either for amusement or for a purpose of their own, such draining energy from the living.
Q: Do trigger objects work?
A:  Trigger objects are items intended to appeal to a haunting presence in order to elicit phenomena that can be captured, such as phantom voices and images.  Toys, especially from a time period associated with particular ghosts, are often used with ghost children.  Whether or not they are effective depends on each individual situation.  Investigators must research in advance about the place and phenomena to get appropriate ideas.  Keep in mind you are probably dealing either with earthbounds or masquerading spirits, the latter of whom may perform in order to entertain themselves.
______________________________
A SPIRITED NIGHT IN RICHMOND, VA
I got reacquainted with the haunts of Richmond, VA last month when LeeAnne Ball and Angela Ghataora of Spirited History invited me to come and give a presentation on psychic protection.  I have been a guest several times on their two radio shows, Phat Ladies of the Paranormal and Spirited History, both on the Para-X Radio Network.  It had been several years since I had visited Richmond, so I welcomed the opportunity to return.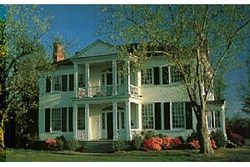 Prior to the lecture, we had a fabulous dinner at the haunted Crab Louies Seafood Tavern in Midlothian.  I picked right up on one of the ghosts, a sea captain, as soon as I walked in the door.  The lecture was held at another haunted site, Magnolia Grange Plantation in Chesterfield (shown left), hosted by the Chesterfield Historical Society of Virginia.  The dominant ghost is a young woman with blonde ringlets dressed in white.  The 1817 plantation was investigated by Spirited History in 2011.

LeeAnne, Angela and team have invited me to return the weekend of

September 21-22, 2012

, for a two-part event, a lecture on Friday night and an open investigation Saturday night, at a place to be determined.  Richmond is full of great places to investigate.  Thank you ladies, for a wonderful event and another to come!

For details visit my calendar page at www.visionaryliving.com/calendar
June 6-10 -- Annual convention of the American Society of Dowsers, Lyndonville, VT.  See details under Special Events below.

June 10 – The Conspiracy Show with Richard Syrett,
Zoomer Radio AM 740 in Toronto
.
June 16 -- Supernatural Saturday, Mechanicsburg, PA.  See details under Special Events below.
June 22-23 -- Troy Taylor's annual Haunted America Midwest conference, Decatur, IL.  See details under Special Events below.

______________________________
FEATURE ARTICLE:

REMEDIES FOR GHOSTS, SPIRITS & ATTACHMENTS
This month's feature article was prompted by an email from "Rhonda," who wrote:  "I just watched an episode of The Haunted where you helped a family against a vampire demon that drains all the energy from a person and preys on the vulnerable. My father has had this experience his entire life... Is there any advice or what can we do to fight this? This is the first time he's ever seen anything similar to his case. He has expericenced this for years since he was about 6 years old when he said he saw a demon. This demon-looking thing looked like the picture on the show. Any help for him?"
I told Rhonda, "No two cases are the same, so advice for one may not be helpful to another.  Advice must be based on careful investigation.  Your best bet is to find someone locally who can interview all the affected parties and visit in person in order to make a reasonable assessment of whether or not a paranormal problem exists.  Experts you may want to consult are religious people, psychologists, psychics, mediums, shamans and even medical professionals, as often what seems to be paranormal has natural causes and explanations."
The following article offers general advice and guidelines for some of the most common haunting and entity problems:
Remedies for Ghosts, Spirits and Attachments
By Rosemary Ellen Guiley
Copyright Visionary Living, Inc.
www.visionaryliving.com

This article addresses questions that I frequently get concerning how to resolve unwanted haunting phenomena, such as caused by ghostly residues, and how to resolve problems with interactive spirits that invade places and attach to people and objects.
It may be reposted -- please include all credits: by-line, copyright and website URL.  Thank you for your courtesy.

Residual Ghost Hauntings
Sometimes a ghost is really not a ghost at all.  Before you conclude that you have a ghost, eliminate all possible natural causes for the phenomena.  Changes in climate can make a house creak and snap.  Poorly fitting doors and windows can be sources of strange breezes and abrupt closings.  Odd smells may seep in from outside sources or even be imbued into the structure.
The late English ghost hunter Andrew Green once investigated a case in which a mysterious smell of perfume wafted through the sitting room of a cottage.  The perfume was identified as the mignonette flower, popular in Victorian times.  Through research he was able to ascertain that a previous tenant had used that perfume while living there for many years.  Apparently the fragrance had permeated the exposed oak beams.  The smell was released whenever a fire was built in the fireplace, and the heat warmed the beams.
You also must honestly ask yourself if your own imagination is involved, or you have been influenced by television or films.
The following remedies are effective for residual hauntings, which involve left-over remnants that are like cobwebs from the past:
Cleanse and purify.  You can alter the psychic "atmosphere" in various ways.  Take a lighted white candle and go from room to room.  Walk the perimeter of every room.  Tell all unwanted presences to leave immediately.  Seal each room by visualizing white light around it.  Give a blessing of protection, asking that only the invited may enter.
Saging -- burning bundles of sage or other herbs -- also is effective.  Follow the same procedure.
Place crystals in rooms.  Black stones such as hematite, onyx and obsidian are considered "anti-ghost" protectors.  Clear quartz and rose quartz help to keep spiritual energies clean.
Iron spikes and nails driven into the ground at the corners of a home and at the thresholds may enhance barriers.  Iron is an ancient and universal remedy against unwanted spirits.
Redecorate or renovate.  You may find that the "ghost" goes along out with the old.  New paint, carpeting, cabinetry and room remodeling may disrupt the residual energy patterns and imprints.
Do feng shui.  The Chinese art of placement concerns changing the physical environment to minimize negative energies and maximize positive ones.  Shapes, colors, textures, mirrors, fountains and crystals are common tools to alter energetic space.  Consult a feng shui expert.
Unwanted Spirit Presences
For interactive and intelligent presences, more is usually required.  If haunting presences are causing nightmares, unpleasant poltergeist disturbances, and other distress, it is important to get help.  Medical, emotional and psychological factors may be involved and require professional help; such factors should be addressed first.
Paranormal problems do not spring up out of the blue for no reason.  The origin and apparent causes must be identified in order to determine possible solutions.  There are no quick fixes, no Band-aid approaches, no one-size-fits-all "tell me what to do to get rid of it" internet solutions.
All of the aforementioned remedies for hauntings can be effective as part of a solution, but one or more of the following may need to be employed as well:
Assert yourself.  Many presences are pushed out by the living coming in and taking over the space in a strong, energetic way.  Attitude is a form of energy.
Tell the presence to leave.  It may seem too simple, but it often works.  If you do not mind sharing space with a presence, tell it not to bother you.  Sometimes they will back off or go away.  If they do not, try increasing the level of pressure.
Invoke spiritual help.  Pray and call upon the intercession of God, angels, saints, spirit helpers, guides and other sacred figures of personal importance to you.
Get experienced help.  Every community has experts who can address hauntings.  Be careful about credentials and experience.  Many so-called paranormal investigation groups have little knowledge of spirits and only imitate what they see on TV.  Psychics and mediums who are experienced in spirit releasement and minor place exorcisms can be effective; not all of them are. I once had a case of a persistent, negative haunting.  A famous medium had refused to visit the premises and told the owner to "write a letter to the ghost" and tell it to go to a funeral home when a service was being conducted in order to "find the light." Maybe this worked once or twice for the medium, but it's a sugar-pop, naïve approach.  In this case, far more was going on than "ghosts."
Some energy healers and shamanic practitioners also have the right skills; again you must qualify them by asking about their training and casework.
Religious authorities vary considerably in their knowledge of spirits, and many are limited, even severely restricted, to the viewpoints of their religions.  Sometimes religion is the best approach, depending on the victim.
I have found Taoist exorcists to be among the best and most effective at exorcizing unwanted presences.  They have a deeper understanding of the spirit world than most Westerners, and they know how to effectively close openings and shore up boundaries.  They are also frank in their assessments, and will tell you if something can be permanently cleared.  Not all presences can be sent away.  Some are attached to, and energized by, the land.  In that respect, they have "land rights."  Exorcisms and banishments can send them away temporarily but not permanently. 
Every case depends on the unique factors and presences involved.  Taoist exorcists can be found in the acupuncture and martial arts communities.  Not all acupuncturists have experience in dealing with spirits, so inquire about specific expertise in that area.
Dealing with the spirit world is complex.  Entities are not uniform cookie-cutter beings that all act alike.  You may have to consult a variety of experts in order to find the solution that works the best.  Keep in mind that a solution may require the affected parties to do something about themselves; for example, learn how to manage their own energy boundaries, or address medical issues.
Spirit Attachments
Sometimes unwanted presences are attached to objects or people. 
Objects
Spirits can attach to just about any object – but not every object has a spirit attached to it.  Sometimes problems arise when people buy second-hand items, and once they are taken home, the resident spirit becomes active, with phenomena such as apparitions, shadow figures and poltergeist activity.  Sometimes the level of activity is benign and may even fade away after a time.  Other times it becomes intrusive.
Even new objects can have attachments, created deliberately or even unconsciously in the making of the object.  Attachments to objects, even second hand ones, are the exception, not the rule, otherwise few people would be able to live peacefully in their homes.
An expert may be able to determine what object, if any, is the focal point of troubling activity, and take the appropriate steps.  Sometimes objects with residual energy can be simply cleansed by exposure to sunlight, immersion in sea salt, and blessings.
"Possessed possessions" usually involve an active presence, in which case the object is removed from the premises, and a binding is done on the spirit.  This should be done by an experienced practitioner.
People
If a spirit is attached to a person, a more serious exorcism is required.  Some people are "open" and naturally attract spirit attention.  They naturally stir up activity without being aware of what they are doing.  They must be willing to address shoring up their own defenses for effective long-term relief. 
Sometimes people are quite aware of their attachments, having experienced them repeatedly from a young age.  In some cases, they must be willing to let go in order to obtain relief.  Sometimes people who have had lifelong spirit attention, even if troubling, find they are not willing to give it up, for its absence creates an uncomfortable vacuum.  These issues are beyond the scope of environmental and external remedies, and must be addressed by the appropriate professionals in the medical, counseling, alternative therapies, and perhaps religious fields.
For additional information
Rosemary Ellen Guiley's Guide to the Dark Side of the Paranormal (Visionary Living, Inc.).  Available in paperback at www.visionaryliving.com/shop and also in e-book format for Kindle on amazon.com.
Rosemary's websites:
______________________________

AMERICAN SOCIETY OF DOWSERS CONVENTION IN JUNE
Interested in dowsing?  Join me at the American Society of Dowsers' 52nd annual convention in Lyndonville, VT, from June 6-10. I will lead a discussion group on dowsing in the paranormal, including investigations and spirit communication, and will present a lecture on dowsing and the paranormal at the closing on Sunday June 10.  I will participate in the entire conference, and I look forward to meeting people in the dowsing community.  I have used pendulum dowsing in my paranormal investigations and consider it quite a valuable tool.
Have a story about dowsing and ghost hunting or spirit communication?  Let me know at
reguiley@gmail.com
.
HAUNTED AMERICA MIDWEST CONFERENCE IN ILLINOIS
T
roy Taylor's annual conference is one of the best!  This year join me in Decatur, IL June 22-23 for a discussion on crypto-creatures, and a nighttime investigation at the haunted Lincoln Theater.  Program details and registration are here.
NECROMANTEUM AT THE FESTIVAL OF THE DEAD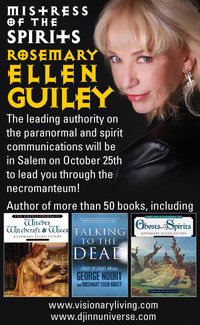 It's not too early to plan your Halloween adventures!  Come to Salem, Massachusetts, where the Festival of the Dead rocks all month long!  This year I join the headline events guiding an evening of spirit communication via black mirrors: "Portal to the Spirit World: Through the Necromanteum." 
Participants will learn about black mirror gazing for contacting the spirit world and then immerse themselves in their own private session.  Light refreshments conclude the journey.

Attendance is very limited for this special premiere event at OMEN on October 25.  Register early at Festival of the Dead.
SOUTH OF SALEM WITCHES' BALL 
I am delighted to be a special guest, courtesy of Karen Jetté Benson, at the 2012 South of Salem Witches' Ball in Wrentham, MA on Saturday, October 27.  This year's ball will be a formal white and black masquerade.  How exciting!  A portion of the proceeds will benefit Rolling Thunder, a veterans' advocacy group.  Click on the banner for information.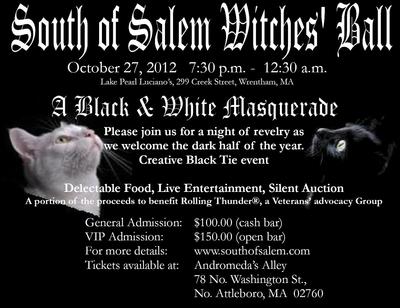 _____________________________

E-BOOKS BY ROSEMARY
I have several
titles from my own press available on Kindle. 

Click on the titles or covers for more information and to order.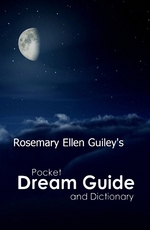 Rosemary Ellen Guiley's Pocket Dream Guide and Dictionary, everything you need for dream interpretation in one compact book!  The guide includes an overview of dreams, tips for interpreting dreams and improving dream recall, and a dictionary of more than 600 of the most common and useful symbols.

Rosemary Ellen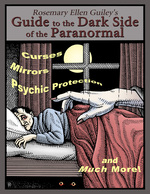 Guiley's Guide to the Dark Side of the Paranormal, a collection of twenty articles on curses, psychic protection, the evil eye, lethal ghosts, possessed possessions, the Djinn, Shadow People, the Ouija, dream invasion and more.  Read it and keep the light on at night!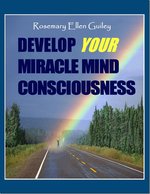 Develop Your Miracle Mind Consciousness, a helpful guide for staying on top of 2012, a dragon fire year.   Examines the states of consciousness conducive to miracles and practical tips for developing a daily "Miracle Mind Consciousness."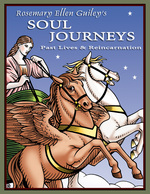 examines the evidence for reincarnation and the ways that a soul might return to physical form.  Famous cases investigated by scientists and experts are featured, as well as original cases from Rosemary's research.  Karma, relationships, soul mates, phobias and past-life healing are discussed.  Want to know who Jim Morrison of The Doors was in a past life?  Get the book!

_____________________________

NEW IN PRINT AT VISIONARYLIVING.COM
To order autographed copies, click on the covers or here.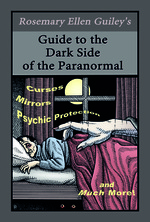 Rosemary Ellen Guiley's Guide to the Dark Side of the Paranormal is now out in a paperback edition, fresh off the Visionary Living, Inc. press.  The book features 20 articles on dark side topics in the paranormal, occult and ufology, including Shadow People, the Djinn, curses, demons, Men in Black, dream invasion, sex with entities, vampire UFOs, and more.  $12.95 plus s/h.
This paperback retails for $12.95 and is available only on my website bookshop and at my events.  For the month of April I am offering it with

free shipping

.  For more information on the contents and to place an order, visit my bookshop.  It is also available in e-book format from Kindle.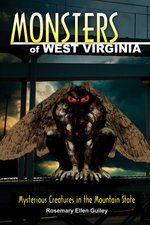 Also NEW: Monsters of West Virginia from Stackpole Books.  The Mountain State teems with strange creatures!  Read about Mothman, the Flatwoods Monster, the Grafton Monster, Bigfoot, thunderbirds, mystery cats, werewolves and other oddities.  In addition, I discuss possible explanations for mysterious creatures from the perspective of multi-dimensional realities.  Even if you don't live in or visit West Virginia, it is an excellent introduction to the realm of the crypto-creatures, and to explanations for how and why they appear.  They are everywhere!
"Strange Dimensions" is copyright Visionary Living, Inc., 2012.