FIREMAN'S BALL - Saturday, 28 March




The Scotland Island Rural Fire Brigade

is delighted to once again invite everyone to attend our premier bi-annual event - the Fireman's Ball. This gala black-tie event will feature live music from the Andrew Oh Quartet, loads of fabulous food by Lisa Atkins, cloakroom facilities and a fully licensed bar.
The Station will be transformed into a magical ballroom where you can dance the night away by Earth Hour inspired candlelight.



Date: Saturday, 28 March 2009







Time: 7pm – midnight





Venue: Scotland Island Rural Fire Brigade, Catherine Park, Scotland Island





Dress: Black Tie





Cost: $60 including food & music





Tickets: PMC Hill Real Estate, Church Point or Jenny on 0411 405335






---
SIRA AGM
Sunday, April 5, 2009 - 9.30 for 10.00am start
Community Hall, Catherine Park, Scotland Island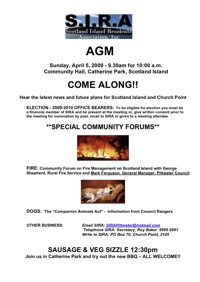 COME ALONG !



Hear the latest news and future plans for Scotland Island and Church Point plus;



ELECTION - 2009-2010 OFFICE BEARERS





SPECIAL COMMUNITY FORUMS





FIRE

: Community Forum on Fire Management on Scotland Island with George Shepherd, Rural Fire Service and Mark Ferguson, General Manager, Pittwater Council



DOGS

: The "Companion Animals Act" - information from Council Rangers



and a SAUSAGE & VEG SIZZLE at 12:30pm






click the image to open





---
RECYCLING ON SCOTLAND ISLAND....
Do you need Bins ?
It seems that some residents do not have either one or both black recycling bins. I would like to organise an additional supply from Pittwater Council.

Please contact me at cassgye@spin.net.au and indicate whether you require two bins or one only – paper or bottles. They have different labels attached. Once the bins are received I will email those who have replied and arrange collection or delivery.

Attached is the latest Recycling flyer for anyone who did not receive it in their P O Box.

Just click the image to load the full version of the flyer.



Please read the information carefully so you recycle correctly – inappropriate material will be left behind. Similar to the mainland, there is an allowable capacity per household each week. In wet weather it may not be possible to collect from some areas on the Island due to road conditions.

PLEASE REMEMBER: Large boxes or cardboard must be flattened, broken up into smaller sizes and tied together – large items cannot be collected and will be left on the verge – not an appealing sight and can block what little drainage we have left. If necessary, please hold over surplus material till the following week.


---