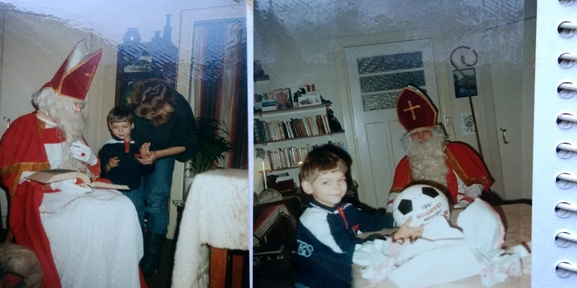 It is almost Sinterklaas (December 5th),
and for me that has always been a big thing.
When I was young (and also when I was older ;-),
my family used to celebrate Sinterklaas with many presents, poems and laughter.
My husband Bart even played Sinterklaas
for my younger brother
once

(my brother and I are 17 years apart).
That was such a nice evening!
I still remember the touching conversation between my brother and Sinterklaas word for word.
And my brother singing a Sinterklaas song
but mixing up all the words.
Sinterklaas said: "I never heard this song this way".
My brother answered:
"Oh yes, I was singing it
for you
in the mall last week!"
Sinterklaas (with white pages on his lap, disguised as the famous book of Sinterklaas with the names and pictures of all children) gave him a new football,
because his old one had been destroyed by the family dog. "Oh Sinterklaas, that is not necessary,
Syl's boyfriend is a very handy person and could have repaired my ball" (Yup, Bart is still very handy ;-))
Of course, "Sinterklaas" couldn't drink the coffee that my grandmother gave him, because of his fake beard.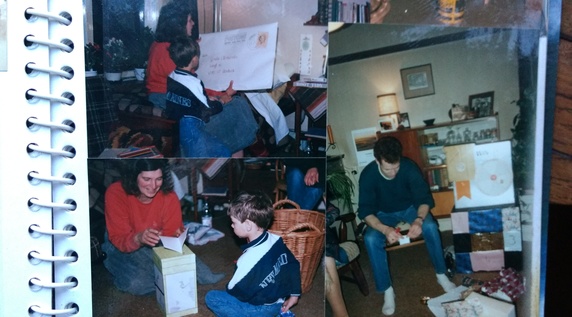 When Sinterklaas left we had to sing out loud so my brother wouldn't hear Bart stumbling upstairs to change clothes.
When Bart came back as Bart, my grandmother told him that his coffee was still waiting for him and getting cold.
My brother hadn't even noticed this slip of the tongue and said: "Oh, Bart, you just missed Sinterklaas, what a shame you came too late!!"
When you say "Sinterklaas" you say "presents", so that's why I offer a Sinterklaas quartet game to the first 5 people who send me mail with the word "Sinterklaas"
and a postal address.
No matter where in the world you live,
I'll send the game to you ;-)
Do you still need to buy presents for Sinterklaas or Christmas? The Dutch Cliché Cards have arrived!
I'm so proud of them!
They would make a perfect gift
for Dutch learners of any level…

For those who already ordered them,
I have sent your sets today!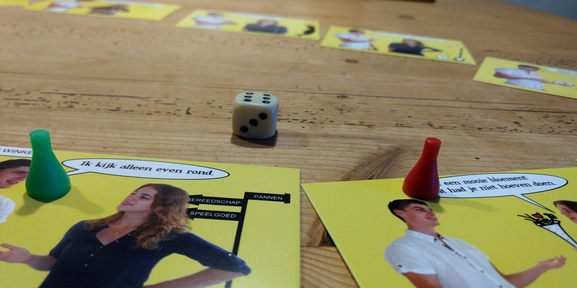 (If you like to learn what else there is to know about Sinterklaas besides the "Black Peter Discussion", you can follow this link or come and see the sweetest Dutch movie with Sinterklaas and a little Chinese girl
who has to deal with two cultures and two languages.)
P.S. There are a few more activities before 2017...
You can still join:
or share on social media:

Thank you!