Don't miss out on your tickets for
Scotland Island Players '
new play
Open For Inspection!
0pening this Friday 23 June at 8pm,
Other performances: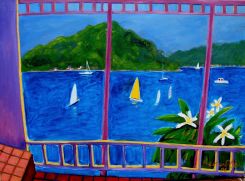 Saturday 24 June 8pm
Sunday 25 June 6pm
Friday 30 June 8pm (selling fast!)
Saturday 1 July at 8:00pm (SOLD OUT)
Get your tickets from:
Rosemary & Colin at 'Scotland Island Lodge', ph: 9979 3301;
Annette after work at the Point;
Tickets available at the door for 23, 24, 25 June
Adults $15 and Children $10
We are also holding a Raffle /Guessing Competition
Proceeds to the Players to run an acting workshop.
Prizes
Bottle of wine drawn each night
Including the last night
Original painting from the show drawn on the last night (all tickets sold at any performance go into the draw).
$2 a ticket or 3 tickets for $5
Be a Winner - Bring your money with you!