---
---
Commuter Wharf access relocation
5 October 2016
Dear offshore resident
On Wednesday 5 October, work will be carried out to relocate the access ramp/gangway to the commuter wharf to a safer location away from the construction works. This new temporary access arrangement is indicated as the purple area on the plan below.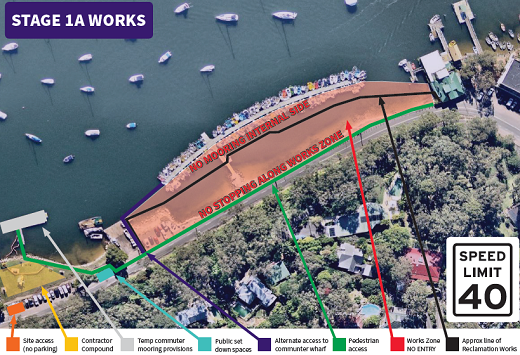 Between 9am to 3pm tomorrow, there will be no access to the existing ramp/gangway. Between these hours, Wards will provide a small boat to transport people from the wharf to the shore.
If at all possible, please avoid using the commuter wharf between 9am to 3pm.
Boats tied up at the commuter wharf will be not be affected by the work to the gangway.

Thanks once again for your assistance
Best Regard

Grant Tighe
Project Manager Church Point
Northern Beaches Council
M: 0466 513 567
PO Box 882 Mona Vale NSW 1660
---
The views expressed in this newsletter are not necessarily the views of the Scotland Island Residents Association (SIRA), or the Western Pittwater Community Association (WPCA)
---