---
---
Christmas Carols
Thursday 22nd December
7.00pm start at Lovett Bay Boatshed

(tie up in your tinny, with a picnic etc).
8.30pm repeat performance at Church Point.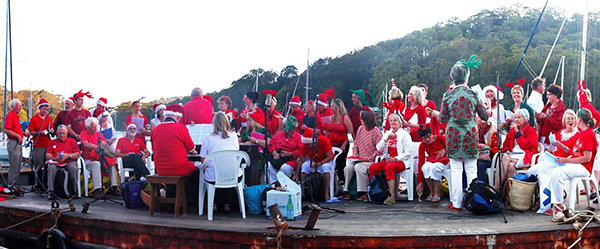 image by June Lahm
Everyone is welcome
---

Pink Water Taxi
Water Taxis Christmas & New Years day timetable



Christmas Hours
The Water Taxis will operate for the following hours on Christmas Day:

Boxing Day Hours
The Water Taxis will operate for the following hours on Boxing Day:

New Years Day Hours
---
Music afternoon for Young Musicians
Scotland Island Community Hall
Sunday, 11 December 2016

3pm-5pm

---
The Gift of Nia in 2017

If one of your New Year's resolutions is to be good to yourself in 2017, then Nia is the gift for you. In a Nia class, you'll focus on the sensation of pleasure, body awareness and self-care to promote fitness.

We have a growing number of Nia students on Scotland Island. "What I really like about Nia is that it's not about performance, it's about moving in a way that feels good to your body and, you're in a non-judgemental space where people generously share their enthusiasm."

Nia brings an energy that's unique and different to any other fitness class; it combines dance arts, martial arts and yoga in a workout that blends music, movement, mindfulness, self-healing and balance. Try your first class for free.
Nia Classes 2017




6pm Tuesdays Health Space, Mona Vale
7pm Wednesdays Scotland Island Hall
10am Saturdays Avalon Recreation Centre



www.niaaustralia.com.au
Mandy Loveday is a Certified Blue Belt Nia Teacher. mob 0411 645 389
email mindfulmovementpractice@gmail.com



---
Moving Boxes
Anyone moving and need boxes?
I have loads of boxes of all sizes.

Please come and collect from 4 Florence Terrace if you need some.

My number is 0424233674.

Please get in touch to arrange a time to collect.

Lucie Gregg



---
For Sale!!
Get your veggie garden underway for Christmas - Large Vegepod 2m X 1m (still in box) plus 20 X 25 litre bags of top quality growing mix.


Fantastic value at $300 - and you don't have to cart a thing from the mainland!!

Please call Susan on 0402320429 to arrange for pick-up.




---
---
---
A complete set of past electronic newsletters since May 2000 can be found and read at https://ymlp.com/archive_gesgjgm.php or by clicking here or by visiting the Mona Vale Library.

The Island website is at www.scotlandisland.org.au




---
To Contribute
If you would like to contribute to this newsletter it's easy!. Send an e-mail to the editor (editor@scotlandisland.org.au) or by clicking here. Type your contribution (100 words or so would be fine) and assuming it is of general interest to the community, does not include matter of a political nature and is not offensive, it will appear next month.
Subscription Information
To get on and off this newsletter,

click here

or got to:

http://www.scotlandisland.org.au/signup .


To change your address, click the 'modify' link at the bottom of this newsletter or send an email to the

editor@scotlandisland.org.au


---
Follow the PON
---
The Online Local Contacts Guide
Click HERE to load
---
---
The views expressed in this newsletter are not necessarily the views of the Scotland Island Residents Association (SIRA), or the Western Pittwater Community Association (WPCA)
---