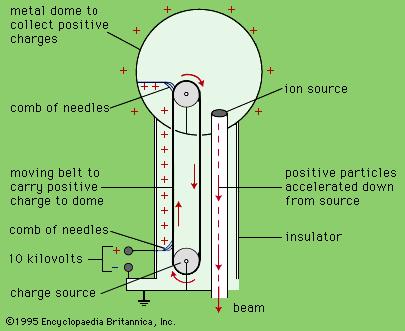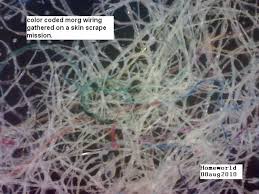 Van de Graaff Generator (L) Overloads Morgellons Fibers Like the Ones Shown (R) & Kills Them!
If you do the red wine spit test (described here) you will find that you have Morgellons fibers in your body, we have all breathed them in and they are hijacking our natural biology, turning it synthetic, turning us into biologically microchipped N.W.O. slaves!
Over time these fibers can wrap around your heart and induce a heart attack! They also impair the functioning of our red blood cells, interfering with their ability to carry oxygen, which can cause chronic fatigue, lethargy, cognitive impairment and depression. They weaken our immune systems making us far more vulnerable to every sort of degenerative disease!

All of us have Morgellons fibers, like the one's shown above on the right growing inside our bodies. They're being sprayed by the metric ton into the biosphere via geoengineering along with toxic heavy metals and toxic chemicals intended to kill and injure us. I have done this red wine spit test, and encourage you to also. By doing it you will prove to yourself that you are at risk!

People who suffer from full blown Morgellon's disease have colored fibers coming out of their pores and some even have weaponized man made parasites flying out of their bodies from eggs that hatch inside of our bloodstream. See these photos! These man made weaponized parasites are being sprayed on us via geoengineering ("chemtrails" and we have all been breathing them in for years.
He just used this Van de Graaff Generator to overload the Morgellons fibers in his body with electricity which killed them. A Van de Graaff Generator creates a static electric charge similar to when you shuffle your feet on a carpet, then touch a metal switch plate on a wall and you experience a mild shock!
The one he recommends is not powerful enough to hurt you, but it is powerful enough to electrically overload and kill these Morgellons fibers which are tubules that have high impedence junctures containing a small amount of copper that can be shorted out! The copper in them is what causes them to be attracted to magnets.
I just ordered the Van de Graff generator at the link above from Amazon, and intend to use it on a regular basis to kill the Morgellons fibers in my body, along with ingesting sulfur as I do twice a day to chelate all the toxic heavy metals being sprayed in the biosphere that we're all breathing in along with the morgellons fibers.
DO YOU GET THAT YOU ARE UNDER ATTACK AND MUST FIGHT BACK TO DEFEND YOUR LIFE AND THE LIVES OF YOUR FAMILY MEMBERS?
I do all these things myself! I an constantly learning new ways to protect myself, and anytime I get new information as I did today I share it with you!