Having trouble reading this newsletter? Visit https://www.ymlp.com/pubarchive.php?sira
---
Australia My Country a new CD from Martin Erdman.
"20 songs about Australia by Australians"


Former 33 year resident of Scotland Island, has returned to his love of producing records with this brand new CD featuring not only some famous Aussie stars but also recordings by a number of well known Scotland Islanders.


Graeme Richmond steps out of his role at the Fire Station to sing Click Go The Shears, Elizabeth Brand performs her very funny Scotland Island Blues, and former resident Jim Hinckley warns of dangers in the song Bushfire. Other Island resident musicians include John Marshall, Basil Daher, Robert Dale and Matt Trapnell,


The first track on the CD is an amazing song combining a 50-year-old recording of the voice of the late Pittwater resident Dorothea Mackellar reading her poem 'My Country'. The difference between this version and others is that Martin has combined her voice with music and song written and recorded just last month by Harry Young. The result may bring a tear to your eye as you sing along!

Add to the above list of 'off shore stars' - songs about Australia by Rolf Harris, John Waters, Frank Ifield, Geoff Mack, Jimmy Little, Ian 'Macca' McNamara, plus Waltzing Matilda sung in Kriol by Aboriginal singer Ali Mills (which is already receiving airplay), and you have one heck of an album.


You may purchase the CD direct from Martin Erdman at www.ozrecords.com.au or from Sydney Hi Fi in Mona Vale.



---
PILATES and GROUP FITNESS CLASSES 2010




FREE TRIAL!





Pilates is a series of exercises designed to strengthen the supportive muscles of the body and protect areas that are at risk of injury, such as the knees and lower back.



The classes Patrice teaches are also a challenging mix of bodyweight exercises, so you are toning, strengthening and elongating your muscles, and leave feeling that you have worked!

Beginners are also welcome and supported at their individual level, so come along for your FREE TRIAL. Mondays 8:30am

Group Fitness classes are a combination of cardio, free weight and bodyweight exercises, aimed at challenging all levels of fitness in a fun environment.

Whether you have never done formal exercise or are a seasoned island runner, come along and see the difference you can make to your muscles, fitness, health of wellbeing.

Fridays at 8am are currently running and we are hoping for a Tuesday 8am class depending on numbers, so register your interest now and come along for a FREE TRIAL.

Call Patrice Corrie on 0406 483 036 or email patrice.corrie@gmail.com


---
Free..





TIMBER PIECES


Greg Roberts is having a cleanout of his boatshed.
He has placed a small selection of timber pieces outside, near the steps, (long and short lengths of hardwood, Oregon, amoora, shelving, ply) and invites anyone to come and take whatever they feel might be of use to them.

Timber will be available from this Friday onwards.

Please come if possible before the end of the weekend (24-25 July)

Greg
Telephone: 02 9979 5228
Pittpoint
Scotland Island NSW Australia



---
For Sale..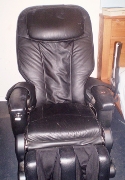 PROFESSIONAL SHIATSU MASSAGE CHAIR


Top quality professional massage chair for sale.
Ideal for people needing regular massage or to help with circulation problems and other health issues.

Get a regular massage on-tap everyday with this very effective machine!

$900 ONO

Valued at over $2000
2 1/2 years ago.
Phone 0425 212 849 or 9999 4605

Jennifer Cudmore



---

---
The Local Guide - Community Information


Click HERE to load
---