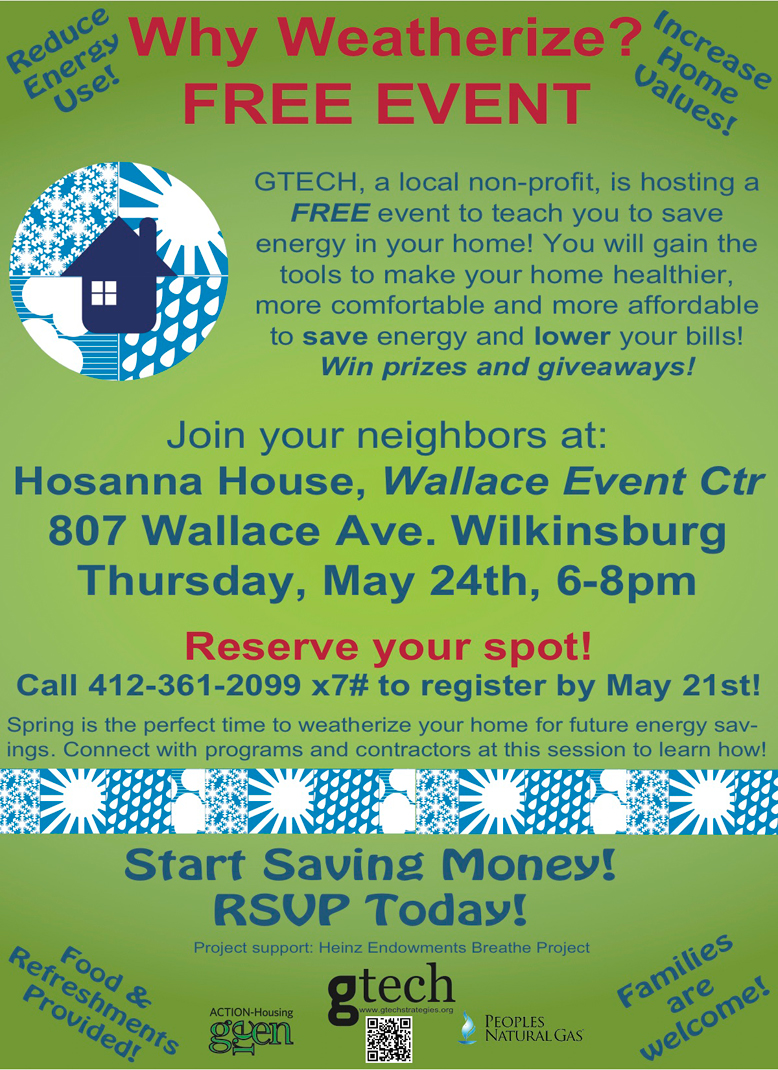 DEAR WILKINSBURG RESIDENTS,
You are cordially invited to GTECH Strategies' FREE Wiklinsburg Energy Efficiency Education workshop. This workshop will take place Thursday May 24th, 6pm at the Hosanna House located at 877 Wallace Avenue. This will be the fourth and final regional Metro Scale Up Campaign Energy Efficiency Education workshops. These workshops are part of the community engagement, consumer education and marketing arm of the Metro Scale Up Initiative.
The Metro Scale Up Initiative is a regional sustainable economic development strategy focusing on using residential energy efficiency upgrades on a large scale to improve air quality through decreased energy use and to advance a robust local energy efficiency industry by upgrading clusters of targeted buildings and homes. During the session, professionals in the residential energy, weatherization and financing industries will educate residents about the environmental, social and economic benefits of home weatherization.
Wilkinsburg Energy Efficiency Education Workshop
Thursday 5.24.2012 - 6pm
Hosanna House, 877 Wallace Avenue, Pittsburgh, PA
FREE and OPEN to all Allegheny County Residents
Giveaways, Raffle & Refreshments will be served
RSVP by calling 412-361-2099 x7#
The Metro Scale Up Campaign is a widespread community engagement and education campaign effort connecting city and county residents to energy efficiency information, resources and services serve to advance the goals of the Pittsburgh climate action plan, further regional collaboration, engage stakeholders at the community level, build critical partnerships and stimulate green business & workforce development
The Metro Scale Up Campaign is a partnership of ACTION-Housing, the Allegheny County Sustainability Manager, Sustainability Coordinator of the City of Pittsburgh Mayor's office of Sustainability and Energy Efficiency and GTECH Strategies with generous support from the Heinz Endowments and Peoples Natural Gas. For more information about the Metro Scale Up Initiative, click here http://gtechstrategies.org/73/ or please contact Khari Mosley at 412.361.2099x4 or k.mosley@gtechstrategies.org
FOR MORE INFORMATION OR REGISTER:
CALL 412.361.2099 X7 TODAY!!!