PRESS INVITE
Deputy Minister, Spanish City Councillor & Parks Tau to address public seminar on occasion of 2018 Metropolis Conference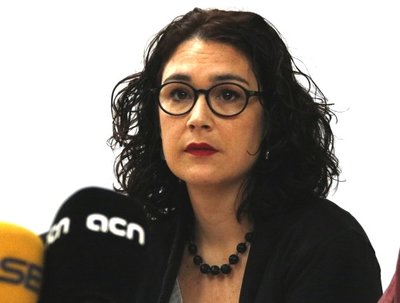 Laura Perez (Barcelona City Council, Spain)
Members of the media and public are invited to a public seminar being held on the occasion of the 2018 Metropolis Annual Meeting currently underway in South Africa. The public seminar, hosted by the ANC (Joburg Region), BDS South Africa and the Embassy of Palestine, will be addressed by DM Andries Nel (Deputy Minister of Cooperative Governance and ANC Member of Parliament), Parks Tau (South Africa) and Laura Perez (Spain). The event's topic is "Inclusive Metropolitan Cities and City Regions - strengthening international Palestine solidarity" and will take place on Tuesday 28 August 2018 (16h30 for 17h00) at Cosatu House (2nd Floor, 110 Jorissen Street, Braamfontein, Johannesburg). RSVP: info@bdssouthafrica.com

Andries Nel: is the Deputy Minister for Cooperative Governance and Traditional Affairs in the Republic of South Africa. Nel has been a member of Parliament for South Africa's governing party, the ANC, since 1994.

Parks Tau: is a provincial leader of South Africa's governing party, the ANC. He is also the President of the South African Local Government Association (SALGA) as well as the president of the United Cities & Local Government (UCLG).
Laura Perez: is the International Relations Councillor from the City of Barcelona in Spain. In the city council she is responsible for Lifecycle, Feminism and LGTBI. In addition, Perez is the President of Metropolis Women. She has previously worked at municipalities in Peru, Bolivia, Ecuador, Guatemala, El Salvador and Argentina. At present, she is studying a Master's degree in Gender Studies, Women and Citizenship at UB.
2018 Metropolis Annual Meeting: The Gauteng Provincial Government is currently hosting Mayors from over 135 cities across the world at the 2018 Metropolis Annual meeting taking place in SA. Metropolis is the largest association of major cities and city regions across the globe. The Metropolis Annual Meeting was opened yesterday by Gauteng Premier David Makhura who is the co-president of the Board of Directors of Metropolis. Other current co-presidents are Mayor Ada Colau (Barcelona), Michael Müller (Berlin), Valérie Plante (Montreal), Guohui Wen (Guangzhou) and Daniel Martínez (Montevideo).
---------- * ----------
Over 40 Spanish, Irish, Chilean, Italian and other city councils adopt Israel boycott measures
In 2018 alone, over 5
Irish
counties or city councils, including that of Ireland's capital, Dublin, have declared various measures of support for boycott, divestment and sanctions (BDS) against Israel (
click here
). Earlier this year
Chile's
southern city of Valdivia passed a motion endorsing the BDS movement and declaring the city an "apartheid free zone" (
click here
). Three
Italian
city councils (San Giuliano Terme [Pisa], Florence and Italy's seventh largest city Bologna) have all called for a military embargo against Israel (
click here
).
More than 30 local authorities in
Spain
have endorsed various forms of boycotts against Israel. Cities in Spain voting for BDS measures (ranging from condemnation of Israel to calling for military and economic embargoes) have included Spain's capital, Madrid, Catalonia's capital, Barcelona, and regional capitals Valencia and Pamplona (
click here
). Two months ago, in a first, the Spanish State of Navarre endorsed the BDS call (
click here
).
In 2005 Palestinians issued a call for boycott, divestment and sanctions (BDS) to be applied against Israel until it ends its violations of international laws.
ISSUED BY KWARA KEKANA ON BEHALF OF BDS SOUTH AFRICA
BOYCOTT, DIVESTMENT AND SANCTIONS AGAINST ISRAEL IN SOUTH AFRICA (BDS SOUTH AFRICA)
5th Floor | Mishumo House | 77 De Korte Street | Braamfontein | Johannesburg
PO Box 2318 | Houghton | 2041 | Johannesburg
T: +27 (0) 11 403 2097 | M: +27 (0) 74 054 3826 | F: +27 (0) 86 650 4836
BDS South Africa is a registered Non-Profit Organization. NPO NUMBER: 084 306 NPO
BDS South Africa is a registered Public Benefit Organisation with Section 18A status. PBO NUMBER: 930 037 446