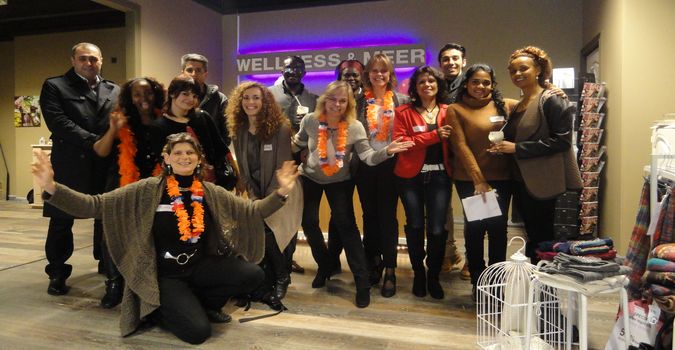 Dear ,
Just a short newsletter this month to let you know about 3 upcoming events:

Nederlands & Meer (this Friday)
Again a "Use your Dutch" day with singing teacher Jorine Samsom
Free Walk & Talk
***
The picture in the header of this mail was taken during the first "Nederlands & Meer" event I organized with Ellen & Evelyn from Twinburgering, and Sylvia Sumter from Wellness & Meer. It was so much fun (you can find an impression here) that we decided to organize days like this more frequently. Our next event will take place this Friday, again at "Wellness & Meer" in Bussum.
We will watch the first part of the movie "Gooische Vrouwen" with help of the transcript. Then Ellen & Evelyn will take it from there with discussions about culture & Gooisch idiom, while Sylvia Sumter will treat us with her delicious drinks & snacks. Maybe you'll get to experience one of her famous chair massages as well ;-)
Only €10,- per person, so invite your all your friends and join us!
Friday, April 10th, 10:00-13:00, Wellness & Meer in Bussum.
Please mail me if you would like to come: info@learndutchfast.nl
***
In last newsletter you could read about:
Can singing improve your language skills?
We tried it on our singing day with singing teacher Jorine Samsom. Here you can find an impression.
(Sorry, I was singing a little off key, but we had fun nonetheless!)
The participants were very happy with what they had learned about breathing, articulation, different ways to use your voice and much more. And all in Dutch!
(One of the participants asked about different Dutch dialects during lunch, and I found a great site where you can listen to different Dutch accents, sometimes even with a transcript!)
Are you sorry you missed it? Well, we will do it again:
April 30th, Bussum, 9:45-15:00, only €30,- pp including lunch
(same program as last time, if you would like to come again, you only pay €15,-)
Jorine Samsom is an internationally trained singing instructor.
Jorine studied with singers in the Netherlands, Germany, and France. She specializes in EVT (Estill Voice Training) as well as breathing and relaxation therapy.
During the lesson, you will learn about sound, articulation, and breathing techniques. You will also have time to sing in a group.
Mail me to reserve your spot: info@learndutchfast.nl
***
Free Walk & Talk: Bussum, April 24th, 9:30 - ? (around 11:30)
You only pay for your own lunch if you decide to join us for the "Après W&T" ;-)
Mail me to reserve your spot: info@learndutchfast.nl

***

Stay tuned!
Sylvia Clements

P.S.: the latest schedule for the Dutch courses is always here
Next Immersion Course level 1:

Learn Dutch in 1 Week:
11-15 May (Mon-Fri) from 10:30 -16:30
Learn the basics of Dutch through seriously fun activities.
You will learn basic vocabulary, pronunciation, and grammar. Activities may include making appointments, grocery shopping, speaking with neighbors etc.
Get ready to gain confidence in your language skills.
Space is limited to 4 participants.
You can register here.