FEBRUARY 2015                                   www.visionaryliving.com
On the Paranormal Road:

 Conscious Life Expo in Los Angeles... the Integratron... Ouija board session
Exclusive! Ghost Woman Photographed Through A Vintage Glass Bottle
New Events: Contact in the Desert and Follow the Truth2
Survival of Humanity in Los Angeles
Angels Lecture and Workshop in London
Meditation and Dream Events in Sedona, AZ
Collaboration with Darren Evans for Revealing Book on The Zozo Phenomenon 
A Ouija Board Session to End All Ouija Board Sessions at OuijaCon
Feature Article: Manifestation and the Delaying Games
Mailbag: Thoughts on Orbs... Pets in the Afterlife... What Happens to Suicides in the Afterlife
Media News:

Angel Magic for Love and Relationships... Dreamwork for Visionary Living... The Art of Black Mirror Scrying... More Popular Titles... 

Radio and TV Archives
February Media
Lectures and Workshops in 2015
You are receiving Strange Dimensions because you entered a subscription on my home page, or signed up at an event. If someone shared this issue with you, and you'd like to get this free monthly newsletter on paranormal and metaphysical topics, sign up on the home page at

visionaryliving.com

. You may unsubscribe at the end of this newsletter.
My work embraces everything in the metaphysical and paranormal fields.  If you would like to reprint any article from the newsletter on your website or in publications, please include my by-line, Rosemary Ellen Guiley, a copyright notice for Visionary Living, Inc., and a link to my site, www.visionaryliving.com. Thank you for your courtesy.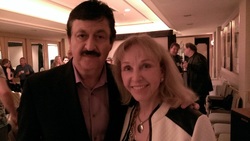 After an onslaught of January snow in New England, Joe and I were glad to get out to balmy weather in southern California and Arizona for a round of events, research, and some R&R. Our first Conscious Life Expo in Los Angeles was a spectacular event. I gave two talks/workshops on dreams, and participated in

George Noory's

Science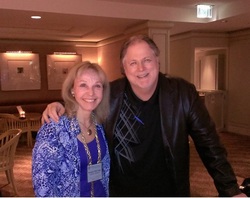 and Metaphysics Forum and

Dannion Brinkley's

afterlife panel.
I had a great meeting with Coast to Coast Executive Producer

Tom Danheiser,

and it was also great, as always, to see George.  I also enjoyed meeting

Jimmy Church,

one of the popular weekend guest hosts on C2C. Jimmy rocks!

[Photos: Above left with George Noory; right with Tom Danheiser.]
Joe and I were busy at our booth nonstop, but still managed to squeeze in some visits with friends

Phyllis Galde,

publisher of FATE Magazine;

Victoria Gross,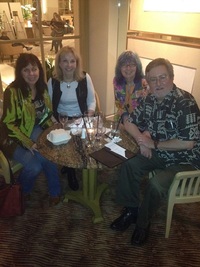 psychic and film producer;

Linda Salvin,

radio host and psychic; and

Michael Parker,

radio host. We were also glad to see author and radio host

Alexis Brooks and hubby Derek.

My thanks to everyone at the Conscious Life Expo for a wonderful weekend.

[Photo left: Joe and me with Victoria Gross, left, and Phyllis Galde.]
After the expo, Joe and I head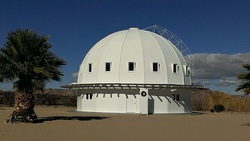 ed out to the desert for some R&R. We had a crystal bowl sound bath experience at the Integratron in Landers with friends

Ken and Julaine Stilgebouer,

which I will write up for my feature article in the March newsletter. It was literally out of this world!
I spent part of a day in beautiful Bel Air with

Esra Banguoğlu Ogut and Aykut Oğut

 taping a show for their popular website www.ayrasehri.com, tailored to a metaphysical audience in Turkey. We talked about manifestation, dreams, and self-empowerment.
The SoCal part of our trip ended with a lively evening with

Karen A. Dahlman and Rodney Vestal

for another energized Ouija board session. Moon, Karen's main board guide, had quite a bit to say about the nature of evil and why some people have bad board experiences -- riveting material for our respective books in progress on the Ouija, in preparation for the big OuijaCon in Baltimore in April (see below).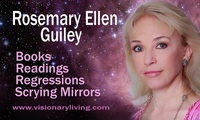 The next leg of our journey takes in the International UFO Congress in Ft. McDowell, AZ, and other events of mine in Phoenix and Sedona.
See you on down the Paranormal Road!
Here's my smashing new events banner, designed by

Raúl daSilva and Ray daSilva.
______________

EXCLUSIVE! GHOST WOMAN PHOTOGRAPHED THROUGH A VINTAGE GLASS BOTTLE
Folks, check this out! I am pleased to bring you this never-before-seen photograph, courtesy of a friend of mine, who wishes to remain anonymous. It was taken in Lamar County, Georgia, in the summer of 2014 in a rural farming community.
The property, which now belongs to my friend, has a house that was built in 1939 by a husband and wife who lived there for decades. They had a dump where they discarded refuse, and my friend excavated it to see what was there. He found, among old kitchen items, some amber glass bottles, probably about 65 years old. He cleaned them up and photographed them for record.
Upon examining the photos, my friend noticed that one of them featured an image that appears to be a woman in an early 1900s farm outfit leaning up against a real tree seen through the bottle. Might this be the former lady of the house, still enjoying her home? It's certainly an intriguing image!
The bottle was placed in front of a screen, with the property showing in the background. The image of the ghost woman appears on the left. She was not visible to the naked eye when the photos were taken.
NEW EVENTS: CONTACT IN THE DESERT AND FOLLOW THE TRUTH2
I am very excited to join the programs of two terrific events this year:
CONTACT IN THE DESERT:

May 27-29 at the Joshua Tree Retreat Center in Joshua Tree, CA. This is one of the UFO/ET/ancient aliens events of the year! I will present on the Djinn involvement in ancient aliens and modern ET activity.

George Noory

is special host, and C2C guest host

Jimmy Church

will be there, too.  Click here for info.
FOLLOW THE TRUTH2:

Fans in Toronto, I am finally getting there on April 26 at the Regent Theatre in Oshawa, Canada!  

Richard Syrett,

host of Toronto's popular The Conspiracy Show, has put together another dynamite event, and I will be on the program.  I have been Richard's paranormal expert for years on The Conspiracy Show. Richard is also a terrific Coast to Coast weekend guest host -- don't miss him whenever he's on. I will present on ghost boxes and other spirit communication technology. Click on the banner for info.
SURVIVAL OF HUMANITY CONFERENCE IN LOS ANGELES
Join me at the
Survival of Humanity

conference at the LAX Holiday Inn March 27-29, where I will present some of my latest research on several topics: a l
ecture on "Crossing the Threshold to the Interdimensional Earth" and workshops on "Adventures in Intentionality" and "Shadow People, Djinn, and Black-Eyed People."
George Noory

 will be the special panel host. Survival of Humanity is part of the New Humanity Movement founded by

Saeed David Farman,

devoted to global transformation of consciousness. Click here for information.
I will be available for readings.
ANGELS LECTURE AND WORKSHOP IN LONDON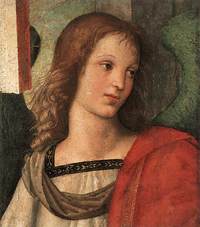 In March I return to the

College of Psychic Studies

 

in Kensington, London to give two presentations on angels. On Tuesday, March 17, I will give a lecture on "Working with Angels in the 21st Century," from 7-8:30 PM. The lecture will emphasize our changing perspectives on angels, and what we can expect from them in current times.
On Saturday, March 21, I will give an all-day workshop at the college on "New Ways to Work with Angels," from 10 AM-5 PM. The workshop will feature my Divine Ladder of Angel Lights and the Angel Dial, a dowsing tool.
For more information and to register, click here.
MEDITATION AND DREAM EVENTS IN PHOENIX AND SEDONA, AZ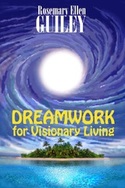 Join me for a unique approach to meditation in my "Meditation from Ancient Egypt to Zen and Beyond" evening events on February 24 at Mystic Mporium in Phoenix and February 26 at Unity of Sedona in Sedona. Both events are from 7-9 PM. The meditation includes sacred sound, deep silence, readings from the Egyptian Book of the Dead, and Zen walking meditation.
I will be available for readings at Mystical Mporium on Tuesday February 24 from 2-5 PM. Call 602-298-1122 to book.
On February 28 I will give a day-long workshop on the visionary and spiritual aspects of dreaming at Unity of Sedona. The workshop will include different dreamwork techniques and will emphasize the creative, healing, spiritual, and psychic components of dreams. See calendar below for all events.
COLLABORATION WITH DARREN EVANS FOR REVEALING BOOK ON THE ZOZO PHENOMENON
Darren Evans

and I have joined forces to create the definitive book on "The Zozo Phenomenon," concerning a malevolent entity that likes to attach to people via the Ouija board and other types of paranormal activity.
Darren first came into contact with this entity by using a board, and has suffered years of harassment that has affected all parts of his life, and even members of his family. He has documented many cases of Zozo attacks around the world, and has traced Zozo's roots deep into demonology. Who is this being who calls himself the "King of Kings"?
Darren has an important story to share, which goes beyond the Ouija to the pitfalls and dangers that can be encountered in the spirit world. I've been adamant that the board itself is not the problem -- so why has Zozo chosen this tool, and what are his ultimate objectives?
We have not scheduled a release date yet. Still a great deal of work to be done!
THE OUIJA BOARD SESSION TO END ALL OUIJA BOARD SESSIONS AT OUIJACON IN BALTIMORE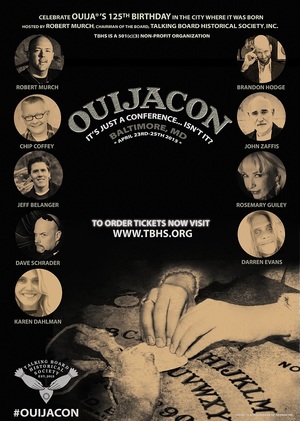 This could be the

Battle of the Entities

April 23-25 at the OuijaCon in Baltimore, the city where the most famous talking board was born! I will partner up with 

Darren Evans and Karen A. Dahlman

to work the board together. What a dynamite combination! Karen and I have channeled benevolent communicators such as Moon and Emissary through the board, and Darren has been attacked by the malevolent Zozo. Which side will prevail? That planchette is certain to fly around the board!
Organized by

Robert Murch,

the world's leading Ouija collector and historian, Ouijacon will explore the ups and downs, ins and outs, and good versus bad about the Ouija.
Rick Fisher

and I are working on a new edition of Ouija Gone Wild for the conference. If you've read the book, you know that our position on the Ouija is that it's a neutral tool. If you have a story to share, positive or negative, we'd love to hear from you at
reguiley@gmail.com
.

The book will have a new cover and title!
For tix and info click here.
FEATURE ARTICLE

MANIFESTATION AND THE DELAYING GAMES

c. Visionary Living, Inc.
[Note: My wonderful interview with

Esra Banguoğlu Ogut

(see my "On the Paranormal Road" at the beginning) delved into manifestation and how to bring about your goals and dreams. Manifestation is a hot topic, and people are looking for ways to harness the spiritual power of the cosmos.]
Are you on track for realizing your dreams and goals? Or are they looking increasingly unobtainable, even impossible as time goes by? If you are feeling that your goals are out of reach, you may be playing an unnecessary delaying game.
The delaying games are all self-imposed, sometimes unconsciously. When we play them, we postpone -- perhaps indefinitely—getting our show on the road. Granted, it is often hard to take risks. But delaying games make sure that we never do.
Is there something you say you "really" want to do, yet never seem to be able to make it happen? If so, one or more of the following delaying games may be at work:
All of us engage in this game from time to time. We have a goal--and perhaps we even talk about it a lot to others--but we postpone doing anything to reach it until perfect conditions are met. We say, "When such and such happens, then I will..." We sometimes do have to wait until we take care of responsibilities and obligations, but all too often we use them and other reasons to put off taking action.
Most When-Thens are artificial delays, however. As soon as one obstacle is out of the way, we come up with another. Or, perhaps we create one so impossible to get around that we are permanently prevented from going for the goal. We don't even try to look for ways to move on.
If you hear yourself always saying "when-then," do a Reality Assessment. If the condition is valid, then create an action plan to eliminate obstacles as quickly as possible. If you have a When-Then that can never be met, examine your fears around risk-taking. Then create an action plan for accomplishing your goal.
The If-Only Game is a variation of the When--Then Game. We say things like, "If only I had... then I would..." or "If only I didn't have to... then I could..."
 Like When-Then, the If-Onlys can go on indefinitely.
If-Onlys often concern fantasies and wishes. We don't really have our hearts in them, but they sound good. In your reality assessment, be honest about what you want to do, and let go of the rest.
Remember: people who are truly motivated to do something find ways around obstacles.
We can stop ourselves at the starting gate with paralyzing What-Ifs. "What if I do... and then it doesn't work?" Or, "What if I risk... and then I lose?" Very few things in life are risk-free; we cannot be guaranteed of outcomes. By focusing on the potential negative, we never see the positive. You can't shoot for the stars if you're looking down at the ground.
If you've taken a risk and been stung by failure or emotional hurt, you may start using What-If as a way to avoid further risk-taking. One way to overcome What-If is to expand your comfort zone in stages. Create an action plan that pushes out your ability to take risks, but doesn't overwhelm you. Perhaps you lost before because you didn't pay heed to your intuition.
Don't let these unnecessary delaying games keep you from achieving and becoming your full potential. Time is precious--make the most of it!
_____________
THOUGHTS ON ORBS
 
Q: What are your thoughts about orbs?

-- Ceclia S. Myers
A:

There is a genuine orb phenomenon that consists of either unknown sentient entities or intelligently directed unknown technology. These are the orbs that move with purpose, and often are part of the phenomena experienced by contactees. Most of the rest of the photo/video stuff that passes for "orbs" -- the blurry globes that show up on images but not to the naked eye -- consists of natural, misidentified objects.
Orbs have become a sacred cow, and a lot of people get upset if you suggest a fuzzy dot on their photo is not a supernatural being.
To make the best educated assessments investigators should study up on airborne particulates, including their suspension times and rates of disbursement in the air. Even walking on concrete, hardwood floors, and carpeting will generate a lot of particulates that drift for some time. Not to mention dirt outdoors. If you are outdoors, there are usually moving air currents even if you think there is no breeze.
Q: Will we see our pets again in the afterlife?

-- Bob C.
A:

Yes. Animals have souls and go into the afterlife, too. Accounts in the literature related to communications from the dead tell of people reuniting with their pets -- and sometimes the pets are among the first to greet them on the Other Side.
Pets also sometimes make after-death visits to their owners, either in dreams or in the physical, manifesting as apparitions, sounds, smells, and presences. They convey messages sometimes through animal communicators and sometimes directly to their owners, even speaking in human languages.
WHAT HAPPENS TO SUICIDES IN THE AFTERLIFE?
Q:

What happens if you commit suicide, when you pass over? -- C.D.M.
A:

According to communications from the dead, most suicides realize they made a mistake, and express their regrets for causing the living a great deal of heartache. A few say they have no regrets. So much depends on individual circumstances.
Suicides are not condemned or judged in any way. Many go into periods of rest and recuperation. All have spiritual support from others in the afterlife, as well as spiritual beings like angels.
If suicide was committed in order to try to escape problems, the individual realizes that the problems still must be faced at a future time, such as another incarnation.
There is a widespread belief that suicides must remain in limbo until their allotted years on earth are finished. I disagree, and afterlife communications do not support that, either. In some cases, the shock may cause someone to be temporarily earthbound, but they do find their way to the afterlife.
The best healing act that the living can do for suicides is to pray for them and hold them in the light. Forgiveness is important, too.
______________
MEDIA NEWS 
ANGEL MAGIC FOR LOVE AND RELATIONSHIPS IS RELEASED IN E-BOOK FORMAT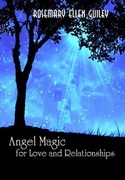 This is an introductory guide to working with angels especially for the benefit of personal relationships. The book employs simple techniques of affirmations, visualizations, and the principles of magic for attracting and enhancing relationships, and overcoming the loss of relationships. The fundamentals can be transferred to any area of life as well.
Cover design by
Raúl daSilva and Ray daSilva.
DREAMWORK FOR VISIONARY LIVING IS NOW OUT IN E-BOOK FORMAT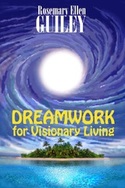 Dreamwork for Visionary Living is my definitive book on dreams. It covers extraordinary dreaming involving spiritual messages, psychic factors, creativity, healing, lucidity, and more. The book features 37 "dream labs" that offer tips and instructions for pro-active dreaming. Dreams cover much more than daily life, and they play an important role in our overall well-being and life journey.
Paperback editions are available on Amazon.com and my website shop. New e-book editions are now available on Kindle, Nook, iTunes, and Kobo.
THE ART OF BLACK MIRROR SCRYING BRINGS AN ANCIENT SKILL INTO MODERN TIMES FOR CONTACT WITH THE DEAD AND PSYCHIC WORK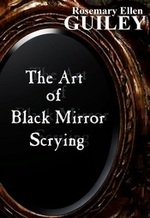 My guidebook on black mirror scrying, available in both hard print and e-book formats, delivers everything you need to know about how to use black mirrors for spirit communication, past life exploration, astral journeying, and clairvoyance or remote viewing. Black mirror scrying often stimulates productive dreaming, creativity, and enhanced intuitive and psychic abilities.

The Art of Black Mirror Scrying covers a history of divination by mirrors, crystals and shiny surfaces, and explains in detail how to select, use and care for a black mirror. There are training exercises to limber up the third eye, and instructions for a variety of uses, plus how to make your own custom black mirror.
HARD PRINT AND E-BOOK EDITIONS FOR POPULAR TITLES
These titles are available in both hard print or e-book formats at visionaryliving.com, Amazon, Kindle, Nook, iTunes, and Kobo: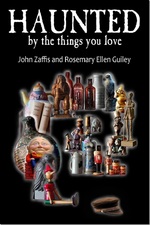 Haunted By The Things You Love, 
an Amazon best-seller,
features some of the strangest and creepiest cases of haunted and cursed objects from John Zaffis's unique Museum of the Paranormal, plus how and why objects become haunted, how to recognize problem objects, and remedies. The book is available in print on Amazon and in e-book on Kindle, Nook, iTunes and Kobo. Autographed copies are available on my website Visionary Living.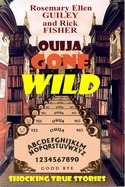 Ouija Gone Wild,

which I co-authored with

Rick Fisher,

features the most comprehensive history of the Ouija published to date, as well as an examination of why so many users have bizarre and weird experiences. Outrageous stories from history, original and hair-raising stories from the present, a Ouija filmography and helpful how-to-use tips make this book a must for paranormal enthusaists and investigators.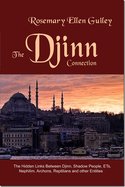 My ground-breaking book on the Djinn, The Djinn Connection: The Hidden Links Between Djinn, Shadow People, ETs, Nephilim, Archons, Reptilians and Other Entities, has reset the parameters for all of our paranormal experiences, including hauntings, entity encounters, ancient aliens and gods, and alien abductions. If you've been hearing about it and haven't read it, get a copy today!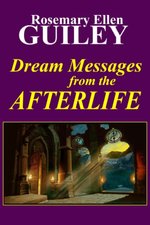 Dream Messages from the Afterlife features dream visits from the dead, deathbed visions, precognitive dreams of death and related topics. Everyone has had a remarkable dream about the dead, and some of these experiences are powerful and life-changing.
Dream Messages from the Afterlife validates our experiences of genuine and meaningful meetings with people who have died, meetings that take place in the dream world. It explains the different purposes of such visits, the how and why behind them, and how to discern real visits from ordinary dreaming.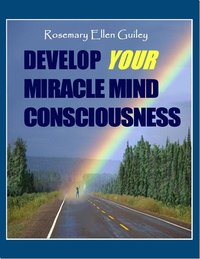 Develop Your Miracle Mind Consciousness discusses the components and conditions of miracles, historical views on miracles, and ways we can become co-creators of miracles in our lives. Miracles are life-changing events!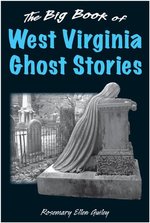 The Big Book of West Virginia Ghost Stories

makes a wonderful paranormal travel guide.

From

Joey Madia:
If you are a fan of Rosemary Ellen Guiley's work, this book is one of her best. If not, whether you in live in West Virginia or across the country (or the world),
The Big Book of West Virginia Ghost Stories
is a must read for anyone who loves a spooky tale well told.
RADIO SHOW AND TV ARCHIVES
Paranormal Talk Radio with Matt Haas. Click on the banner.
And

John Zaffis

and I are featured on "Alternate Perceptions" with Brent Raynes and Chandra, talking about

Haunted by the Things You Love,

 at http://apmagazine.info.
D

on't miss...

Beyond Belief

with host

George Noory

on Gaiamtv: See a

preview

of my episode

Mistress of the Spirits

.  George and I cover angels, fairies, spirit communication, what to expect in the afterlife, and the

Ouija board

-- all in one hour!
FEBRUARY MEDIA

February 3 -- Coast to Coast AM with George Noory, 10-11 PM Pacific, 1-2 AM Eastern. Topic: The afterlife.
February 7 -- Exploring Unexplained Phenomena with Scott Colborn, 10:20-10:35 AM Central. Report from the Conscious Life Expo in Los Angeles for EUP's annual fundraising event.
February 8  -- The Conspiracy Show with Richard Syrett, 12 midnight-1 AM EST, Zoomer Radio AM 740, Toronto. Topic: Paranormal news roundup and commentary.
 February 13 -- Paranormal Talk Radio with Matt Haas, 8-9 PM Eastern. Topics: Djinn, problem hauntings, paranormal investigations and more.
February 28 -- Exploring Unexplained Phenomena with Scott Colborn, KZUM-FM 89.3, Lincoln, NE, my monthly paranormal report, 11:20-11:30 AM EST. 
LECTURES AND WORKSHOPS IN 2015
The following are my confirmed event appearances, listed by month. I'm always adding new ones, so keep checking the list here and on my home page at visionaryliving.com. In addition to these events, I also arrange private events for groups. Email me at reguiley@gmail.com if you are interested in a special group event.
CONSCIOUS LIFE EXPO, LOS ANGELES, FEBRUARY 6-9
I will give workshops on dream visits from the dead and the spiritual aspects of dreams, and participate on Dannion Brinkley's panel on the afterlife. Visit me at my booth for books, CDs, black mirrors, and readings. At the LAX Hilton.
MEDITATION CIRCLE, PHOENIX, AZ, FEBRUARY 24
An evening of "Meditation from Ancient Egypt to Zen and Beyond," with sacred sound, readings from the Book of the Dead, silence, and walking meditation. 7-9 PM at Mystical Mporium.
MEDITATION CIRCLE, SEDONA, AZ, FEBRUARY 26
An evening of "Meditation from Ancient Egypt to Zen and Beyond," with sacred sound, readings from the Book of the Dead, silence, and walking meditation. 7-9 PM at Unity of Sedona.
DREAMWORK FOR VISIONARY LIVING, SEDONA, AZ, FEBRUARY 28
An all-day workshop on the spiritual and psychic sides of dreams, including group and individual dreamwork, dream incubation, a shamanic dream journey, and more. 9-4:30 PM at Unity of Sedona, contact me at reguiley@gmail.com for information and to register.
WORKING WITH ANGELS IN THE 21ST CENTURY, LONDON, MARCH 17
Lecture on the changing relationship between humans and angels, and what we can expect from the angel realm in modern times. 6:30-8:30 PM at the College for Psychic Studies, Kensington.
NEW WAYS TO WORK WITH ANGELS, LONDON, MARCH 21
An all-day workshop on establishing and deepening contact with angels, including working with the Angel Ladder of Divine Lights and the Angel Dial. Bring a pendulum. At the College for Psychic Studies, Kensington.
SURVIVAL OF HUMANITY, LOS ANGELES, MARCH 27-29
Lecture on "Crossing the Threshold to the Interdimensional Earth" and workshops on "Adventures in Intentionality" and "Shadow People, Djinn, and Black-Eyed People." Visit me at my tables for books, CDs, black mirrors and readings. At the LAX Holiday Inn.
DREAMS AND WELL-BEING, BERKELEY SPRINGS, WV, APRIL 4

I return to the Arlington Institute for a lecture on "Dreaming for Guidance, Creativity, Health and Well-Being. At the Ice House.
APRIL GHOUL'S DAY, WAYNESBURG, PA, APRIL 17-18
Ouija board event with Rick Fisher Friday night April afternoon conference on Saturday April 18. My lecture topic is "Photographic Evidence of Ghostsm, Spirits, and Entities." On Saturday night, I will give a special workshop on black mirror scrying for contacting the dead.
OUIJACON, BALTIMORE, MD APRIL 23-25
A conference celebrating the 125th anniversary of the Ouija board, at the Baltimore Harbor Hotel. Lecture topic TBA. Special event: Darren Evans, Karen A. Dahlman and I work the Ouija board together. Visit my table for my new Ouija book and other items.
FOLLOW THE TRUTH 2, OSHAWA, CANADA, APRIL 26
Lecture and demonstration of ghost box tech and spirit communications at Richard Syrett's "The Conspiracy Show" event at the Regent Theater, 7 PM.
UNIVERSAL LIFE EXPO, COLUMBUS, OH, MAY 1-3
I return as a featured speaker and will give a lecture and workshop on reincarnation and past-life recall. Visit my booth for books, CDs, black mirrors and readings. At the State Fairgrounds.
CONTACT IN THE DESERT, JOSHUA TREE, CA MAY 27-29
I will present an updated report on the Djinn involvement in ancient aliens and ET activity at this popular event at the Joshua Tree Retreat Center. 
HAUNTED AMERICA CONFERENCE, ALTON, IL, JUNE 19-20
This year's theme is "A Nation of Suffering" featuring the spirit communications movements during and after the Civil War. I will give a lecture on "Life in the Afterlife" about what the dead have to say and dying and the afterlife, and will give two after-hours workshops on black mirror scrying to contact the dead. At the Atrium Hotel.
PSYCHIC SKILLS AND PROTECTION, SEATTLE, JULY 10-11
A Friday evening and all-day Saturday workshop on developing psychic skills and building psychic protection. At East West Books. I will be doing readings there during July, dates TBA.
WORKING WITH ANGELS IN THE 21ST CENTURY, EVERETT, WA, JULY 17
Lecture on the changing relationship between humans and angels, and what we can expect from the angel realm in modern times. 7-9 PM at Vision Quest.
NEW WAYS TO WORK WITH ANGELS, EVERETT, WA, JULY 18
An all-day workshop on establishing and deepening contact with angels, including working with the Angel Ladder of Divine Lights and the Angel Dial. Bring a pendulum. At Vision Quest.
MICHIGAN PARACON VI, SAULT STE. MARIE, MI, AUGUST 7-9
Bob Murch and I team up for presentations on the Ouija. At the Kewadin Casino.
ILLINOIS PARANORMAL CONFERENCE, ROCKFORD, IL AUGUST 15
I return for the Fourth Annual Illinois Paranormal Conference, lecture topic TBA. At the Veterans' Hall.
HEXFEST, NEW ORLEANS, AUGUST 21-23
Lecture on "The Secret Faces of the Djinn" and workshop on "Dream Visits from the Dead." At the Bourbon Orleans Hotel.
MOTHMAN FESTIVAL, PT. PLEASANT, WV, SEPTEMBER 19-20
My annual appearance, lecture topic TBA. Visit my table for books, mirrors and more.
LIFE IN THE AFTERLIFE, SCOTTSDALE, AZ, SEPTEMBER 25-27
Lecture on entities that influence humans during life and into the afterlife, plus two workshops on black mirror scrying to contact the dead.  At the Embassy Suites Hotel.
NECROMANTEUM PORTAL TO THE SPIRIT WORLD, SALEM, MA, OCTOBER 29
My fourth annual black mirror scrying event as part of the Festival of the Dead, 7-9 PM at Omen.
AFTERLIFE CONFERENCE, JOSHUA TREE, CA NOVEMBER 20-21
Lecture and workshop topics TBA.
Strange Dimensions is copyright Visionary Living, Inc., 2015