Recently, the Dominican Laser association invited sailors from other classes to participate in a team racing event. The wind was blowing over 20 knots and it was clear that we couldn't let 110 lbs. teenagers sail a fully rig Laser in these conditions. But the kids love sailing, they came from far, and we could see signs of major disappointment on their faces. The sad expressions changed to huge smiles, when we created teams of two sailors on each Laser.
The rules were simple:
Total weight of a two person team cannot exceed 220 lbs. (100 kg).
One person can only steer, while the other person only trims the main.
Each heat (race) the team members have to change position. Trimmer becomes skipper and vice versa.
The two sailor Laser were extremely competitive, and we could hear some of the tactical discussions from a distance. We plan to open our fleet racing events to these crews as well.
With the Laser being the most popular boat in the world, it is the cheapest solution for those looking to have an interactive sailing activity for young sailors. In our case the sailors met for the first time at this event.
Confession. Yes, we felt great for finding a fun way for the youngsters to be involved in sailing, but the real benefactors were us - the adults. The number of boats on the start line increased, and after years of racing mostly against the same people, we finally had a new and fresh vibe.
Next team racing event will be held in Cabarete, October 28th and 29th, 2017. We will provide fully rigged Lasers. Teams will be selected based on a ranking system on the morning of the event. Entry fee is $30.00 per person. Lot's of fun, don't miss it for
more details.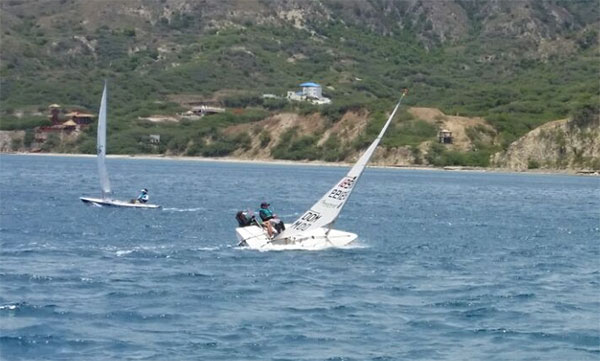 2 time world champion Nick Thompson, who has been a top 5 finisher in all World Cup events this year, is returning to Cabarete to coach in two clinics. January 4th-8th and January 10th-14th, 2018.
We have been blessed with many good coaches over the years, but things do sound different when coming from the current world champion. One can't help but think, 'if this is what he does to win world championships it must be working, I have got to try it'.
Many people come here, hoping to find a secret formula for improving speed. Nick doesn't just explain, he also gives reasons and examples.
We learned that Paul Goodison, Nick and Brad Funk, did an upwind speed check in mid-range conditions. One sail set with a tight outhaul, one with a loose outhaul, and the third with an in-between setting. They all reached the upwind mark together, encouraging those who think there is just one correct way to sail fast.
Nick has an amazing ability to build on the strength of each sailor, and discover the small adjustments that can create very big speed improvements. When sailing in a group Nick has different tasks for each sailor depending on their individual level.It's amazing how much one can improve .
Clinic 1. Feeling the boat. January 4th-8th, 2018.
Day 1: Boat handling and a few tricks and tips to stop Sailors fighting the boat.
Day 2: Boat handling applied to the race course, Boat set up and tricks to help make everything easier
Day 3: Boat speed overview - what makes the laser fast and importantly what slows it down. Applied on water
Day 4: Boat speed pt 2 giving each sailor a specific focus point for the leg and condition then developing it from there
Day 5: Applying everything to the race course.
Limited to just 10 sailors. Fees including coaching and Laser charter $1,700.00 per person.
For bookings done by September 5th, we offer a $250.00. Doing both Nick's clinics, and booking by September 5th 2017? receive an additional $100.00 discount.
Clinic 2. Race, race, race. January 10th-14th, 2018.
Day 1: Short course racing with tips to sharpen skills and avoid mistakes
Day 2: Event planning, structuring training, event strategy. Strategy skills then applied on water
Day 3: Starting - Pre race routines, execution and tips.
Day 4: Upwind tactics and racing
Day 5: Downwind tactics and racing
Limited to just 10 sailors. Fees including coaching and Laser charter $1,700.00 per person.
For bookings done by September 5th, we offer a $250.00 discount.
Doing both Nick's clinics, and booking by September 5th 2017? receive an additional $100.00 discount.
---
Exciting January 2018 programs.
Nick Thompson, Coach Rulo, and coach Judith will all be here for a very full January
of high performance Laser sailing, and a chance to share the love for the sport, while getting better and faster. For the complete
January 2018 program click here.
___________________________________________________________________________
Things we ponder about at Laser Training Cabarete.
Nutrition
No one doubts the importance of nutrition for health and especially during a series when performance and focus are the priority. We know that years ago doctors recommended smoking to pregnant women. Who defines now days what is healthy? Recommend documental on the topic to watch, currently on
Netflix
are: Food Choices, What the health, and Cowspirecy.
Vision
One of the reoccurring debriefing phenomenas is that the sailor saw things differently than the coach, or the other sailors. We tested the waterproof sunglasses with video camera made by
Govision
. Below is a pictures taken while sailing. Watching the video after practice can be a very helpful tool for help with tactical improvements, but also for setting the lines in the cockpit correctly to avoid knots. If you decide to buy a pair online, type in our name: caribwind in the coupon option and receive a discount. Warning! you wont be able to say: "of course I had my head outside of the boat", if most of the footage will be of the bow and 3 feet of water.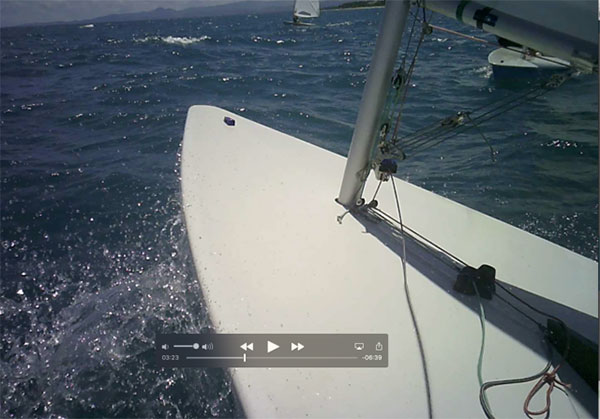 Free fitness
Habit changes that will make you stronger and healthier. Stop using the elevator at work, to get to your apartment, or anywhere you have a meeting. Heard of
squatty potty
? We are not sure putting your knees up actually helps in doing business as the site claims, but if you use it to squat never using the seat, you will take advantage of otherwise "waisted time" to get fitter and get more flexible. Get one for the house one for workplace.
Clocking your heart rate, while sailing
Are you working hard enough downwind? Heart rate downwind in waves and wind of over 15 knots should be higher than when hiking upwind. At least that is what we noticed the ratio was with fit sailors on an olympic campaign. The new Garmin
Vevoactive HR
is waterproof, and includes a GPS. After sailing watch the course sailed, and more important heart rate during jibes, tacks, or just surfing down waves.
Laser on the world wide web
Hopefully we are the only ones who were not aware of the exciting improvements to the
ILCA
site. If you have not done it yet,
vote online
on proposed rule changes. If you are looking for custom made control lines, Max Hunt at
Southeast Sailboats
has some interesting solutions.
MKII sail
We wanted to write an in-depth article about the MKII sail, when we realized that no one will come to an extremely important regatta with the MKI sail, so why bother. We thank Olympic medal winner Pavlos Kontides (CYP) for his patience in answering all our questions. We do reccommend the MKI sail for those who are looking for a durable inexpensive sail. The MKI outlasts any other sail we tested including the MKII and cheap replica sails, that some end up being more expansive on the long run. We asked Paul Davis builder of the MKII sail at North Sails, what would be the best material to build a Sunfish sail. We thought the Sunfish sail shares many similarities with the Laser sail for off-the water reasons.