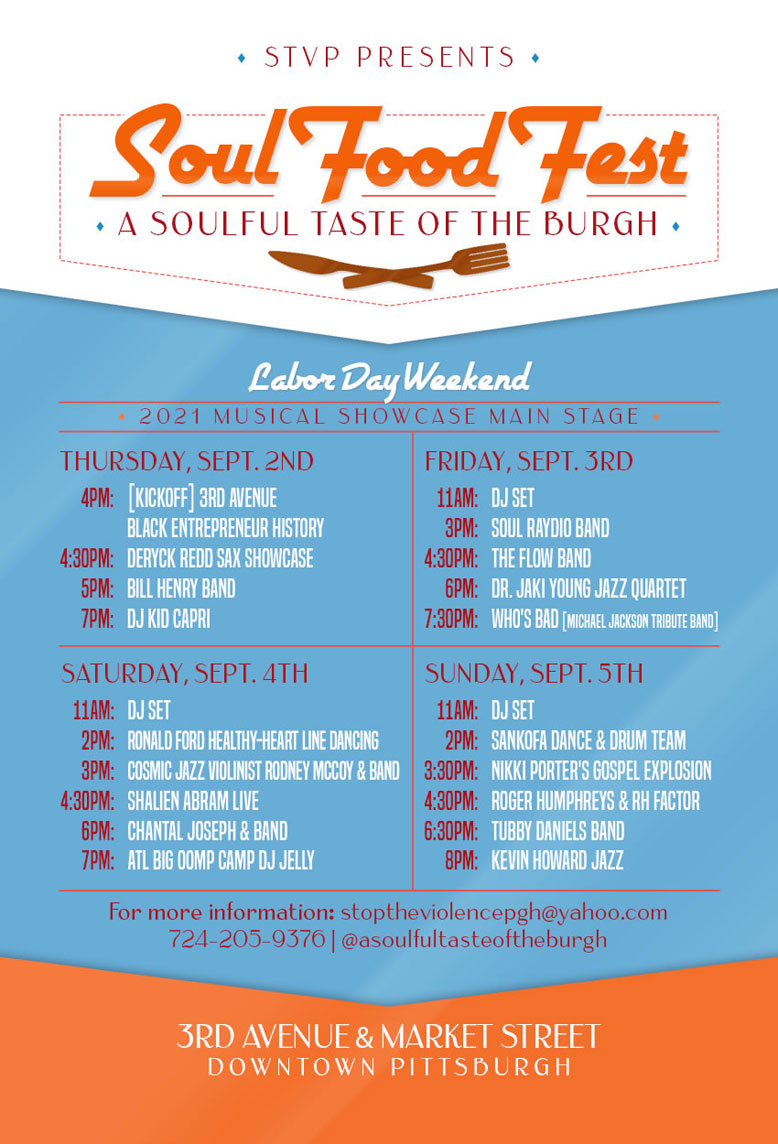 Pittsburgh Soul Food Fest-A Soulful Taste of the Burgh
Thursday-Sunday, Sept. 2-5
Downtown Market Square, 3rd & 4th avenues
Thursday Sept. 2nd at 4pm, 3rd Avenue and Market Street
William Marshall, CEO STVP
Please join Us this Thursday at 4pm, as we kickoff the Pittsburgh Soul Food Festival with a historic Designation and Proclamation Service with Pittsburgh City Council and Allegheny County Council to recognize 3rd avenue, between Woods and Stanwix streets, as Pittsburgh's Black Wall Street in honor of early African American Business Men, Abolitionist and Entrepreneurs who established the first Black Owned and Operated Businesses in the City of Pittsburgh on 3rd avenue starting in 1787 until The Great Fire of Pittsburgh in 1845 and the Pittsburgh Black exodus to Canada in 1850 after passage of The Fugitive Slave.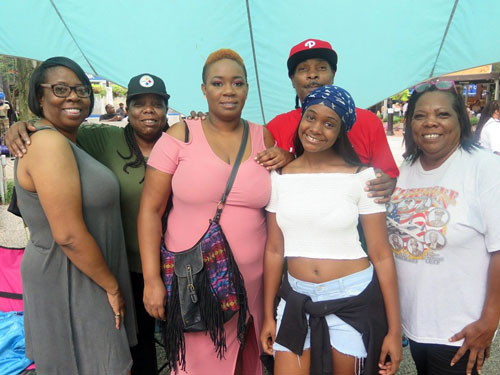 The Black FoundingFathers: The collective wealth of early Black Business Men on 3rd avenue exceeded $7,000,000 in todays dollars. In 1787 Benjamin and Charles Richards, along with two other Free Black Men, signed the Petition to establish Allegheny County.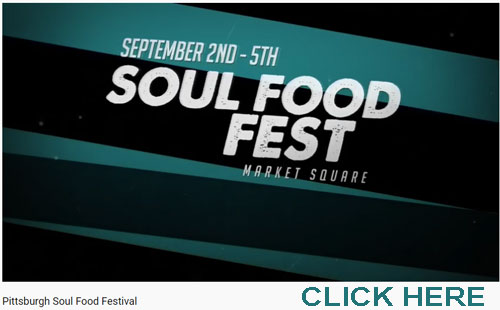 By 1790, Benjamin Richards was recognized as the wealthiest Man, Black or White, in Pittsburgh as a result of his cattle and butchery business and land ownership. Charles Richard opened and operated the first Black restaurant and tavern in Pittsburgh call "The Negro" and inherited his father's wealth. Years later, Rev. John C. Peck established a Ice-cream business and opened the first Oyster House on 3rd avenue. Following Rev. Peck, and also becoming one of the wealthiest men in Pittsburgh, John C, Vashon opened the first Bathhouse in Pittsburgh which served White clientele and also doubled as a underground railroad station at night- Vashon owned property in downtown, operated a barbershop and became of leader of the community. Later Rev. Lewis Woodson operated some seven (7) Barbershops in Downtown Pittsburgh, he was a leader of the AME Church and Founder of Wilberforce College. Probably the greatest of them all was Dr. Martin R. Delany, who started a Print Office on 3rd avenue, was Deputized by Mayor Jonas R. McClintock, as the first Black Police Officer in American after Whites attacked Blacks and their businesses in Downtown, Delany became one of the first Black students to attend Harvard Medical School, he also saved Pittsburgh residents in 1833 and 1854 during Cholera epidemic, Dr. Delany wrote several books and became the first Black commissioned Field Major during the Civil War appointed by President Abraham Lincoln.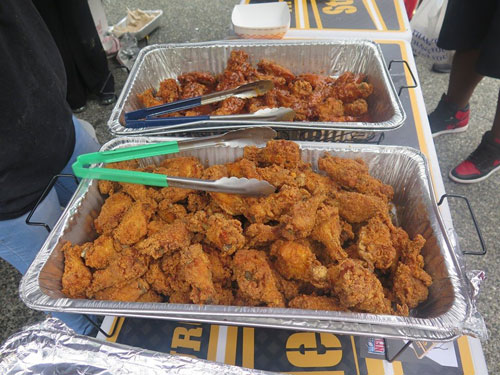 After designation of 3rd avenue, the Program will transition into Soul Food Festival which includes Live Band Entertainment, Food and Item Vendors and Youth Activities from 11am to 9pm, Daily.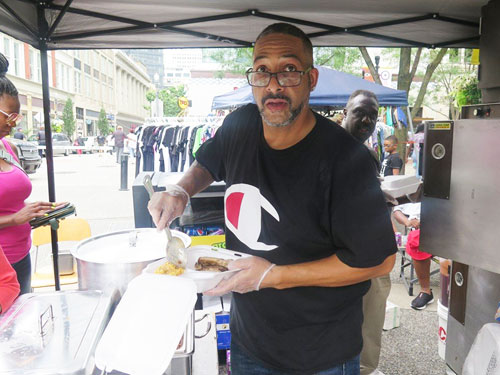 The Pittsburgh Soul Food Fest seeks to highlight early African American contribution to the growth and development of the City from its founding, provide economic opportunities for minorities businesses and make the City more inclusive and equitable for all its residents.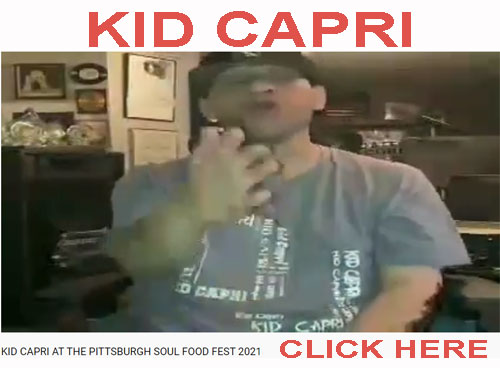 Please share this information and participate in all the upcoming activities of Pittsburgh's Soul Food Fest- A Soulful Taste of the Burgh.
CHECK OUT EXCLUSIVE PHOTOS FROM
THE PITTSBURGH SOUL FOOD FEST 2019
https://brothaash.jalbum.net/SOULFOODFEST2019/

For more info:
FaceBook: A Soulful Taste of the Burgh
Ph: 724-205-9376
StopTheViolencePgh@yahoo.com
@ASoulFulTasteOfTheBurgh