Glorious Gardens at Colorado B&Bs...
How do our gardens grow? Summer brings sunshine and wildflowers to the Colorado Rockies and what better way to spend your sunny days than enjoying a relaxing retreat in an "inspected and approved" Bed & Breakfast Innkeepers of Colorado member inn. Our BBIC member B&Bs offer lovely gardens with beauty, nature and a place to rest after a busy day of sightseeing, hiking, mountain biking, museums, shopping, fine dining or any number of activities. Our summer festivals and events are waiting to make your stay a trip to remember. And with a resident innkeeper, you'll have personal assistance to help you plan your itinerary around colorful Colorado...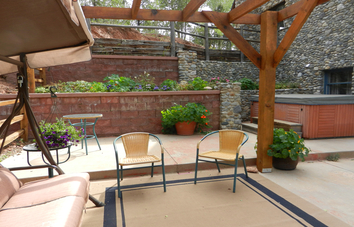 Stonehaven B&B in Divide, Colorado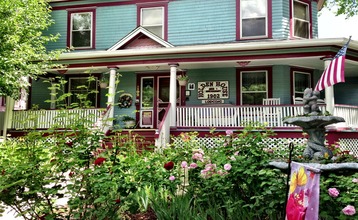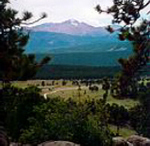 Follow the BBIC Blog: Hiking and "Liking" Colorado B&Bs Summer brings prime hiking time in the Colorado Rockies. If you stay at a bed-and-breakfast inn that is close to a great trail system or trailhead, it makes life all that much easier for you to pursue your high-altitude passion...more
COLORADO CULINARY CREATIVITY
Saint Louis Gooey Butter Cake
Ingredients: 1 box of yellow cake mix
3 eggs
2 1/2 sticks of butter
1 lb. of powdered sugar
8 ounces of cream cheese
Directions: Grease 9" x 12" pan with 1/2 stick of butter.

Bottom Layer: Mix 1 box of yellow cake mix, 1 egg, and 1 stick of melted butter and press into pan.

Top Layer: Beat 1 lb. of powdered sugar, 2 eggs, 1 stick of butter, and 8 ounces of cream cheese and pour over the cake mix.

Bake at 350 degrees for about 40-50 minutes. Depends on attitude. You want the cake to giggle somewhat when you take it out of the oven. Once it cools down sprinkle powdered sugar on top.

Yield or # of servings: 12-18 servings
Check out the latest specials and packages from Colorado B&Bs and see what's "Inn-style" for your upcoming bed and breakfast stay!