Hate Crimes and Community Safety
 
 
 
 
 
 
When you see a hate crime or an abusive incident taking place, do you know what you can or should do? You may only have a split second to decide on your course of action.

From the San Jose Nikkei Resisters:

The San Jose Nikkei Resisters invites you to participate in a combined bystander intervention training and community safety discussion on June 6th at 3:30pm. This is part of our efforts to create collective safety through community-based initiatives and solidarity across communities.

Many of us have been very concerned about the safety of seniors and others in the San Jose Japantown area. Some of us have volunteered with the safety teams organized by Japantown Prepared! and the Japantown Community Congress of SJ. Many of us are long-time community members with personal, business, religious, and cultural ties to the area.

The CAIR Bystander Training program is one means of responding to the issue of anti-Asian violence. CAIR (Council on American-Islamic Relations) developed their training in 2017 in response to the rise in Islamophobia and updated it in 2020 in response to the resurgence of anti-Asian violence. This training includes scenarios of anti-Blackness, anti-immigrant language discrimination, transphobia, Islamophobia, etc. in addition to COVID-related anti-Asian attacks.

It's important to create or encourage programs that provide overall safety for our community members while also preventing victimization or criminalization, for example, of houseless folks and others. We hope to take a more humane approach to community safety, and invite you to join us!

Please sign up and invite other members of your group to fill out the registration form here: https://bit.ly/SJNRJune6
 

---

Additional Anti-AAPI Crime Information
 
 
 
 
 
Article by Sonya Herrera, San Jose Inside
 
 
 
 
Link to article
 
 

---

 

This report by the Stop AAPI Hate coalition covers the 6,603 incident reports recorded by Stop AAPI Hate from March 19, 2020 to March 31, 2021.The number of hate incidents reported to their organization increased significantly from 3,795 to 6,603 during March 2021. These reports include incidents that took place in both 2020 and 2021.
---
The Rising Tide of Violence and Discrimination
Against Asian American and
Pacific Islander Women and Girls
This report was produced by National Asian Pacific American Women's Forum (NAPAWF) and Stop AAPI Hate.
The National Asian Pacific American Women's Forum (NAPAWF) is the only multi-issue, progressive, community organizing and policy advocacy organization for Asian American and Pacific Islander (AAPI) women and girls in the U.S. NAPAWF's mission is to build collective power so that all AAPI women and girls can have full agency over our lives, our families, and our communities.
Stop AAPI Hate is a national coalition addressing anti-Asian racism across the U.S. The coalition wasfounded by the Asian Pacific Policy and Planning Council (A3PCON), Chinese for Affirmative Action
(CAA)
, and San Francisco State University's Asian American Studies Department.

---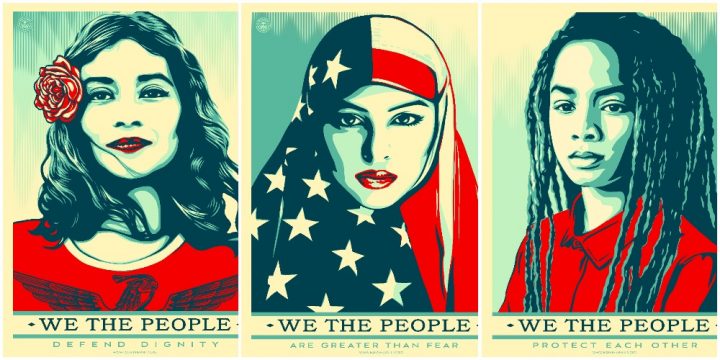 We The People image created by Shepard Fairey. Amplfier Foundation.
San Jose Nihonmachi Outreach Committee (NOC)
P.O. Box 2293,
San Jose, CA  95109
E-Mail: info@sjnoc.org
Website: www.sjnoc.org
"In the End, we will remember not the words of our enemies, but the silence of our friends."
                                                                           - Dr. Martin Luther King, Jr.