Hello CSA members,
This is just a reminder that today, Wednesday July 12th is a CSA share pick-up. Your share will be ready for you to pick up at your chosen pick-up location between 4-7 pm.  We are excited about this week's harvest.

We are looking forward to seeing you on the farm!
The sun has issued its official summer challenge: stay cool. The scene is often similar around this time of year; Not an empty lawn chair can be found at a neighborhood pool, the beaches of the reservoir are blanketed in towels occupied by sun bathers, and the jingle of the ice-cream truck coming near is the most anticipated soundtrack of summer. Here at the farm we have our own version of summer rituals. Kids campers dip their toes in the cool running waters of the ditch, chickens hide underneath the shade of the trees, and pigs roll around in the mud all in effort to beat the heat.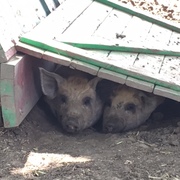 The spring crops are no match for the intense sun, which have officially all been turned back into the soil so that new life can grow in its place. The summer crops, well suited and hearty for this kind of weather, still beg to be hydrated and so our irrigation system is in peak operation. In the produce that asks to stay awhile, like onions and broccoli that need time to grow, we have finally finished laying down drip tape irrigation. Likewise, the summer squash, peppers, and tomatoes are all being hydrated by drip. On a sunny afternoon day, it is truly a sight to behold to see all of the tiny little droplets of water releasing onto the soil. If you look over the field the water sparkles as if someone sprinkled sequin confetti over the farm. In other areas, like our baby greens and dry beans, the crew is mastering the dance of moving our upright sprinkler irrigation system around the field. We even admit to letting nostalgia set in and embracing our inner child as we run through the sprinklers during set-up to achieve a cool-down ourselves.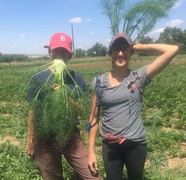 Although these hot summer days are proving to be trying, they are also absolutely necessary for the summer produce to achieve full bounty, a challenge accepted. The tomatoes are leading the way as we have harvested our first handful of cherry tomatoes and they are delicious!! The basil plants are getting taller and smell incredible as well. Peppers, eggplants, and summer squash are still small but hearty and will be ready for harvest in no time if they summer keeps zooming along as it has been.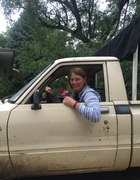 As for us, along with the popsicles and lemonade, we will continue to drink in the awe that farm inspires each week. It is always such a valuable reminder that the hard hot days work we put in each day is met at the CSA pick-ups, farm store, and farmer's markets with smiling faces that love our produce as much as we do! Thank you for being our friends and sharing in this adventure we call farming!
Core and thinly slice 2 fennel bulbs; chop some of the fronds. 

Peel the cloves from 1 garlic bulb and toss with the fennel and fronds, 1 quartered lemon, 3 tablespoons olive oil and 1 teaspoon each salt and sugar on a baking sheet. 

Roast in a 500 degrees F oven until golden, about 20 minutes. 

Toss in 1 pint cherry tomatoes; roast until the tomatoes burst, 7 more minutes.
1 tablespoon of olive oil 

1/2 onion, chopped 

1 clove of garlic, minced 

pint of english peas, shelled

2 cups of vegetable broth, plus more if needed 

Salt and pepper, to taste 

Parsley leaves, for garnish 

Cayenne pepper, optional
In a large pot, heat oil over medium-high heat. Add onions and cook until tender, about 7-10 minutes. 

Add garlic and cook until fragrant, about 1 minute. 

Add peas and vegetable broth, and cook until broth just begins to simmer.

Working in batches, carefully transfer the soup to a blender, cover, and blend until pureed. Add a little more broth to the blender if needed. Return the pureed soup into a clean pot. Continue until all the soup is pureed.

Heat pureed soup over medium heat until it bubbles and is heated throughout, stirring frequently. Thin out with more broth if needed.

Season with salt and pepper 

and garnish with parsley and cayenne (optional).

Tasty served cool as well!
1/8 cup extra-virgin olive oil

1 large garlic cloves, thinly sliced

1 pound rainbow chard—thick stems discarded, inner ribs removed and cut into 2-inch lengths, leaves cut into 2-inch ribbons

Salt and freshly ground pepper

1/4 teaspoon finely grated lemon zest
In a large pot, heat 1/8 cup olive oil. Stir in the garlic and cook over moderately high heat until lightly golden, about 1 minute. Add the chard leaves in large handfuls, allowing each batch to wilt slightly before adding more. 

Season the chard with salt and pepper and cook, stirring, until the leaves are softened and most of the liquid has evaporated, about 8 minutes. Transfer the chard to a bowl. Wipe out the pot.

Add 2 tablespoons of olive oil to the pot. Add the chard ribs and cook over moderately high heat, stirring occasionally, until crisp-tender, about 5 minutes. 

Stir in the wilted chard leaves and season with salt and pepper. 

Transfer to a bowl, sprinkle with the lemon zest and serve right away.



Cure Organic Farm

7416 Valmont Rd.
Boulder, CO 80301
cureorganicfarm@yahoo.com
www.cureorganicfarm.com
In your CSA share this week
Rainbow Chard
English peas 

Carrots

Lettuce Mix
Fennel 
Garlic scapes
Coming next week... salad mix, beets, garlic, dandelion greens, and more.
Fruit share - Cherries
Flower share - Mixed bouqet
Egg share - please pick-up this evening!
Coffee share - please pick-up this evening!
Bread share -please pick-up this evening!
Wine & cheese - please pick-up this evening!
Detailed recipes are below
This weeks refreshing summer wine is made of 100% Sauvignon Blanc, Sancerre is a classic French white wine to serve as an aperitif, with white fishes, sushi, or goat's milk cheeses. This bottling from the coveted Chavignol area of Sancerre is from the illustrious Domaine Bailly-Reverdy under their Franck & Aurelien label. This quality-driven family produces classic Sancerre with fruit, acidity and minerality in harmony, making them food-friendly and a true pleasure to drink.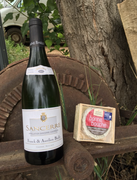 With the Sancerre this week comes a wheel of Bonne Bouche, the flagship of Vermont Creamery's signature geotrichum-rinded aged goat cheeses.  Introduced in 2001, Bonne Bouche quickly won acclaim. Today it is one of the most popular "geo" cheeses on the market and has been awarded some of the most prestigious honors in the cheese world. Reminiscent of the Loire Valley cheeses of France, Bonne Bouche means "good mouth" - though we like to think of it as "good mouthful" - and it is indeed a tasty bite. 
Summer time = BBQ time!!!
As farmers it is imperative we know what is "in-season" it's how we keep the community fed well! According to expert opinion, BBQ is in season right now. Okay, sure it isn't being harvested from the field exactly, but now is the time to fire up the grill, grab a cold iced tea and make use of the backyard while summer is still here. The farm store is stocked full of pork and beef cuts perfect for making brats and burgers or for our more daring home cooks, steaks and ribs! Just save us a seat at the table, we love a backyard bbq!
(Farm store card members get 10% off purchase each time, including all meat cuts)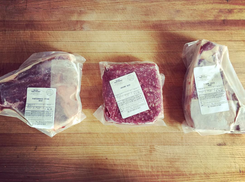 Walk towards the good in life and one day you will arrive. 
Atticus