---
Reminder
Public Meeting – Scotland Island


Draft Plans Roads, Stormwater & Drainage




Sunday, April 3, 2011




Community Hall 10am to 11am



See advice below from Pittwater Council of Public Meeting.

You may have noticed that there are signs in various locations around the Island, posted on trees, poles, stakes. These have a Priority # and relate to information in one of three documents on exhibition, the Implementation Plan.

Please have a look at the signs, particularly in your area, so you can familiarise yourself with planned works detailed in the document and to assist with your submission.

If you have any questions to ask at the Public Meeting, please email Pittwater Council Attention: Paul Davies in preparation for the presentation.


---

A public meeting about draft plans for Scotland Island's Roads, Stormwater and Drainage will be held on Sunday 3 April at Scotland Island's Community Hall from 10am to 11am

The draft plans will be on public exhibition until Monday, 2 May and can be viewed at: www.pittwater.nsw.gov.au/council/documents_on_ex/document_pages/Scotland_Island
or
Council's Customer Service Centres: 59a Old Barrenjoey Road, Avalon and at 1 Park Street, Mona Vale

Written submissions should be mailed to: Pittwater Council, PO Box 882, Mona Vale NSW 1660
or
emailed to: Pittwater_Council@pittwater.nsw.gov.au – by Monday 2 May

Enquiries: Paul Davies 9970 1177



---
Missing Totem from Tennis Wharf




This totem, which has been standing at the end of Tennis Wharf, securely wired to the tree, mysteriously went missing a couple of nights ago

.

Anybody with any information please contact Broken Bay Water Police, or Phillippa Thomas.

This totem, is an Aboriginal Welcome to our Island and has no signifigance to the person/s who removed it.

Please put it back, no questions asked or contact either of the afore mentioned persons.

Thank you. All confidentiality will be respected.

Phillippa Thomas..0407 244 677
Water Police........0412 162 093
9910 7899



---
Impounded Watercraft



Council came to the Island yesterday, Wednesday, March 23 and collected 28 boats from the foreshores. They are now held in Council's impound at Boondah Road, Warriewood.

Residents concerned may wish to contact;
Tanya Carmont on 9970 1353
Dave Dwyer on 0418 249 932



---
Land Sale a Done Deal




MANLY DAILY




22 MAR 11 @ 5:30PM BY JOHN MORCOMBE




PITTWATER Council and Pittwater MP Rob Stokes believe the purchase of Currawong by the State Government last week will proceed, despite the director-general of the Premier's Department saying that he will conduct an internal inquiry into the deal.

The investigation is being conducted into Lands Department chief executive Warwick Watkins for agreeing to purchase Currawong while the government is in caretaker mode ahead of Saturday's election.

It has been reported that Mr Watkins went beyond his brief by approving the exchange of contracts last week.

The purchase of Currawong from Eco Villages for $12.2 million is due to be settled on April 6.

Pittwater Council general manager Mark Ferguson said that, to his knowledge, the sale stands unless the premier rescinds the contract between now and April 6, which he said was highly unlikely.

"Our understanding is that the sale was executed legally by the government," he said.

"The council has been in discussions with various ministers over the years and there has been no real opposition by any state Ministers to acquiring Currawong.

"The price the Government paid for the site was fair, and it's a good deal for the Government, the council and the community.

"This deal is above politics."

Mr Stokes said he couldn't comment on the process due to a possible investigation by the ICAC but believes it should proceed.

"From my understanding, it's been bought and it remains my position that it should be acquired for the benefit of the community," Mr Stokes said.

Opposition financial management spokesman Greg Pearce said the Coalition ``strongly supports the return of Currawong to public ownership'' but is concerned about the process by which that has occurred and supports an independent investigation by the director-general of the Premier's Department and Cabinet.

PLUCKING A CURRAWONG
*Eco Villages and the State Government exchanged contracts for the sale of Currawong on March 15
*The sale is to be settled on April 6 with Currawong to be included in a new state park
*Doubts have been raised about the sale because it occurred while the government is in caretaker mode



---
Early Warning!
The next Play, from Scotland Island Players:
`JEALOUSY AND LUST - on the Island.'
- a work of fiction -
is booked into the Hall for the last two week-ends in May.
More details next month.
Cross any other involvements out of your diary.
---
Garage Sale - Moving off the Island




THIS SATURDAY 26TH MARCH 2011, 12-4PM




"BANGALLA", Second Waterfront North of Carols



Isadora, David and kids bid farewell to two amazing years…

Email Isadora isadora@loudmouthpr.com.au if you want pix of some of the stuff on offer, or are looking for something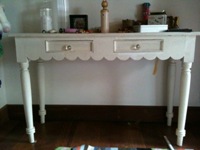 .
Super cheap, don't want to take it with us!
Lots of stuff..
Has to go……

Isadora Noble
86 Florence Tce
Scotland Island
T: 0419 328 999



---
The Online Local Contact Guide

Click HERE to load
The views expressed in this newsletter are not necessarily the views of the Scotland Island Residents Association (SIRA), or the Western Pittwater Community Association (WPCA)
---