---
---
NEW CLIMATE ACTION GROUP SCREENS '2040'
ON THE ISLAND!
Scotland Island Com
munity Hall on October 19th, 7.30pm, $5 entry.

'2040' is a film that takes a positive approach to the Climate Crisis, by investigating what we can all do, now, that will improve the climate and the planet by 2040.



Screening in the Scotland Island Community Hall on October 19th, 7.30pm, $5 entry.



Under 18s free!
Profits to charity
Stay for a chat after the film to discuss what we might achieve here!
Bring snacks, tea/coffee provided.

This will also be the first official meeting of the Scotland Island Climate Action Group.

For more info, or to join the group, call/text Jess on

0422 474 279.





---
Pittwater Offshore Wine Syndicate
Sunday October 13 from 3-5pm
Everyone is welcome
Pittwater's Only Wine Syndicate Newsletter
All the Wine that's fit to Drink :)
IT'S ON AGAIN

This is the biggy. This is the important one.
This means summer is approaching.
This means the thirst can be quenched.
This means the Christmas holiday season is approaching.

Tasting is at the wonderful boatshed of Alan and Ruth Gaines on the Eastern side of Scotland Island
No. 71 Florence Terrace
Look out for the  the special WINE flag at the end of the jetty and the 'easy to see' indicator at the street entrance.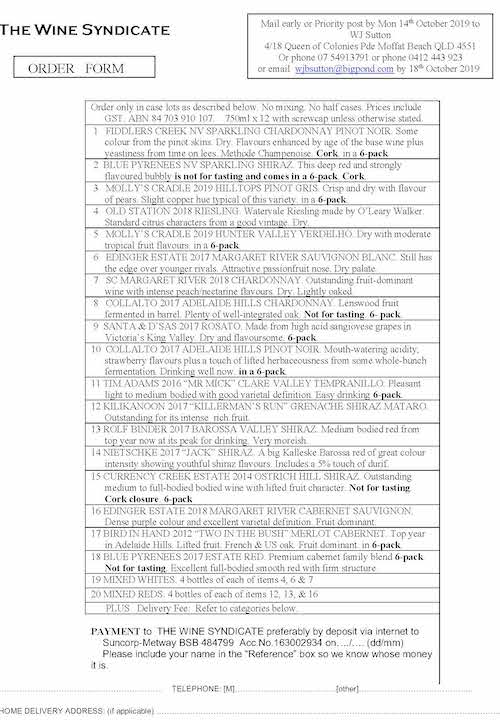 FOR NEWCOMERS
THE WINE TASTING IS FREE
THERE IS NO ENTRY FEE
THERE IS NO JOINING FEE
YOU DO NOT
HAVE
TO BUY WINE, BUT WE ENCOURAGE YOU TO, AS THAT IS WHOLE POINT OF THE SYNDICATE
WINE PRICES ARE NOT ADVERTISED - BUT THEY ARE THE KEENEST YOU WILL EVER ENCOUNTER!
TO CONTRIBUTE, WE WOULD LIKE YOU TO BRING A PLATE OF SOMETHING TO EAT !
 AND BRING YOUR OWN WINE TASTING GLASS
EVERYONE IS WELCOME
---
---
A complete set of past electronic newsletters since May 2000 can be found and read at https://ymlp.com/archive_gesgjgm.php  or by clicking here or by visiting the Mona Vale Library.
The Island website is at www.scotlandisland.org.au


---

---
To Contribute
If you would like to contribute to this newsletter it's easy!. Send an e-mail to the editor (editor@scotlandisland.org.au) or by clicking here. Type your contribution (100 words or so would be fine) and assuming it is of general interest to the community, does not include matter of a political nature and is not offensive, it will appear next month.
Subscription Information
To get on and off this newsletter,

click here

or got to:

http://www.scotlandisland.org.au/signup .


To change your address, click the 'modify' link at the bottom of this newsletter or send an email to the

editor@scotlandisland.org.au


---
Follow the PON
---
The Online Local Contacts Guide
Click HERE to load
---
---
The views expressed in this newsletter are not necessarily the views of the Scotland Island Residents Association (SIRA), or the Western Pittwater Community Association (WPCA)
---