---
SIRA
Notice
Scotland Island Traffic Management Plans

Following the Forum held by Pittwater Council on Sunday in the Community Hall, Scotland Island, below are the links to the proposed Traffic Management Plans (TMPs) discussed and to the survey for comment.

http://www.pittwater.nsw.gov.au/yoursay/current/scotland_islandtraffic_management_plan_projects

https://www.surveymonkey.com/s/Scotland_Island

The submission period is open for six (6) weeks to allow residents to review both proposals and to comment.

Letters will also be going out to all property owners with a request that they respond as to whether they support one, both or neither of the two proposed TMPs, using the included questionnaire (a condensed version of questionnaire on Council's web site).

The questionnaires should be returned to Council in the reply paid envelope supplied, as only responses by property owners will be considered when assessing the level of support for the proposed Road Closure (traffic) TMP that may directly impact their properties.

All comments received by Council in respect to both TMPs will be considered and owners of properties are encouraged to also complete the full questionnaire (includes questions relating to demographics, vehicle use and consultation feedback) on Council's web site

Should you have any queries please contact Paul Davies 9970 1177 or email

paul_davies@pittwater.nsw.gov.au


---
Help Marty raise money for the Special Olympics National Games
Sunday 13 April,1-7pm
111 Richard Rd., Scotland Island
---
Scotland Island Winter Fire Shed Dinner

To start off the season we have Moroccan by Nathalie
Saturday May 10.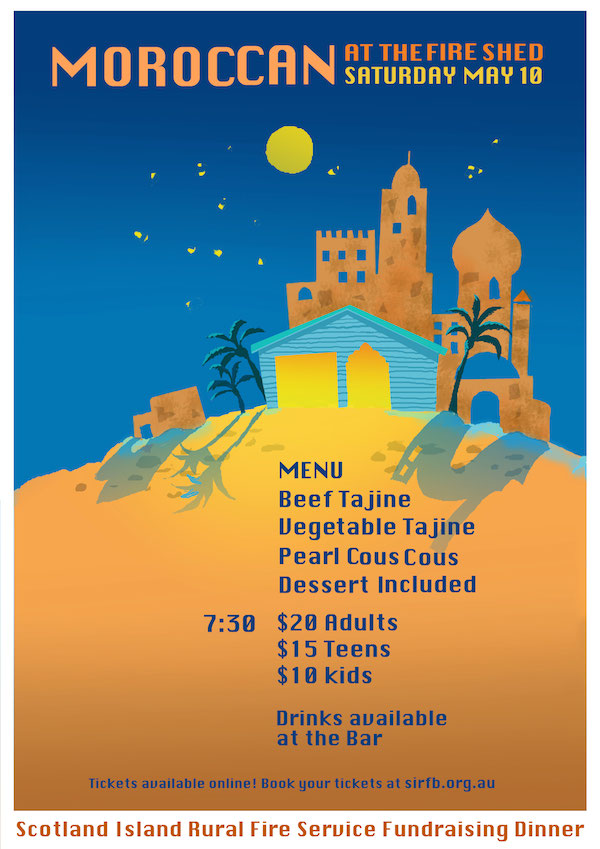 Tickets can now be purchased ONLINE at new SIRFB web site.
Book HERE
---
Scotland Island Bake-Off Invitation

A Shitbox Rally Fundraiser
Saturday 3rd May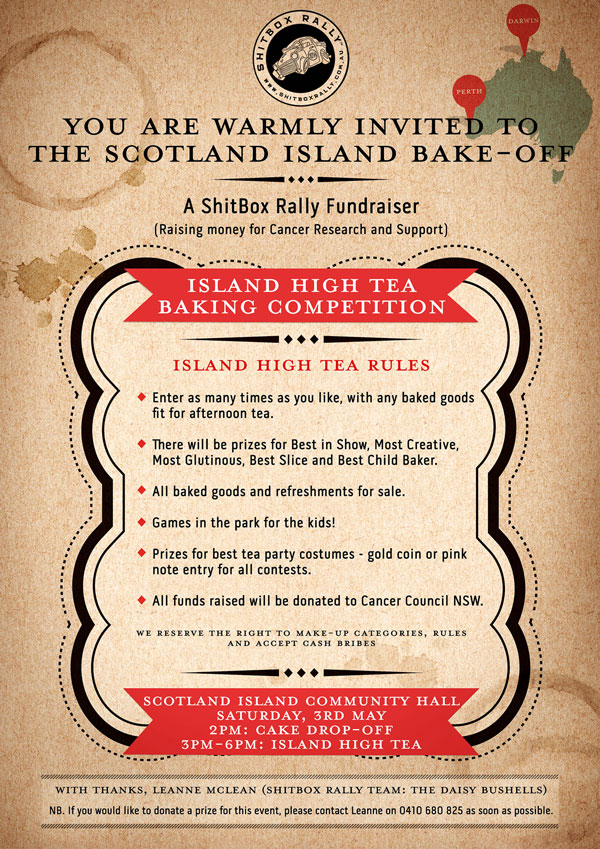 click image to load flyer
---
Lost




Reading glasses



Black and blue reading glasses in grey Calvin Klein sunglasses case.

Lost 31st March most probably fallen from car parked on road outside Holmeport Marina.

Unbelievably grateful if you have found them!

Please contact Nadine 0402 752465



---
Boat Found !



Thank you to all of those who helped to look for Ella's boat and especially to Will who found the boat at Bayview Doggie Park and who bailed it out and bought it back to us.

My faith in humanity has been restored.
Susan Harvey



---
For Sale




Water Pump



Water Pump - $30

One unused submersible dirty water pump complete with hose connection, float switch, etc
Ideal for ensuring your tank water aerates and cleans properly

George
0412 135 160





---
---
Join SIRA
You can now join the Scotland Island Residents Association by
clicking here.
Please print the page and return the completed form to SIRA at this address:

The Treasurer, SIRA, PO Box 70, Church Point 2105.
Please NO CASH.

Contact SIRA at
sirac@sira.org.au
Join WPCA

To join the Western Pittwater Community Association
www.wpca.org.au
, contact Michael Wiener at

treasurer@wpca.org.au
---
Archived Newsletters


A complete set of past electronic newsletters since May 2000 can be found and read at https://ymlp.com/archive_gesgjgm.php or by clicking here or by visiting the Mona Vale Library.

The Island website is at www.scotlandisland.org.au


---
To Contribute


If you would like to contribute to this newsletter it's easy!. Send an e-mail to the editor (editor@scotlandisland.org.au) or by clicking here. Type your contribution (100 words or so would be fine) and assuming it is of general interest to the community, does not include matter of a political nature and is not offensive, it will appear next month.

Subscription Information


To get on and off this newsletter,

click here

or got to:

http://www.scotlandisland.org.au/signup .


To change your address, click the 'modify' link at the bottom of this newsletter or send an email to the

editor@scotlandisland.org.au


---
Follow the PON
---
The Online Local Contacts Guide
Click HERE to load
The views expressed in this newsletter are not necessarily the views of the Scotland Island Residents Association (SIRA), or the Western Pittwater Community Association (WPCA)
---