Hello CSA members,
This is just a reminder that today, Wednesday August 16th is a CSA share pick-up. Your share will be ready for you to pick up at your chosen pick-up location between 4-7 pm.  We are excited about this week's harvest.

We are looking forward to seeing you on the farm!
Can you believe it is already week 11 of CSA?! This means we are just past the half way point and are coasting into the best of what summer produce has to offer. Of course, in the dead of the summer heat the last thing we often want to do is compete with the warmth by turning on the oven, so fresh food is the solution and we must say such a treat too! This week our field was abundant with all of the summer snacking favorites that are the right amount of juicy and fresh like squash, cucumbers, tomatoes and peppers. Some of which you'll be delighted to find in your share and in the coming weeks will be available in bulk for all of our canning and winter prep enthusiasts! Beans are having their moment at the farm with hundreds of pounds coming in from the field and you may even spot the amazing dragon beans, a personal favorite, because who can resist nature's version of purple tie-dye on a legume?! And if you have been left perplexed, we did in fact say, "dragon" and "purple" in reference to beans. They are a wonderfully sweet Dutch flat-yellow-wax bean that can be eaten raw or cooked just like you would treat a green bean.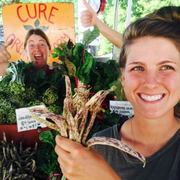 Tomatoes were already mentioned as a summer favorite, but let's do it again because tis' the season! This week we are happy to be sharing our first round of tomatoes in the share and as our seasoned CSA members know, this is just the beginning. With the right amount of care and luck the tomatoes will be available in unbelievable quantities until the first heavy frost (generally late October). In our tomato offering you'll find a mix of red slicers, the kind that are bright red, round and picture perfect, especially when sliced thick and paired with a burger. The other tomatoes fall under the category of "heirlooms" which come in every shape and color you can imagine, from the giant orange and yellow Pineapple heirloom to the tear shaped purple Japanese Black Trifle tomato. We can't wait to hear about which tomato will capture your affection this summer! But don't forget to pace yourself, as mentioned before this is just the beginning of the abundance of summer's tasty produce.
Speaking of the best of summer, this late part of the season has brought us a pair of helping hands in the form of our great new intern Stuart! As promised, here is the good stuff on the new guy! Stuart hails from Chillicothe, Illinois and it was in his home state that he also began his foray into agriculture while working at a vineyard and winery in Southern Illinois. During his five-year tenure at the vineyard Stuart developed an interest in food and wine. While a new career path took him to Eugene, Oregon, Stuart continued to explore his excitement for food and began a venture producing small commercial food and beverage goods, like teas and vinegars. After developing a serious passion for herbalism, Stuart decided to head back to Southern Illinois to be close to family and try his hand at farming during an internship at Henry's Farm. Having been bitten by the farming bug, Stuart then headed back out West to be close to his family in Denver and take on field work here at Cure! Stuart is excited this season to expand his knowledge about growing good organic food and takes pleasure in regularly foraging for interesting and unexpected edible plants growing around the area. He makes an out-of-this-world chai tea and has a sweet 13 year-old terrier named Oscar. You can welcome our newest recruit Stuart while he is roaming around at CSA tonight!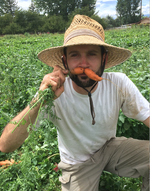 1 lb Dragon's Tongue beans, ends trimmed off

2 tablespoons butter

2 medium or 1 large onion, sliced as thinly as possible

1 cup chicken or vegetable stock (or water)

1 1/2 tablespoons sugar

1 tablespoon red wine vinegar

salt & pepper to taste

Bacon, chopped for extra flavor 
Cook beans in boiling salted water until tender, approx. 5 minutes. Drain and immerse in ice water to stop the cooking (this will ensure your beans stay crisp & delightful).

Melt butter in skillet over medium flame. Stir in onions and cook them slowly until very wilted and deepened in color, 15 or so minutes.

Deglaze pan with stock or water and boil for 5 minutes to reduce and concentrate flavors. Stir in sugar and vinegar. Add beans to the onions and heat through (just a minute or two).

Season with salt and pepper, to taste. Add chopped bacon (hello pork sale) for extra flavor!
Kitchen Sink Summer Pasta Salad 
2 tomatoes, chopped  

1 zucchini or yellow summer squash, cut into ¼ inch cubes

1 cucumber, keep skin or peel and cut into ¼ inch cubes

1 bell pepper, chopped

2 cloves garlic, finely chopped

2 tablespoons basil, chopped into ribbons

1 bottle favorite Italian Dressing

1 lb bowtie pasta
Cook pasta as directed. 

Once cool add veggies and Italian dressing until well coated. 

Refrigerate until cold, serve immediately. 

This wonderfully refreshing pasta is a great side dish for your summer grilling, grab some brats or chops in the farm store and you have a meal!
In your CSA share this week
Onions
Beans
Tomatoes

Basil

Sweet Corn
Cucumbers
Bell Peppers
Red Beets
Zucchini or Summer Squash
Coming next week... sweet corn, tomatoes, cucumbers, squash, zucchini and more.
Fruit share - Peaches
Flower share - Mixed bouqet
Egg share - next week
Coffee share - next week
Bread share - next week
Wine & cheese - next week
Detailed recipes are below
You're a Peach -- 
Tis' the time to buy a case of peaches!!
Peach season is here and we want you to have your fill of Colorado's finest, so-juicy they drip down your chin, peaches. 
Email ahead to cureorganicfarm@yahoo.com to reserve your case(s) so that we can have them ready for you to pick up!! Cases will also be available for purchase in the farm store (quantity for same-day requests is limited to availability). All fruit is officially "free-stone" so you won't have to worry about the delicious fruit clinging to the pit. Each case is $45. Get yours today!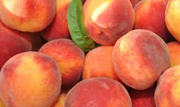 Pork Sale ENDS this week, don't forget to stock up for the rest of your summer BBQs!!!
Winter CSA Share Sign-Up Coming Soon...
Thinking about joining us during the first part of winter for our Winter CSA Share? Here is everything you need to know to fill your table with the best of the best that fall and winter has to offer as the farming season wraps up in 2017:
First pick-up is on October 25

th

 (the first Wednesday after summer CSA share ends)

Winter share is eight weeks long:  

October 25th -  December 13

th

.

Pick up's take place Wednesday from 3:30-6:30pm in front of the farm store or inside depending on weather. 

Winter Share is one size and includes both veggies and fruit. $240 for the eight-week bounty of veggies and fruit ($30 per week).

SIGN-UP WILL BEGIN THE LAST WEDNESDAY OF THE MONTH, AUGUST 30TH
We will continue to offer our other shares as well including:
Egg Share $48

Bread Share (every other week) $30

Wine + Cheese (e/0 week) $120

Coffee Share (every other week) $44
In case you missed it last week, the abundant CSA will feature fall favorites including potatoes, garlic, dried beans, our sweet cool weather spinach, broccoli and cauliflower, and of course oodles of fall/winter squash! Included in the winter share is a fruit share in partnership with western slope farmers that will include incredible pears, plums, and apples, perfect for fall baking.
3 tablespoons olive oil

1 medium onion, diced (1 cup)

1 medium clove garlic, minced (1 teaspoon)

1/2 teaspoon salt

1 pound red beets, peeled

1 pound carrots, peeled and cut crosswise in half

3 medium tomatoes

4 1/2 cups no-salt-added vegetable or chicken broth

2 teaspoons sugar

1/2 teaspoon freshly ground black pepper

5 tablespoons freshly squeezed lemon juice (from 1 or 2 lemons)

2 tablespoons minced parsley

Crème Fraiche or Goat Cheese for garnish

Olive oil to drizzle 
Heat 2 tablespoons of the oil in a large saucepan over medium heat. Add the onion, garlic and salt, and cook for 5 minutes, stirring frequently, until the onion has softened. Add the beets, carrots, tomatoes, broth and sugar. Bring to a boil, then reduce the heat to medium-low, cover and cook for 1 hour, adjusting the heat so the liquid is just barely bubbling around the edges.

Use an immersion blender, and blend briefly to a coarse puree. (Alternatively, If you use a blender, transfer in batches; remove the center knob from the lid and cover the opening with a towel to contain splash-ups.)

Stir in the pepper, lemon juice, parsley and the remaining tablespoon of oil. Serve hot or cold, garnished with crème fraiche or goat cheese and drizzled with olive oil. 
If you don't take the chance to live life, what can you say at the end of it?
Naveen Andrews



Cure Organic Farm

7416 Valmont Rd.
Boulder, CO 80301
cureorganicfarm@yahoo.com
www.cureorganicfarm.com