History Corner
For some time, the area around Bayview was the only land alluded to as the Peninsula and this was the site of the farm occupied by William Oliver and his family. Oliver was the generous donor of the Church Point land for the first church. His family was large and younger members later recalled that aborigines stole (or, as they called it, "bandicooted") a whole paddock of potatoes. Their mother usually made sure that an old musket could be plainly seen from the open door before she sat down to talk to her children in her rare leisure moments.

When the Peninsula was first divided it passed into the hands of two brothers named Crawford who operated brickworks on the land. They came to Pittwater only occasionally because they found it inconvenient to communicate with the city except by the man who carried the mail to Newport and sometimes dropped a bag at the place where the track led towards Church Point. Consequently one Crawford brother applied for a post office to be established on the John Collins farm and for the appointment of his daughter as first postmistress, a position she held for more than 50 years. A name had to be found for the new post office and Mr. Crawford decided on Bayview. As far as can be determined this originated the area name.
A Mr. Patullo once held land in this vicinity and built a house near where the Bayview Golf Links are now located in 1821, the last year of Macquarie's governorship of the colony. Eleven years later he was granted 80 acres (32 hectares) of land by Governor Burke on condition that he cleared 30 acres (12 hectares) and erected buildings and fencing to the value of 150 pounds.
Look for a special History Corner feature in the next issue
Leicester Warburton
Pittwater Offshore recently met and talked with the great grandson of Catherine Benns, the legendary "Queen" of Scotland Island.
We were contacted by Mr. Bob Waterer who has painstakingly traced his descent from this colourful pioneer about whom intriguing stories have been told.
It is not true that Mr. Waterer now wishes to be known as "Prince" Robert. ( Just kidding!)

He recently paid a visit to the Island and we would like to thank Bruce Healey for acting as guide and informant.
The Scotland Island Festival Banner is Missing
MISSING: The Scotland Island Festival Banner! Last seen a Church Point. Do you know where it is? If you have any information as to it's location, please ring Claire on (02) 9999-4709 or email her by clicking here.
Calling all Scotland Islanders with Video & DVD Cameras



H2O 360 film event
Our community will stage Australia's inaugural H2O 360 short film event for Australian islanders and

remote communities. We are the proud recipients of a $17 000 Australian Government grant to stage an incredible outdoor film event featuring short films made by isolated and island communities.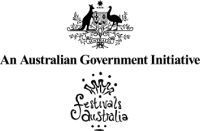 We have received expressions of interest from filmmakers of all levels and all ages from Palm Island QLD, Elcho Island NT, Bathurst and Melville Island NT, Magnetic Island QLD, Macquarie Island TAS, Dangar Island NSW, Antarctica and Scotland Island NSW.
We encourage you to go to www.scotlandislandfestival.org for information regarding deadlines and download an entry form.........GO ON... TELL YOUR STORY!!

Shorts from The Shed
Wipe the dust from that old short film and submit it for Shorts from the Shed at The Scotland Island Festival OCT 14- NOV 4. Deadline for entries AUGUST 1 2006.www.scotlandislandfestival.org
Your editor's recent exploration of European destinations left him and his young assistant on the beautiful island shown in the picture to the left, which looks a little like Scotland Island. Just a few made roads, quite a number of delightful restaurants and an even walk around the perimeter.
Yes, you can stay on Maggiore for about $AUS 80 a day and getting there is not too difficult. I made an offer for the castle (which was unexpectedly knocked back) but am considering applying to Council for yet another grant to establish an offshore base for SIRA's headquarters. The fishing, I am told, is excellent, although I found boiled carp not quite too my taste...

Two delightful poems in this issue, especially written for the PON.
Scotland Island
Sleek ferry travelling past
Last night's rain on the grass
Roar of boats as they leave the jetties
Warm winter sun on my back
Salty air surrounds me
Can I stay another day?
Written by Victoria Morley (age 13)
And another one by Geoff Bullock
Just moved on. I am a musician, writer and a "sort of" poet... which to me is a song without music!
This has been a dream of years and I have celebrated tonight with a poem.
I am sailing.....
on a rock that's planted deep.
The earth has gripped her anchors
the shore has hold her keel.
The waters pass so gently
now kissing the higher tide
and waiting for the receding
to loose the sandy side.

Take me away
as an island refugee
captive to your freedom
shielded from the heat
of the searchings of my troubled soul
as she set her sails in vain.
I am shipwrecked here intentionally,
on this rock to find my peace.
I am voyaging.....
on the liner: "Scotland Isle".
We have cast off from the mainland
to drift in timeless tide.
I will take my watch intently
as a captain of my deck,
I am sailing to my life's blood
and my sails have all been set.
I have hoisted up the mainsail
I have cast off from the quay
my anchor is now high and dry
my course is fine and true.
My compass has aligned my heart
to the passions of night's sky
I am sailing on the "Scotland Isle"
and the sunrise has me bound.
Thank you Scotland Island

We (family mum/dad & the two kids 3yrs and 4 1/2 yrs) are attempting to familiarise ourselves with Scotland Island in view of moving permanently. We are looking for either a 'house sit' during the July school holidays or longer term position (which we could only do for longish weekends during school term as our little girl is at a preschool three days a week). Otherwise we would be looking for a rental to commence in September 06 for long term 6-12 months in an attempt to 'try before we buy'. We are open to accommodation ideas.
We would be interested to know from those who read and who have time to respond in finding out how many families with children live on the island and and any other information that would be helpful to a family looking at becoming residents.

At the moment we are both employed but would be interested in positions in our professions. Mark is currently working as a marine engineer & also trained as a shipwright. I am currently a full time mother with a Early Childhood and TAFE teaching (child studies) background. If you hear of any positions advertised & have the time to let us know of these either by email
almayers@aapt.net.au
or phone 48721456 it would be sincerely appreciated. I have already made contact with your community preschool and the local real estate agent.
How to deal with a difficult council decision
We have all had occasion to not approve of a neighbour's new development, or what we believe is a an unfair decision by Pittwater Council. Where do you go for help when the normal avenues have been exhausted? Fighting bureaucracy on your own is time consuming and very often unrewarding. One of the best ways to resolve a problem is call on your local councillor for help. These elected officers are there to represent YOU. If you see what seems to be a blatantly unfair situation that is a result of a decision made by Pittwater Council, give your local councillor a ring. They are there to help, they want to help, and they can help! (To find your local councillor and to contact them, visit www.pittwaterlga.com.au) or select from the list below:
New Playgroup on Scotland Island


PLAYGROUP is a weekly session where parents, carers and children, from 0-5 years, can come together in a relaxed and friendly environment once a week for two hours come & join us at the KINDIE in Catherine Park on MONDAY10am to 12noon
For information contact Lizzie Hazelwood (02) 9997 8731
Mythical Images
Printmaker Jan Melville's exhibition "Mythical Images" opens at the Balmain Watchhouse on Friday the 30th June 6-8 p.m. Exhibition hours are Saturdays 1st and 8th July 11-6,. and Sundays 2nd and 9th 11-6,with artist talks Saturdays at 3 p.m. further info 9999 5955 or email flycowstudio@hotmail.com
House-sitting and Pet minding!

We are a family of four with two girls aged 5 & 6 looking for a lovely home on the Island to house sit, long or short term.
We have two Border Collies and would love to look after your pets too! Very responsible, references available.

If we can be of assistance please phone Linda on (02) 9970 5080
Pittwater Council vacancies for Family Day
Pittwater Council has announced that it has a small number of vacancies for Family Day Care for children aged 0 to 5 years old on the mainland.
At this present moment in time there are no Family Day Care homes on the island or in the bays, and Pittwater Family Day Care currently wants to recruit additional carers who are willing to operate

their own businesses caring for other children from their homes. Please call Maree Higginbotham on 9979 6150 if you want to know more about becoming a FDC carer, or contact Family Day Care on 9979 6163.
SIOCS (who currently operate the Kindy here and run the vacation care
programs) say that there are a number of regulations that registered Family Day Carers must abide by, but that they are willing to help and support any carers who want to try to set up a business on the island, especially if they can create island centred care for children under two: contact Anne on
9999 3478.

Pittwater trading Online - now with FREE General Merchandise Ad's

Be the first to catch the local bargains. Join our FREE "Buyers Newsletter"
We'll e-mail you the latest bargains, tickets, events and freebees advertised on Pittwater Trading On-line each month
Join the dozens who have already subscribed. Simply add your e-mail address on the home page at
Then click on the verification e-mail you'll receive and you're subscribed.
PLUS great news.....
All "General Merchandise" advertisements are now FREE!!
New Partnership to fight Cancer in Pittwater



Pittwater Council has announced a new partnership with The Cancer Council NSW, which aims to reduce the impact of cancer on local residents.

The Cancer Council Community Partnerships program uses Council outlets, networks and venues to provide cancer prevention and support programs and information to people and organisations in local communities.

The Community Partnerships program in Pittwater will include vital sun safety advice to childcare centres and workplaces, skin cancer awareness programs for older citizens, improve access to information and support for cancer patients their family and friends, and much more.

"Congratulations to Pittwater Council for taking this pro-active step to help make its community "cancersmart"," said Jenny Horton, Regional Programs Co-ordinator for the Cancer Council's Sydney Metropolitan regional office. "For a small amount of effort and time and almost no out-of-pocket expense, Councils can reap big health benefits for their community," said Jenny.

Pittwater Mayor, Cr Alex McTaggart, said his Council welcomed the partnership and its potential to improve the health and wellbeing of Pittwater residents.
I am looking for a place to rent preferably on the water on Scotland Island or in the bays somewhere. Please email me at tashigye@spin.net or ring 0415191641
FREE Builder's Information Night

Attention Tradespeople who work in Pittwater! Due to overwhelming demand, our event on 28 June

quickly booked out, so we are hosting a second FREE Builder's Information Night from 6-9pm on Tuesday 8 August for tradespeople only, which will cover Pollution Awareness, Sediment Controls, Erosion Management, Construction Guidelines and Maintenance Procedures.
You can earn five free CPD points by attending this interesting session! Free BBQ and light refreshments and exhibition space available. (Building Industry Briefing Code PES5WX70) Places are limited so bookings early on 9970 1194
Festival Workshop FILM MAKING
/bigger>/bigger>/bigger>/bigger>/bigger>/bigger>/bigger>/bigger>/bigger> July 3/x-tad-smaller>rd/x-tad-smaller>, 10/x-tad-smaller>th/x-tad-smaller> & 13/x-tad-smaller>th/x-tad-smaller>/fontfamily>
/center>
Are you 13 - 25 years old and want to make a short film?


/fontfamily>/center>
Local filmmakers, Jackie Turnure and Mike Molloy, will be running workshops developing an idea into a script ready for shooting, and basic camera work.

Film I - July 3rd, 9:30 - 12:30
Mike Molloy will use years of experience to demonstrate how to use a camera to shoot a film. Learn basic composition, position and shooting techniques.


Film II - July 10th, 9:30 - 12:30
With Jackie Turnure students will learn the basics of how to create dimensional characters and compelling stories in screenplay format.

Film III - July 13th, 1:30 - 4:30
Jackie will show students how to tell their story visually using storyboards.

These workshops are perfect for anyone considering making a film for the H20360 Film Festival, this is a great opportunity for young people to learn the basics of making a short film.

BOOKINGS ESSENTIAL
Call Camille on 02 99995598 or email camille@girlzed.com film workshops are free
Emergency Contact Numbers
NSW Police: 000, Police Assistance Line: 13 1444, general information 9281 0000
Broken Bay Water Police 9979 4944 or 0412 162 093
NSW Fire Service: 000, general information 9265 2999
NSW Ambulance Service: 000, general information 9320 7777
Rural Fire Service: 000, general information 9450 3000
State Emergency Service, Warringah/Pittwater SES: 9486 3399
National Parks & Wildlife Service: 000, general information 9457 9322
Dept of Community Services: general information 9977 6011
Sydney Water: 132 090
Energy Australia: 131 388, (ah) 131 909
Emergency Scotland Island Water Contacts: click here for information (while online)
Airlines, Buses and Railways

Weather
Join SIRA You can now join the Scotland Island Residents Association by clicking here. Please print the page you see and return the completed form to SIRA at this address: The Treasurer, SIRA, PO Box 70, Church Point 2105. Please NO CASH. Contact SIRA at sirapittwater@hotmail.com

Join WPCA

To join the Western Pittwater Community Association, contact Larry at larrye@aftrs.edu.au or click here or phone 02 9979 5026 for more information. (in revision)
Archived Newsletters A complete set of past electronic newsletters since May 2000 can be found and read at http://www.scotlandisland.org.au/newsletters/archive.html or by clicking here

or by visiting the Mona Vale Library. The Scotland Island website is at www.scotlandisland.org.au
Finally:
If you would like to contribute to this newsletter it's easy!. Send an e-mail to the editor by clicking here. Type your short contribution (100 words would be fine) and assuming it is of general interest to the community, does not include matter of a political nature and is not offensive to your neighbours, it will appear next month.

To get on and off this newsletter, or to change your options, click here or got to: http://www.scotlandisland.org.au/signup
The views expressed in this newsletter are not necessarily the views of the Scotland Island Residents Association (SIRA), or any of the associated Pittwater Offshore Resident's Committees